Boomtown Casino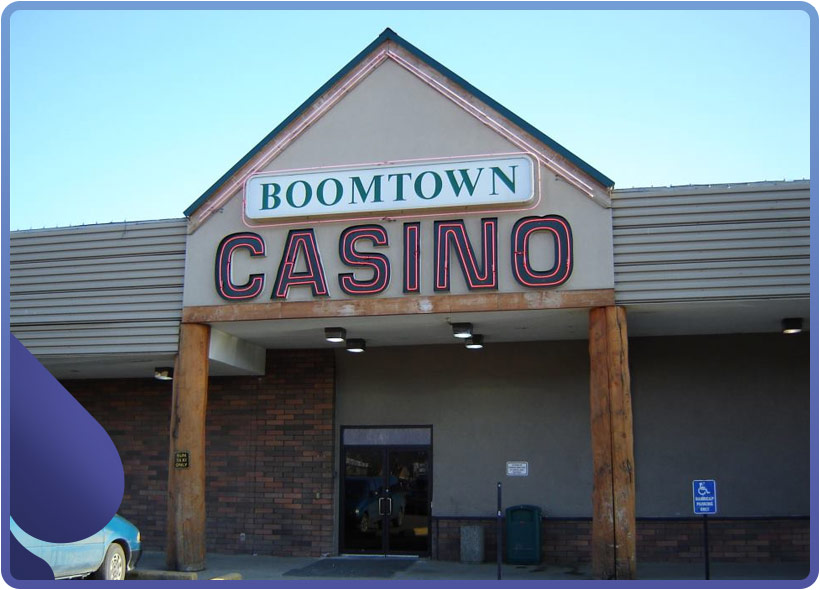 The province of Alberta is one of the most affordable places in Canada to live and it is also one of the many beautiful places we can enjoy in this great country. Its capital, Edmonton and its biggest city Calgary, offer most of the gambling venues you'll find across the province, but you might want to head to northeastern Alberta first.
Here's where you'll find the city of Fort McMurray which might be a small place, but it offers a popular and rather big land based casino: Boomtown Casino. This is one of the 20 casinos you'll find in the province of Alberta and it's definitely one of the gambling establishments you can't miss out on. We'll tell you everything about what to expect at this venue.
Boomtown Casino practical information
★★★☆☆
Lodging
None
Entry fee
None
Dress code
Casual
Parking
Yes
Casino theme
None
Age restrictions
18 years and older
Games
Slots & table games
Opening hours
Sun – Wed: 10am to 2am.
Thu – Sat: 10am to 3am.
Food
Clearwater Café
Find Boom Casino on the map
Location/address: Hardin St, Fort McMurray, Alberta (AB) T9H 4G9, Alberta, Canada.
About Boomtown Casino
The small city of Fort McMurray is home to 66,573 people and a casino that has been around for a few decades now. Boomtown Casino was opened in 1978 and has managed to become a popular venue for everybody in the area looking for entertainment. This casino offers a complete package of games of chance and entertainment options. People looking for classic table games like roulette and blackjack will feel just as comfortable as visitors who want to have a bite at the restaurant or simply enjoy a live music show at the main stage. The casino is located on a 23,000 square foot surface, but it's impressive to see how they've managed to maximize the size of the space to offer all of these entertainment services. Whenever you're around you'll notice that it's never too crowded nor never too empty.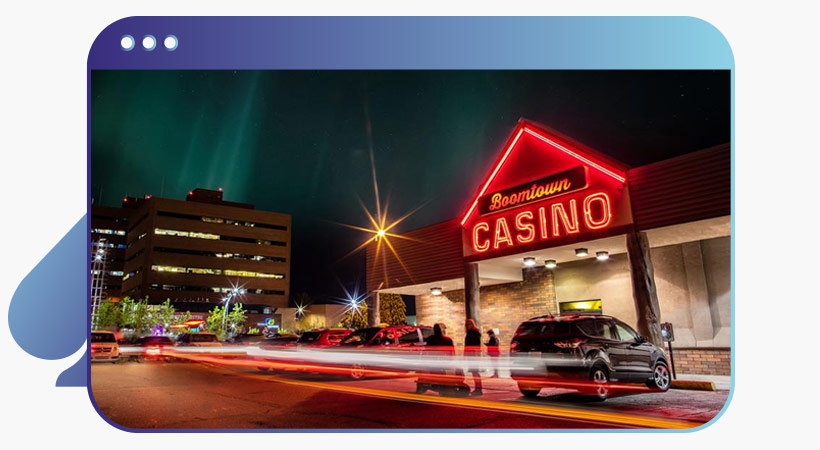 Right in the heart of Fort McMurray
One feature we need to point out about this casino as well is its convenient location: this gambling venue is located right at the heart of Fort McMurray's small city. Therefore you can be sure you'll feel at ease as the city of Fort McMurray is just as relaxing as practical — everybody in the area knows the casino and it's very easy to find. When visiting, you should make sure you tick off all the options you'll find here like spinning on the slot machines, trying your luck at the blackjack or roulette table, having a drink at the bar, grabbing a snack at the restaurant, and of course: hitting the dance floor on the weekend when it's open till 3 am.
Most people, nonetheless, will come for the games collection which includes:
7 Blackjack tables
1 Three Card Poker Progressive game.
1 Ultimate Texas Hold'em Progressive game.
1 Roulette Table.
3 Poker Tables.
450 slots.
Food & Drinks
The Clearwater Café at the Boomtown Casino is also worth the visit as good food and tasty drinks also add up to a pleasant casino experience. It might not be a fancy restaurant with exclusive dishes, but the Clearwater Café does offer a nice spot to enjoy breakfast or have a tasty lunch. We recommend the Sweet Chili Chicken and the Teriyaki wings are always a good idea in our opinion. Other food you'll find on the menu are hamburgers, hotdogs, and salads. This should be enough for most visitors to fuel up and head back to the gaming floor.
What to expect?
Snacks and fast food.
Home-cooked meals to some extent and desserts.
Strategically located off the main lobby.
Awesome decoration.
Bonus system for loyal visitors
Among the casino's many perks is an extensive loyalty program. This includes a lot of tailor made promos, daily promo deals, and other benefits to try your luck and make your visit to this casino even more pleasing. Loyal visitors will also be offered exclusive deals for private rooms so you make your gambling experience unique and completely fitted to your needs.
Dress Code
At Boomtown Casino you'll find that most people dress more or less the way they want without necessarily following a certain dress code. Hats and caps are allowed here and the main idea would in fact be to dress adequately for your visit without shocking anybody with provocative texts on shirts or other clothing items.
Other casinos in the area
The province of Alberta is known for its thrilling nightlife options, year-round entertainment and first-class gambling options. There are over 20 casinos to be found in Alberta, and each of them come with their own perks and facilities. You'll find very complete casinos in the province, including health centres and golf courts, to First Nation-owned establishments that offer players aboriginal themed casinos and beautiful views. Once you made your way to Alberta, you might want to check out the following two casinos in Alberta as well:
River Cree Resort and Casino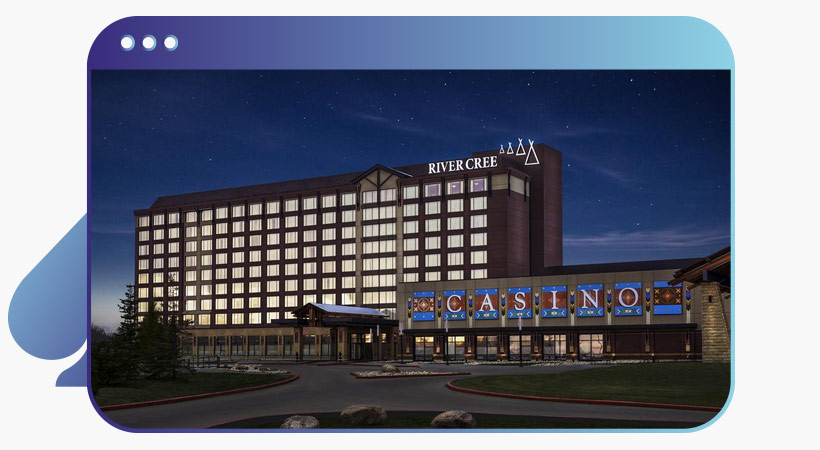 A lot of casinos in the province of Alberta are rather small, but this casino is actually one of the biggest gambling venues in the province. The River Cree Resort and Casino is located on a surface of 49 acres, which might explain why you'll find both a Marriott Hotel and a complete spa service at this casino hotel. And it's gambling floor isn't too bad either.
Stoney Nakoda Resort and Casino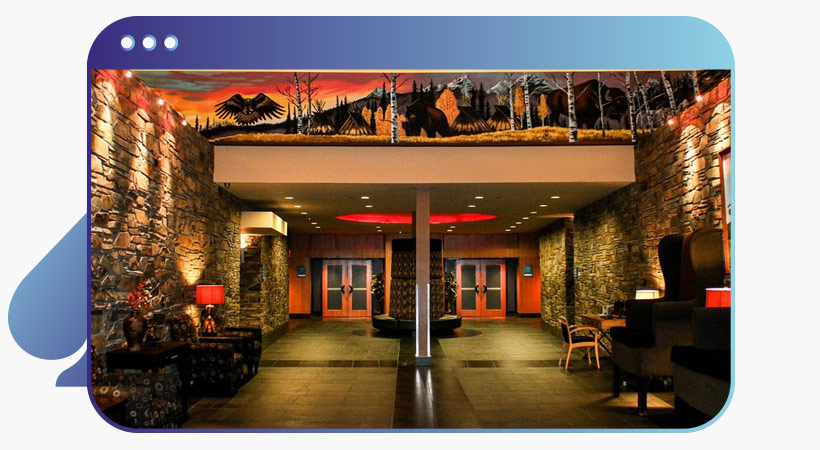 This is the only casino you'll find in the area of the Rocky Mountains making it a very unique place. The other good thing about this gambling venue is that it's not too far from Calgary. A 30 minutes drive will get you from the province's biggest city to this casino. It won't come as a surprise that this establishment is very popular among people who want to combine the best of what Rocky Mountains has to offer in terms of both nature and gambling.
Stoney Nakoda Resort and Casino
Online Casinos in Canada
Relevant news