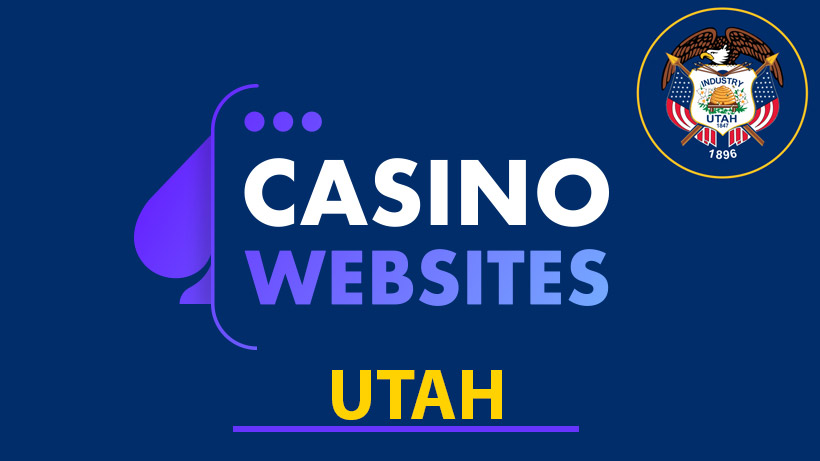 Utah Casinos Online
If you're living in the beehive state we understand if you're looking for a gambling site to play at. If so you'll be happy to know that we have created this page with the ambition of guiding you the best online casinos in Utah, guaranteed to give you a world class gambling experience. You'll find these gambling sites listed further down on the page along with valuable facts about them. We have also provided information about the legality of playing at them and a guide on how you gamble online.
If you're not living in Utah and you love gambling let us give you a short introduction to why you wouldn't want to relocate to this state; there is almost nothing to gamble on. The state is extremely hostile towards gambling – more or less everything is illegal. There's no state lottery and not even charitable organizations are allowed to offer any gambling products. It doesn't get worse than this.
The closest thing to gambling in Utah is a couple of restaurants giving its visitors free bingo cards and a free to enter poker tournament, which are exploiting a loophole in the law. That's it. Utah's aggressive stance on gambling is a result of Mormons having a huge influence in the state. About two thirds of its residents identify themselves as Mormons and these religious people tend to frown upon vice like drugs and gambling.
Best online casinos in Utah listed and reviewed
The gambling sites listed below are all high quality operators that millions of Americans play at every day. We can highly recommend playing at these sites. Not only because they're safe, but also because they have a huge selection of games; plenty of valuable bonus offers and terrific customer support. They are without a doubt the best casinos that Utahans can gamble at online.
What's the experience like at the above listed casinos?
As they are all unique companies it can vary a bit depending on the site you choose to play with, but all in all you can expect to experience the following:
Hundreds of different slots, including progressive jackpot machines
Several types of video pokers, as well as bingo and keno games
The option of playing some of the table games against real dealers
Betting on a huge amount of sports, eSports and horse racing
A poker platform allowing you to play Texas Hold'em and Omaha
Smooth deposits with amex, visa, mastercard, wire transfer and bitcoins
Fast withdrawals that are approved within 48 hours of being requested
A valuable welcome bonus giving you extra money on your first deposit
Free money given to you as a sign up gift (only with a few of the casinos)
Plenty of promotional offers such as deposit bonuses, cashbacks,
competitions, lottery draws, free spins and refer-a-friend bonuses
Exclusive rewards and good will bonuses given to loyal players
A customer support available 24/7 on live chat, e-mail and phone
Friendly and service-minded agents that are always happy to help
Independently approved random number generators, ensuring the fairness of all games
SSL encryption; hacker-proof platforms; reliable servers and dedicated safety personnel
How do I gamble at online casinos in Utah?
Gambling online is quite a simple thing to do even if you have no experience at all in gambling. You could probably figure everything out all by yourself and ask the support for help if there's anything you wouldn't understand. However, nice as we are we have answered questions that cover just about everything you need to know about internet gambling.
We have divided these questions into five different categories; choosing a casino and creating an account; depositing money; using bonus offers; playing games; and cashing out.
1. Choosing a casino and creating an account
Does it matter which gambling site I choose?
If you're only looking for casino action it doesn't. You can pretty much pick any of the best Texas casinos that we have listed and get a similar experience, equally terrific. Should you, however, be interested in combining casino games with sports betting, horse race betting or poker against other players you have to be a bit more selective. Not every gambling site is offering this.
How do I create a casino account?
Just click the sign up button at the site and follow the steps provided. You'll be asked to enter some personal information about yourself such as name, date of birth and home address.
Do I have to provide the correct information?
Yes, this is crucial. To make a withdrawal you'll be asked to have your identity verified as a security measure. If it turns out that you've entered fake details your winnings may in worst case scenario be confiscated as this is strictly against the casinos' terms of service.
2. Funding your account with money
What deposit methods can I find?
It can vary from one gambling site to another, but all in all you can expect to find Discover, Amex, Visa, Mastercard, Bitcoins and Bank Transfer.
Will my account be instantly funded?
Only if you deposit with a debit card. With bitcoins there's a transaction time of up to two hours and if you make a bank transfer it can take up to five days to have your account funded.
Are there any fees charged on deposits?
If you use bitcoins you won't experience any, but with other deposit methods it is indeed common that a small fee applies.
I see a field where I can enter a bonus code – what is this?
All of the best Utah casinos that we have recommended for online gambling offer plenty of bonuses giving you an added value, such as extra money on a deposit. How these bonuses are activated can vary from one gambling site to another. With some bonuses you trigger them by using a code tied to the offer. If this is the case and you see this field when depositing this is where you put the code.
3. Taking part of promotional offers
What type of bonus offers can I find?
You can find a heap of different ones that are regularly replaced by new ones. Just to mention a few you'll be able to come across the following:
Cashbacks giving you a certain percentage of the money you may have lost back
Lottery draws that can earn you cash prizes, trips around the world and gadgets
Competitions where you climb a leaderboard by depositing or wagering money
Refer-a-friend bonus earning you cash for signing up your friends to the casino
Free spin offers giving you a certain amount of free spins on a slot machine
Are there any downsides to using bonuses?
In the long run bonuses are always beneficial as the value they provide you with will increase your long term chances of winning. All offers do, however, come with certain rules that are important to know about. These are listed as "terms and conditions". It is for instance common that bonus money that's been given to you needs to be wagered a certain amount of times before it can be withdrawn.
Can I get a free bonus without depositing?
It is rare, but with some of the Utah friendly online casinos that we are recommending you are indeed able to get one. This is either a small amount of money or a couple of free spins on a slot machine that is rewarded to you for just having an account created with the gambling site.
Why do online casinos in Utah offer bonuses?
Simply to attract players and compete with other gambling sites.
4. Enjoying the games at the casino
Can I play casino games for free?
Yes. More or less all games can be enjoyed using demo credits as long as you have an account and are signed in to this. You'll get the option of playing the games for free when clicking on them.
What are live dealer games?
These are table games such as roulette and blackjack that are played against real dealers who are either in a real casino or a studio that is similar to a real casino. While you place your bets on a virtual interface you get to follow the action on a live video stream with real dealers and real tables.
How can I learn to play a new game?
You'll find detailed instructions and pay tables in all of the casinos' games making it easy to learn them. The customer support is also happy to help should you need any further explanation.
Do I need to download a software to play games?
If you're looking to play Texas Hold'em or Omaha against other players you may be required to – it varies from one gambling site to another. When it comes to any other type of gambling such as slots, table games, sports betting, bingo and keno you do, however, not. All of these products can be conveniently enjoyed in your web browser using any type of device.
5. Cashing out and verifying your account
What withdrawal methods can I find?
Just like deposit methods this can vary from one gambling site to another. All in all you can, however, find bitcoins, wire transfer, check by courier and person to person.
Are there any fees on withdrawals?
Some online casinos in Utah do charge a small percentage of the cashed out amount as a fee, but not everyone. Also, if you choose to withdraw by bitcoins this fee can usually be avoided.
How long does it take to cash out?
As long as your account is verified the casino itself will have your money sent within 48 hours. From there the transaction time will vary a lot depending on the method you've chosen to cash out with. Bitcoin transactions don't take longer than two hours, while bank transfers and person to person can take up to five days and checks up to ten days to arrive.
How do I verify my account?
You need to send the casino a photo copy of a valid and government issued ID. This could for instance be a passport or a driver's license.
Why do I have to verify my account?
It's a security procedure that exists to tackle fraudulent behavior, underage gambling and duplicate accounts. It's a common process – not only at internet casinos, but also at land based venues where they take a copy of your ID card on your first visit.
How long does it take to verify my account?
Once you have provided the casino with an ID they will usually review and approve this within 24 hours.
Is it legal to play casino online in Utah?
That would be something, wouldn't it? The most gambling hostile state in America allowing its residents to play casino online. One can always dream, but in reality internet gambling isn't treated any differently from other types of gambling. The fact of the matter is that Utah has gone as far as to say that even if gambling online becomes legalized at a federal level it will still remain illegal in the beehive state. This is stated in the following segment of the law:
"If any federal law is enacted that authorizes Internet gambling in the states and that federal law provides that individual states may opt out of Internet gambling, this state shall opt out of Internet gambling in the manner provided by federal law and within the time frame provided by that law.
(5) Whether or not any federal law is enacted that authorizes Internet gambling in the states, this section acts as this state's prohibition of any gambling, including Internet gambling, in this state."
While it certainly isn't allowed to play casino online in Utah or indulge in any other type of gambling, you don't have to worry too much about enjoying yourself over the internet. Like most other states the long arm of the law has no interest in chasing down single individuals that are gambling online. No one has ever been penalized for it and it's unlikely that anyone ever will. The state's resources are much better spent elsewhere.
A brief look at the history of gambling in Utah
1800s: With a lot of silver miners populating the state several casinos open up to profit on them.
1847: Mormons settle down in Utah and their religious beliefs have a great effect on the law. Drinking, prostitution and some types of gambling get banned.
1875: This year the state made all types of gambling illegal in Utah – much to the Mormons' satisfaction.
1925: Pari-mutuel betting on horse racing is legalized and a specific committee is assigned to oversee the gambling activities.
1927: The amusement of horse betting didn't last for long as this year saw the criminalization of it. This was a result of multiple accusations of corruption occurring.
2000s: Having found loopholes in the law several underground venues begin offering bingo and poker games. These venues are eventually raided by the police and their games shut down.
2012: Internet gambling gets a nail in the coffin. A law passes stating that even if online gambling is legalized on a federal level this will not affect Utah. Internet gambling will still remain illegal in the state.
2015: A house representative ofUtah makes an attempt to ban online gambling on a federal level, but fails.
FAQ about gambling and casinos in Utah
Is it true that no gambling at all is legal in Utah?
Pretty much so. By exploiting a loophole in the law some organizations are, however, offering limited gambling in the state. The law defines gambling as risking something of value for a chance of receiving something of value in return. So what some organizations are doing is removing the risk, thus the gambling can no longer be defined as gambling.
There are for instance restaurants in the state that are giving its visitors free bingo cards. There's also a poker organization regularly hosting tournaments and getting away with it by having no entry fee. In other words, you participate for free but can still win money.
Will I get in trouble for playing poker with my friends?
If you play for money there's a risk since it is illegal. As much as it is unlikely that you'll get in trouble for playing at an online casino in Utah it is, however, unlikely that you'll get in trouble for a home game of poker. At least so if you keep the game private, only invite a few people and don't charge any rake or profit from it in any other way.
Poker games have, however, been raided even if the host wasn't making any money so don't go thinking that the police will ignore your game if they find out. Maybe they will, but maybe they won't. It should, however, be mentioned that most games that have been raided have involved drugs, illegal firearms and/or the host making money out of them.
Are all people in Utah against gambling?
Not at all. While many are Mormons that dislike gambling there are probably just as many who enjoy it. Hundreds of illegally operating slot machines have been seized by the police across the state which certainly shows a demand for gambling. In a report from 2012 it was also revealed that a fifth of the lottery tickets sold in Idaho were purchased by Utahans. In addition to this, poker is wide spread throughout the state, though taking place under the radar.
Is it safe playing at online casinos in Utah?
As long as you choose to play at a quality site like any of the best Utah casinos that we have recommended on top of the page it is. These are serious businesses that care about their reputation. They're not stupid. They know how profitable gambling is by default and would never risk hurting their business by being dishonest to their players.
The situation is actually quite the opposite. To compete with other gambling sites they're making a serious effort to constantly better themselves by providing state of the art platforms; encrypted transactions; fast withdrawals; superb customer support; new games; etc. You definitely have nothing to worry about.
Casino Sites by States
---
More US online casinos