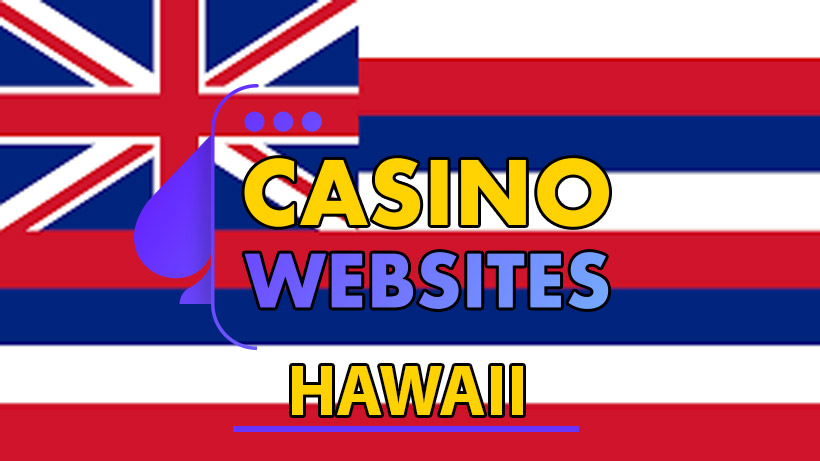 Hawaii Casinos Online
With its tropical climate, sandy beaches and remarkable wildlife, the small islands that make up Hawaii are for many considered to be the perfect place on earth. This popular travel destination is, however, definitely not a paradise for gambling. This is more or less non-existent on the islands.
Hand in hand with Utah, the aloha state is undoubtedly the most conservative one when it comes to real money risk-taking. There are no physical options at all in Hawaii. Not even a state lottery or any charitable bingo. Poker games are also seen as games of chance and are therefore criminalized.
There's only way to gamble in the aloha state and that is visiting a Hawaii friendly online casino. Fortunately there are dozens of high quality gambling sites on the internet welcoming Hawaiian residents to enjoy slot machines, table games, poker, sports wagering, horse racing and more.
On the following page we have gathered some of the best of these Hawaii casinos that are to be found online. We have also taken a closer look at the aloha state's gambling laws and what the future may hold for Hawaiian casino enthusiasts.
Best online casinos in Hawaii listed and reviewed
Having devoured the internet of its ocean of gambling sites we have gathered those that we consider to be the overall best casinos that Hawaii residents can play at. These are all popular and safe operators that will provide you with a top-notch gambling experience online.
How do I gamble at Hawaii casinos online?
Gambling online is incredibly convenient and easy. It doesn't take many minutes to get started and you could probably figure it all out by yourself as its pretty straight forward. To help you out we have, however, created a step-by-step guide below covering just about everything you need to know.
Choose a casino and create an account
This is obviously the first step. All of the best Hawaii casinos listed by us are great choices so it doesn't really matter which of these you pick. Just visit one of them and create an account by clicking on "sign up" or "join now". For security purposes you will be asked to enter your full name; date of birth; home address; e-mail and phone number. It's crucial that you provide the correct information as it is likely that this is going to be verified at a later stage.
Confirm the account creation
Once you have a created your account some online casinos in Hawaii require you to enter a code before your account is accessible. This has either been sent to your e-mail or as a text to your phone.
Make a deposit and claim your welcome bonus
At most of our recommended gambling sites you'll be able to fund your account with debit cards such as Visa and Mastercard as well as Bitcoins. This is easily done by heading to the cashier at the casino site. The minimum amount you're able to deposit is usually set to $10 or $20. Do note that a small fee may occur depending on the payment method that you choose to fund your account with.

As you make your deposit you will normally be asked if you would like to activate the casino's welcome bonus with it. This is highly recommended as the bonus will match your deposit with extra cash up to a certain amount. A 100% bonus up to $200 could for instance give you $200 extra if you deposit at least $200.

Important to note is that all bonuses come with certain rules that have to be followed. You should be able to easily find these rules in conjunction with the offer. Also note that if the bonus isn't offered while making your deposit you may have to activate it under your account settings before or after funding your account.
Get started playing and take part of more bonuses
Once your account has been funded you're all set for the thrilling fun to begin. At most of the Hawaii friendly online casinos that we have listed you'll find a wide selection of products to gamble on. In addition to poker, sports wagering and horse racing you're likely to come across the following casino games:
5-reel slot machines
Progressive jackpot slots
Live dealer games
Roulette
Blackjack
Andar Bahar
Craps
Video Poker
Bingo
Tri Card Poker
Let 'Em Ride
Pai Gow
Rummy
Lucky Wheels
Dice games
Baccarat
Before you get started with the games it may be a good idea to check out the casino's campaign page. All gambling sites have a section dedicated to various promotions that are running and regularly replaced by new ones. Here you'll find free spin offers; cashbacks; competitions; lottery draws and many other types of bonuses that can be very beneficial to use.
Make a withdrawal and verify your account
Should you get lucky with your gambling cashing out and securing your winnings is probably a wise move. Requesting a withdrawal is done at the same cashier you funded your account with and is very simple to do. Just enter the sum you would like to cash out and the payment method you would like to use. Usually $10 is the minimum withdrawal amount, but for checks it may be up to $100.

When making your first cash out it's very common that the casino will ask that you prove your identity before they're shipping your money. This is a security process that involves sending a photo copy of a valid ID to the gambling site. Once this is done and approved your cash out is normally handled within 48 hours. For future withdrawals no verification like this should be needed again.
Is it legal to play casino online in Hawaii?
In a recent survey that was carried out on the islands the results showed that many people in the state regularly play at Hawaii friendly casinos online. If we look at the laws it does, however, seem like these people are doing this illegally as gambling is criminalized and defined as the following:
"A person engages in gambling if he stakes or risks something of value upon the outcome of a contest of chance or a future contingent event not under his control or influence, upon an agreement or understanding that he or someone else will receive something of value in the event of a certain outcome."
As much as playing online casino in Hawaii evidently is an offence that in theory could be punishable by law, this is yet to happen. As we just mentioned there are numerous state residents that indulge in online gambling on a regular basis and none of these have ever been faced with any legal action.
Is there a risk that you could be the first one to be penalized for playing casino online? Sure, but it seems like a very tiny and far-fetched one. Therefore we would say that gambling is perfectly safe as long as you choose to play online at a legitimate site like any of the best casinos in Hawaii that we have recommended.
A brief look at the history of gambling in Hawaii
Before the state of Hawaii was formed in 1959 horse racing was a popular past time for many people on the islands. Even the royal family took great interest in this sport. Since 1959 all gambling has, however, been illegal even though there have been several bills suggesting that the laws should be more liberal towards it. Below we have listed a couple of noteworthy milestones in the history.
1959: A bill was introduced to legalize horse racing on one of the islands of Hawaii – Maui. The bill did, however, never pass and thus racing remained illegal.
2011: This year saw the proposal of changing the view on poker games such as Omaha and Texas Hold'em. Instead of being seen as games of chance a bill was created to consider them as games of skill. The bill did not pass.
2011: A poll was carried out to investigate how Hawaiian people felt about legalizing gambling. The vast majority were very much against it as only 23% of the voters were positive to the idea.
2012: Another bill was introduced to consider an online lottery, poker games and possibly other types of gambling as a stream of revenue for the state. Like every other year the bill was not signed.
2013: Legalizing online gambling and introducing an internet lottery was once again up for discussion through a new bill. The outcome was the usual one – the bill did not pass.
2017: The history repeats itself, but perhaps with a different outcome this time. Although not confirmed yet, a bill has passed its first reading of introducing a state lottery and legalizing internet gambling with the purpose of funding public schools and supporting a residency program among other things.
Will gambling ever be legalized in Hawaii?
No matter how slow the winds may blow the world seems to become more and more liberal so eventually we would be shocked if playing casino in Hawaii and indulging in other gambling activities wouldn't become legal. Considering all of the bills that have been introduced the past ten years it may not even be that long until it starts happening.
With that being said, one should know that the revenues that a flourishing casino industry in Hawaii could bring aren't that motivating for the state. Studies have shown that there could be a $20 – $80 million profit to be had for each casino built on the islands. This may sound like a lot – and it is – but it's still only a drop in the ocean compared to what tourism brings in; a stunning $1 billion every year.
FAQ about online casinos in Hawaii
How old do I have to be to gamble on the internet?
There is actually no official age limit for Hawaiians. While the majority of online casinos will allow players that have turned 18, some have a minimum age requirement of 21.
Can I always trust Hawaii casinos online?
Gambling online is generally very safe, but there are in fact some sites that should be avoided at all costs. These are the ones that aren't licensed, which means that there's no organization overseeing and regulating them.
As long as you're gambling at a legitimately licensed casino like any of those that we have listed you are perfectly safe. These sites are also well-renowned among thousands of players who can vouch for their credibility.
How do I know if a gambling site is licensed?
If not displayed in the footer of the gambling site, which it usually is, you can ask the support about the casino's license number and the organization that they are licensed by. You can either trust this information or go one step further and confirm its validity by visiting the regulator's website. With some licensors you'll be able to find a register of all their licensed casinos. If this can't be found you can always send the regulator an e-mail and ask.
Going through all this trouble isn't needed though, but choosing a site with a good reputation is proof enough that it is legitimately licensed and safe to play at.
Why do I have to verify my account playing online?
This is a process that all legitimately licensed and regulated casinos have – even land based ones. It exists to prevent underage gambling and to protect you as well as the casino from fraudulent behavior.
Casino Sites by States
---
More US online casinos