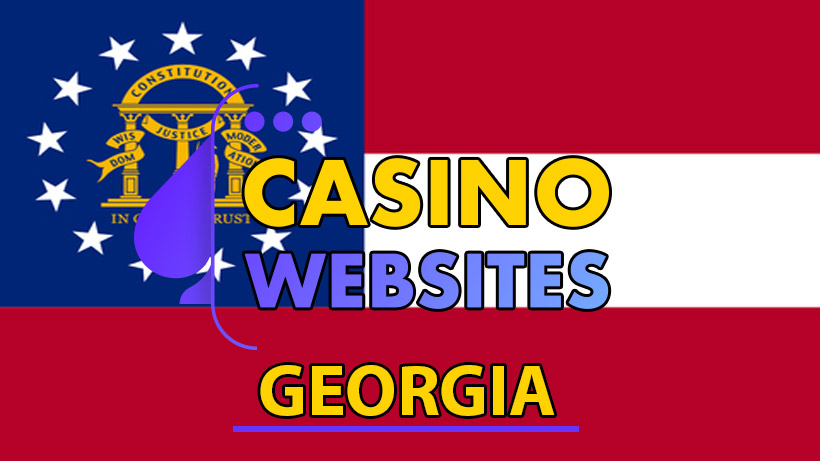 Georgia Casinos Online
Georgia is in many regards to be looked at as a warm and hospitable state. It is, however, not a very joyous place for gambling enthusiasts. The only venue offering casino games like slot machines, roulette and blackjack is a cruise ship departing from the state to allow gambling once it is no longer in Georgia, but on international waters.
A very conservative approach has resulted in any type of risk-taking but a state lottery, poker games, raffles and some charitable bingo to be criminalized in Georgia. The future does, however, show signs of promise as liberal winds seem to be blowing up. It has for instance been up for discussion to allow and construct several MGM casinos.
While waiting for this to happen, residents of the state can indulge in the thrilling fun of slot machines, table games and other gambling activities online. The internet is a true blessing as there are plenty of Georgian friendly online casinos that one can play at without risking any legal consequences whatsoever. Below we have listed some of the best and most trusted ones to visit.
Best online casinos in Georgia
With the ambition of guiding fellow casino enthusiasts to the most enjoyable and rewarding gambling experiences on the internet, we have gathered some of the best online casinos in Georgia. The below listed sites are all high quality ones that are legitimately licensed and have a great reputation among players.
Casino games available online in Georgia
To give you quick overview of the thrilling fun that await, we have listed some of the games that you are able to enjoy at Georgian online casinos. In addition to these products many gambling sites also offer betting on sports, horses and greyhounds as well as online poker.
Online casino games in Georgia



5-reel slot machines
Progressive jackpot slots
Live dealer games
Roulette
Blackjack
Andar Bahar
Craps
Video Poker
Bingo
Tri Card Poker
Let 'Em Ride
Pai Gow
Rummy
Lucky Wheels
Dice games
Baccarat
Is it legal to play at casinos online in Georgia?
It is indeed. While there's no doubt that Georgia is a pretty hostile state towards gambling, the law against it is only covering land based casinos. As far as we know there is no mentioning of online gambling at all. In other words, playing online casino in Georgia is a grey area that is considered to be 100% safe. No one in the state has ever been faced with any legal action for gambling online.
A brief look at the history of gambling in Georgia
1877: All types of luck based gambling become criminalized.
1976: Raffle games and charitable bingo is legalized. However, payouts from these are not allowed to exceed $1500 per day or $3000 per week.
1993: This year saw the introduction of a state lottery.
2002: To bypass the harsh laws of the state some venues were, up until this year, offering gambling machines that had payouts in the form of tickets as opposed to cash. In 2002 these machines were, however, made illegal.
2011: For a time several internet cafés were involved in illegal gambling activities. This year saw the crackdown of them.
2012: With the intention of funding a community college the senate of Georgia voted in favor of establishing a casino in the province. The bill was, however, never signed.
2017: Another bill was introduced that would allow for two casinos to be constructed in the state. As in 2012 it was, however, never signed.
How do I gamble at Georgian casinos online?
The process of placing sports wagers and playing casino online in Georgia is pretty straight forward. To ease things up even further we have, however, created a step by step guide below. If you don't have any experience at all with online casino websites it's probably wise to have a quick look at this.
Start off by choosing where you want to play
There are many Georgian friendly online casinos to choose from that come with their own pros and cons. While you can't go wrong playing at any of those that we have listed on top of the page, the most important thing is choosing a site that is legitimately licensed and regulated. Most casinos are, but do note that unlicensed ones do exist as well. These can be very risky to play at.

Other things that are worth considering include how much the welcome bonus will earn you; what games you can enjoy and what deposit methods are supported.

Fund your casino account
While different gambling sites may offer different payment methods you'll find Mastercard, Visa and Bitcoins at most of them. Making your deposit is as easy as making any other online transaction. Head to the cashier, follow the instructions presented and your money will be instantly credited to your account once the transaction is confirmed by you. Do note that a small deposit fee may occur.
Don't forget about the welcome bonus
All gambling sites offer a bonus to new players which is highly recommended taking part of. You usually get the option of doing this while making your deposit. Sometimes it may, however, be that you have to activate the bonus before or after making it. If so this is normally done under your account settings. Have a chat with the support if you're unsure.

Also, do note that all promotions come with certain rules known as terms and conditions. With welcome offers it is for instance common that you are forced to stake a certain amount of money before being able to cash out the bonus.
Have something to munch on and let the fun begin
Once your deposit is made there is nothing holding you back. Choose between hundreds of slot machines, live dealer games, video pokers, sports betting and more. Most Georgian friendly casinos online offer a wide selection of gambling products to enjoy. If it's the first time playing them all casino games have detailed instructions in them explaining everything you need to know. The support is also happy to help you out should you require further assistance.
Got lucky with a nifty win? Time to cash out!
Head back to the cashier where you made your deposit and you'll be able to request a payout just as easily. This is usually handled and confirmed by the casino within 48 hours. However, before they are able to send you your money it is common for a verification process to take place. To prevent underage gambling and fraudulent behavior they kindly ask you to identify yourself by sending them a photo copy of an ID.
Maximize your value with promotional offers
Unless gambling online is a one-time occurrence you want to keep an eye on the casino's campaign section. With many of the best Georgian friendly casinos listed by us this will be filled with valuable promotions that are replaced with new ones on a regular basis. You can find offers such as cash backs on net losses; free spins on slot machines; competitions with cash prizes at stake and various lottery draws.
FAQ about gambling and casinos in Georgia
Can I find horse and greyhound racing in Georgia?
You cannot. Unlike many other states this has been criminalized along with most other types of gambling activities. If you want to bet on in it you have to visit a neighboring state or gamble online.
I heard that poker is allowed – is this true?
Yes. While Georgia is very conservative towards gambling the law does state that any game of skill is to be allowed and as poker falls into this category it is legal.
Is it safe to play casino online Georgia?
As long as you choose to gamble at a licensed and regulated site it is completely safe. There are no laws against online gambling in Georgia so you don't have to worry about facing any legal penalties. The only thing of concern is getting swindled by a gambling site. However, the risk of this happening only exists at unlicensed online casinos – and even at these the risk is actually quite slim. We don't recommend pushing your luck though so be wise and only play at trusted and licensed casino sites.
How do I know if an online casino is licensed?
All of the best Georgian casinos listed by us on top of the page are so choosing any of these is always a good idea. Other than that legitimately licensed casinos tend to openly display their license number along with the organization they are regulated by at the footer of their website.
To be 100% sure that this information isn't just put there for show you can send the gambling regulator an e-mail and simply ask them about the license. Sometimes you will also find a license validator available on the regulator's website which makes it possible for you to quickly look up the legitimacy of a casino on your own.
Are there any fees I need to know of gambling online?
As much as this can vary from one operator to another it is common for Georgian online casinos to charge a small fee on deposits. Withdrawal fees do exist as well, though this isn't as commonly seen. Avoiding these fees can be done by making your payments with a crypto currency like Bitcoin. As far as we know there is no legitimate casino charging any fees for such transactions.
What is the legal age of gambling in Georgia?
The minimum age required is 18 and includes playing poker, charitable games, bingo and taking part of the state lottery. While this age requirement is also a common one online, it should be noted that some online casinos don't allow US residents who are under 21, including Georgians.
How quickly do I receive my cash outs online?
This will vary between different online casinos in Georgia and also on the payment method you are choosing to cash out with. Generally speaking you can expect a 24 – 48 hour waiting period before your withdrawal is confirmed by the casino and your winnings are sent to you.
Once sent there may be a transaction time. E-wallets like Skrill and Neteller doesn't have this though and with Bitcoins it's rarely longer than a few hours. However, if you cash out to a debit card the transaction time can be up to 5 bank days.
With some casinos you don't have the option of withdrawing back to a debit card you deposited with, but have to get your money through a check. This can take up to 10 days to receive even though it's usually faster.
Casino Sites by States
---
More US online casinos