The Biggest Gambling Hubs in East and West: Macau and Las Vegas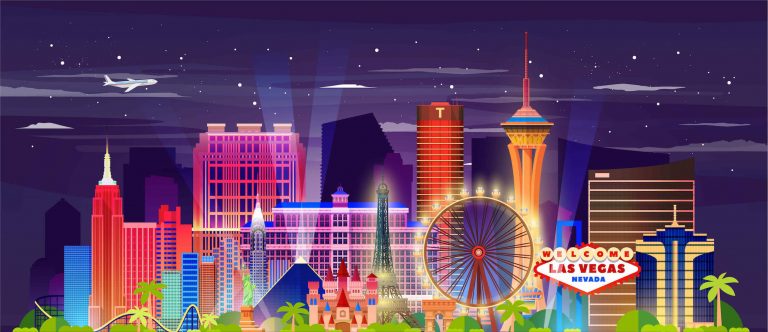 One of the biggest gambling cities in the world, Las Vegas, has always stirred the imagination. Numerous films are set in so-called Sin City and all sorts of dreams are made or broken in Las Vegas. Many online casinos try to capture the excitement of Las Vegas and translate it to an online gambling environment to attract players. In addition to Las Vegas there is another large gambling city located in Asia: Macau. Although Macau is bigger than Las Vegas, not every gambler has heard of Macau. Although China is a popular slot game theme very few, if any, online casinos have thought of offering a Macau-style gaming environment. Find out here what these two big gambling hubs have to offer, how they differ from each other and how you can experience the same excitement playing at an online casino.
Gambling Dreams made in Macau
Macau is an autonomous region in China located at the western side of the mouth of the Pearl river. Hong Kong is located on the eastern side of the same estuary. Macau used to be a Portuguese colony until the very end of the last millennium and for that reason Macau has a different character than the rest of China. Under Portuguese rule it developed into the gambling capital of the world catering for players from all over the world and especially China, which has a rich gambling culture and tradition. Despite Chinese fondness of gambling, Macau is the only city in the whole of China where gambling is legal. In terms of revenue Macau is bigger than gambling city Las Vegas. Due to all the income gained from gambling Macau is one of the richest regions in the world. Initially only Chinese gambling games where played in Macau until western-style casino games entered the market from the 1960s onwards. In addition to playing casino games other betting options players can enjoy in the Monte Carlo of the East are lotteries, greyhound races and sports betting. Macau has about 40 different casinos where you can play well-known table games like blackjack, roulette and baccarat. Other games available that are less-well known to western players are Fan Tan, boule and Sic bo. Poker is very new in Macau and has only been available since 2007.
Anything goes in Sin City Las Vegas
Las Vegas, located in the American state of Nevada considers itself more than 'just' a gambling hub; it labels itself as the Entertainment Capital of the World. The city houses many large casino-hotels that function as gambling houses with plenty of non-gambling entertainment and which you don't have leave to return to your accommodation. The city is also very popular for business conventions. The city of Las Vegas is relatively young as it was only established at the beginning of the 20thcentury. In 1931 gambling became legal in the state of Nevada and that year was the birth of Las Vegas as a gambling city. Casinos in Las Vegas are all located in the Downtown area of which the famous Las Vegas strip is iconic. Despite being one of the world's biggest gambling cities, you can enjoy plenty of non-gambling entertainment like live shows, amusement park style attraction and great clubs. Las Vegas is a main tourist destination in the US and the wider world. Las Vegas is not just fulfilling the gambling dream, it offers great entertainment for everyone.
How do Macau and Vegas compare?
Macau and Las Vegas are the world's biggest gambling cities. Macau seems to mainly attract players from China and Asia, while Las Vegas attracts mainly Americans and other Western tourists. Las Vegas is known as Sin City. A place where anything goes and the city is therefor popular with bachelor parties and hen-does. Non-gambling entertainment in the form of stage shows are very big in Las Vegas. Famous artists like Elvis Presley in the past and Britney Spears and Celine Dion more recently have had residency show in the famous gambling city. The Canadian Cirque de Soleil also make sure not to miss out on Vegas' massive attraction. As Macau is one of the wealthiest regions in the world, it tends to live up to its name the Monte Carlo of the East. In addition to wealthy Macau is classy too. While both Macau and Las Vegas have hot climates, Macau is located near water and is very wet, while Las Vegas has been built in the middle of the desert and has a very dry climate. Especially for European players both Las Vegas as well as Macau are far away. Macau might seem a lot more mysterious as it's located in China with a far more different culture.
Experience Macau and Vegas online
If you like to play casino games then a visit to either Macau or Las Vegas would be like a dream come true. However, if circumstances don't allow you to visit these big gambling hubs, you can experience Vegas and Macau style excitement online and you don't even have to leave the house. Macau doesn't allow the registration of online casinos (yet). If this door would be opened, you can expect a lot more Macau style casino entertainment online. In the mean time you can enjoy plenty of China themed online casino slots and a few eastern-style table games at select online casinos. There is plenty of Vegas style fun to be had at online casinos. You could play at live casinos, especially those who know how to convey the Vegas life casino experience. Plenty of casinos organise exciting prize draws or tournament where you can win a luxury trip to Las Vegas, so you can keep an eye out for both. Dream of Macau or Las Vegas and experience these great gambling hubs online or make the dream come true: win a fortune online and go travelling.
Relevant news