Europeans Can Now Enjoy Online Access to Foxwoods Casino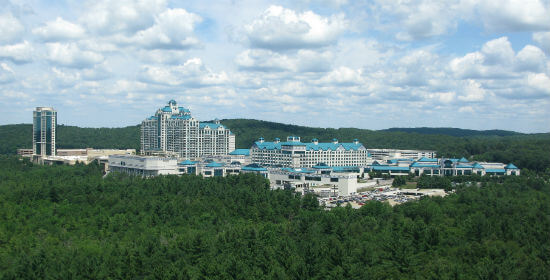 First established in 1986, Foxwoods Resort is one of the most respected casinos within the United States. Although it was previously limited to domestic customers, Foxwoods Casino has recently entered into a partnership with Authentic Gaming. This synergy has allowed Foxwoods to offer live online table games to players from outside of the country. Therefore, international casino fans can now tap into what is considered to be one of the best live casinos on the market. This move is seen as being one of the first in the history of online gaming; particularly due to the previous restrictions which were placed upon players from foreign countries such as the United Kingdom.

The Entrance of Authentic Roulette
A new platform known as Authentic Roulette opens up a host of possibilities for foreign players. This single-zero European roulette variant is actually located within Grand Pequot Tower; a component of Foxwoods Casino itself. Assuming that the foreign market is regulated, an unlimited number of players will now able to join real-time competitions. A handful of trusted gaming providers have already entered into this programme. Those some famous names include Betsson, LeoVegas and Unibet. Thanks to the modern innovations offered by Authentic Gaming, real-time streaming capabilities and HD video feeds have now become a reality for roulette fans. So, players are no longer forced to travel to the United States. They can enjoy all that single-zero roulette and Foxwoods atmosphere from home.
A Powerful Combination
Authentic Gaming and Foxwoods initially announced their partnership in January 2018. Since this time, they have placed a considerable amount of time and effort into the development of this online version of roulette. Not only will this entice players within the global marketplace, but it is also important to note that Foxwoods itself is likely to gain additional followers. Such a mutually beneficial relationship would have been difficult in the past due to the notoriously strict online gambling laws associated with the United States marketplace. However, things seem to be slowly changing for the better.
A Sign of the Times?
The owners of this Connecticut-based casino have always been keen to expand into different markets and to tap into new profitable areas. It now appears as if this dream has become a reality. This is great news for roulette fans who are located outside of traditional jurisdictions, as they can now immediately access Foxwoods roulette. Of course, all relevant rules and regulations will still need to be followed. It is nonetheless a clear possibility that other United States casinos will begin to follow suit in the near future; opening up a world of options for gaming fans from all walks of life.
Relevant news