Jetting off to Reno, Vegas, St Tropez or Monte Carlo is not an option for most gamblers. Which is probably why online gambling has become so popular today. Most gamblers have a limited budget so gambling to their hearts content can also restrict play. There is a way to get your gambling fix, and it won't cost a penny (apart from maybe a Netflix subscription). There have been some great casino related movies released in recent years, and we've hand-picked our favourite top nine.
Top 9 All Time Favourite Casino Movies
Casino
This is an all time classic movie. It may have been released more than 2 decades ago, but it is still able to capture the attention of today's gamblers and movie lovers. Directed by Martin Scorsese, it stars some of Hollywoods biggest names. Robert de Niro, Sharon Stone, James Wood and Joe Pesci capture viewers for a blockbusting total of 178 minutes. The movie tells the story of two mobsters based in Las Vegas. One trys to do his best to build a successful career and become a big name in the gambling industry. However, the other is motivated purely by greed. It takes viewers back to the 1970s and 80s and highlights the dirty side of Las Vegas during those years.
Rounders
Rounders stars Matt Damon, Edward Norton, John Malkovich and Gretchen Mol. It is a couple of hours long so not quite such a block buster as Casino. Directed by John Dahl, it tells the story of a man who returns to gambling after giving it up. He chooses to take up poker again in order to help a good friend pay off his debts. Matt plays the role of law student/poker genius Mike McDermott. Delving into the world of underground poker in New York, he eventually earns his stake to play in the World Series of Poker.

21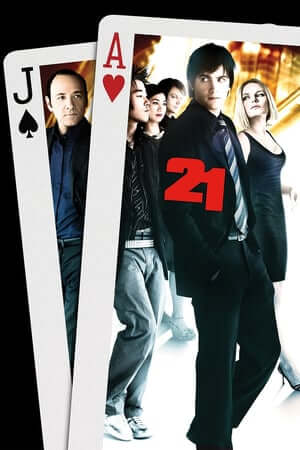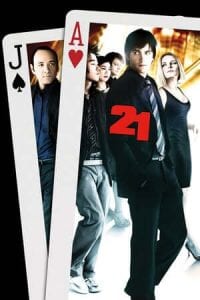 This film first premiered in 2008. It tells the story of a group of MIT students who have learned how to count cards. They manage to get very good at it and head off to Las Vegas. It stars Kevin Spacey, Jim Sturgess, Kate Bosworth and Aaron Yoo.
Oceans Eleven
This movie is a remake of a classic Rat Pack movie that first premiered in the 1960s. It stars Matt Damon, George Clooney, Brad Pitt, Julia Roberts and Andy Garcia. The movie tells the tale of a group of professional criminals, planning a bank heist with a haul of more than $150 million. The bank is where 3 major Las Vegas casinos stash their cash. It is an action-packed movie which led to Ocean's 12 being made.

Croupier
Clive Owen plays the leading role in this UK film which explores the world of gambling and the casino world. Portraying a croupier, this film takes a look at the gambling world from a completely different perspective. The picture it paints is not a good one. In fact it is rather dark. Mike Hodge is the director of the movie, and the action focuses on smaller card rooms in London.

Modern Marvels: Las Vegas
This is more of a documentary that introduces you to the history of the gamblers paradise city of Las Vegas. It was made in 1994 and stars Wayne Newton, Jack Perkins and Debbie Reynolds. There is less of a focus on gambling than many viewers would like. However, it is very interesting to learn how the city of lights was built up from a Mormon cow town.

Fear and Loathing in Las Vegas
Johnny Depp stars in this cult favourite. He plays a drug-taking sports writer who decides to head off on a three-day romp with his lawyer. Their journey starts in Los Angeles and ends up in Vegas.

Bugsy
This 1990s movie stars Warren Beatty, Annette Bening, Harvey Keitel and Ben Kingsley. Bugsy Siegel dreamed of building a gambling paradise in the middle of the Nevada desert. Warren Beatty plays this character, and many consider it to be an accurate portrayal of the real-life gangster. Bugsy is murdered before he gets to see his dream become a reality, largely as a consequence of his affair with Virginia Hill.

High Roller: The Stu Ungar Story
This movie tells the true story of Stu Ungar and was directed by AW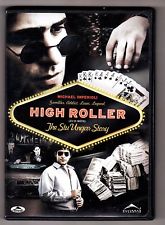 Vidmer. Stu was an American professional poker and gin player. Michael Imperioli plays Stu Unger and there are a number of cameo parts by well-known faces from the world of professional sports and poker.

The Sting
Possibly one of the all time classic gambling related movies stars Paul Newman and Robert Redford. It premiered in 1973. The story centres around a young conman in Chicago. He is looking to get revenge for the death of his murdered partner.