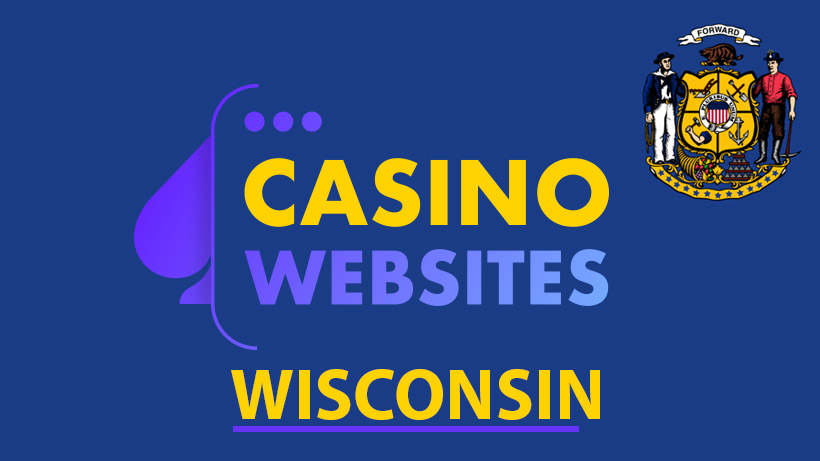 Wisconsin Casinos Online
Are you looking for the very best Wisconsin casinos that can be played at online?
Do you want to know if it's safe gambling over the internet and if it's legal to do so in the state?
Then you've come to the perfect place! On the following page we have covered all of this along with several other topics that are related to gambling in Wisconsin. We're looking at:
The many advantageous that online gambling has
How you get started with internet gambling
What type of gambling is legal in the state
How many land based casinos Wisconsin has
What the history of gambling in the state is like
Best online casinos in Wisconsin listed and reviewed
All of the gambling sites listed below allow residents of Wisconsin and have been carefully chosen by us for their superb quality standards. They have been picked for their valuable welcome bonuses; regular promotions; huge selection of games; fantastic support; great banking options; impeccable user friendliness and high level of safety.
Six things to look out for when choosing an online casino
If you're new to gambling over the internet and want the best possible experience there are a couple of things that you may want to pay close attention to when choosing a gambling site to play at. These include:
Game selection
Bonus rewards
Safety standards
Customer support
Banking options
User friendliness
With the gambling sites that we have recommended you don't have to think too hard about this though as these are the best online casinos in Wisconsin. We have reviewed more or less all gambling sites that allow Wisconsinites to play with them and have cherry picked these operators with the above factors in mind.
To further elaborate on the topic we have, however, created a list of questions that are generally good to ask yourself when choosing a gambling site. These are questions that we have answered ourselves when deciding which sites that we should recommend to our fellow gambling enthusiasts.
1. Game selection
How many slot machines are offered?
Is there a good selection of table games?
Can you play table games against real dealers?
Is it possible to bet on sports and play poker?
What other gambling products are offered?
With the gambling sites that we listed you will find that some are offering a broader spectrum of games than others. Not all of them have sports betting and poker available. You will, however, find hundreds of slot machines; plenty of video pokers and all popular table games with all of them.
2. Bonus rewards
How valuable is the welcome bonus for new players?
Can I get a free bonus for having an account created?
How many promotional offers are currently running?
Are there reoccurring weekly or monthly bonuses?
Will loyal players get exclusive rewards?
Are the terms and conditions good?
Bonuses are a fantastic way of lowering the long term edge that the house has, thus increasing your long term chances of winning. They can also add some extra spice to the gambling experience if the promotions are interestingly designed. If you ask us you want to grab as many bonuses as possible.
3. Safety standards
Does the casino have a good reputation among players?
Is the website secured with SSL encryption?
Are players required to prove their ID on cash out?
Have the games been tested for their fairness?
Am I able to set deposit limits and exclude myself?
While most online casinos in Wisconsin are perfectly safe to play at you want to be sure before trusting your money with them. Some gamblers have a negative attitude towards verifying themselves by providing an ID to the casino, but this is actually a good sign of the gambling site being responsible. The verification process minimizes fraudulent behavior and underage gambling.
Safety is a top priority for us at casinowebsites so playing at any of the sites that we are recommending you can be sure that the answer is a big yes on all of the above questions.
4. Banking options
What payment methods can I use for deposits?
What payment methods can I use for withdrawals?
Are there any fees on deposits and cash outs?
What's the minimum deposit and withdrawal amount?
How long does it take to receive a withdrawal?
With the best Wisconsin casinos that we have recommended you will find debit cards, bitcoins and wire transfer as a way of funding your account, and wire transfer, bitcoins, check by courier and person to person as a way of cashing out. All withdrawals are handled within 48 hours.
5. Customer support
How can I reach the customer support?
Am I approached professionally by agents?
Are agents quick to reply and knowledgeable?
When choosing a casino it's always a good idea to have a quick chat with the support. You rarely need them, but if you do you want to be sure that they treat you professionally and are easy to reach. At the gambling sites that we have recommended the support is available 24/7 on live chat, e-mail and phone. Agents are in our experience very service-minded and efficient.
6. User friendliness
Is the website easy to navigate?
Are the games categorized by type, provider, etc?
Am I getting bombarded with pop-ups and other clutter?
Is the mobile experience as smooth as playing on desktop?
Most, if not all, gambling sites are easy to play at, though some are much more enjoyable than others. While in-your-face promotions can be disturbing if they're over-used it can be pretty sweet being able to filter casino games by things such as provider and jackpot.
How do I gamble at online casinos in Wisconsin?
Gambling online consists of six easy steps:
Creating a casino account
Depositing money
Using bonuses
Enjoying the games
Withdrawing your winnings
Verifying your identity
Is there anything I need to know about creating my casino account?
Don't provide any fake details. You are required to verify these when cashing out and if it turns out that you haven't been honest when signing up it will just cause you a lot of trouble. Other than that the account creation process is pretty straight forward.
Is there anything I need to know about depositing money?
There may be a small fee depending on the payment method that you choose. This fee can always be avoided if you deposit with bitcoins. Transaction times also vary between payment methods. If you use debit cards your account will be instantly funded, but should you make a wire transfer it could take a couple of days to get the money deposited.
Is there anything I need to know about using bonuses?
Make sure to read through the terms and conditions that they come with. Here you'll find any rules that the bonuses may have and other important information such as how to activate the offers.
Is there anything I need to know about playing the games?
You don't have to risk any real money in them if you don't want to. All of the best Wisconsin casinos that we have recommended allow you to play the vast majority of their games for free. The payback percentage in most games is also really high – around 96%.
Is there anything I need to know about cashing out?
You usually can't do it with debit cards as American banks aren't allowed to handle gambling transactions. It should also be mentioned that all legitimate online casinos in Wisconsin require you to verify your identity before they are able to send you your winnings.
Is there anything I need to know about verifying my account?
It's an easy process that involves uploading a photo copy of a valid ID to your account. This could for instance be a passport or driver's license. Once done the casino's risk department will review it – usually within 24 or 48 hours.
Is it legal to play casino online in Wisconsin?
The short answer is:
Internet gambling isn't legalized in the state so it's probably not legal to play casino online in Wisconsin. However, it's extremely unlikely that you would ever get in trouble for doing it.
The long answer is:
It's a grey area. Like many American states the legality of internet gambling isn't directly addressed in the criminal code of Wisconsin. The gambling laws that do exist are, however, quite broad so it is plausible that these could be applied to online casinos as well. A good example is the following segment from the law that is covering social gambling:
"A bet is a bargain in which the parties agree that, dependent upon chance even though accompanied by some skill, one stands to win or lose something of value specified in the agreement" (Section 945.01, Wisconsin Statutes). State law provides that a person who makes a bet or participates in gambling activity, other than commercial gambling, has committed a Class B misdemeanor punishable by a fine not to exceed $1,000 or imprisonment not to exceed 90 days, or both."
While this law is supposed to target risk-taking activities such as home games of poker, we would say that online gambling is closely related to this. And considering the fact that internet gambling isn't a commercial activity, it does seem like it would be a misdemeanor to be playing casino online in Wisconsin. In theory this could lead to a fine of up to $1,000 and 90 days in jail.
We don't actually know for sure though as there has never been an instance where the law has been applied to online gambling. In other words, no one in Wisconsin has ever been caught or faced with any legal action for betting on sports, playing poker or indulging in casino games online.
As far as we can tell the state has no interest in chasing down single individuals. They are concerned about internet gambling, but the resources of the law enforcement aren't used on you and me. They are used to track down people who are operating gambling sites within the state.
All of the best Wisconsin casinos that we have listed are operated from jurisdictions outside of America, which means that you're perfectly safe playing at these.
What's the legal status of other types of gambling?
Lotteries: Legal
A state run lottery program has been running since 1988 and includes games such as:
Powerball
Megabucks
Mega Millions
5 Card Cash
SuperCash!
Badger 5
Pick 3
Pick 4
Pull-tab games
Scratch games
Raffles
Casino games: At tribal casinos only
There are more than 25 casinos in Wisconsin, which are all tribal ones. These are the only venues that are allowed to offer casino games, which include table games, slot machines and video pokers.
Charitable gambling: Bingo and raffles
Charitable gambling is pretty big in Wisconsin. There are more than 7,500 organizations that hold licenses to run bingo games and raffles, which are the only two types of games that are allowed to be offered. Finding a bingo hall is easier than finding a casino – there's a heap of them. The law says that a licensed organization can hold as many bingo games as they like. Prize pools must, however, be limited to $2,500 per game.
Poker games: At tribal casinos only
There are no poker clubs in Wisconsin and if you want to be the perfect law-abiding citizen you can't play poker at home with your friends either. The only legal poker that can be played in the state is found at some of the tribal casinos in Wisconsin. You'll find more information about this further down on the page where we have listed all of the venues.
Horse race betting: Legal
Betting on horses is legal in Wisconsin, though there are no racetracks where the betting can take place live. You can, however, find several off-track betting facilities that can be used to bet on races going down in other states.
Greyhound betting: Legal
Wisconsin is one of a very few American states that still allow greyhound racing and wagers on them. As is the case with horse racing there are, however, no racetracks for dog racing operating in the state, but if you want to bet on dogs you have to visit an off-track betting facility.
Sports betting: Illegal
In 2018 the Supreme Court lifted a 25 year old federal law that was banning sports betting in America. This has spurred discussions about legalizing sports betting in Wisconsin, but as of now it is still illegal to bet on sports.
Social gambling: Illegal
As we already covered when looking at the legality of playing casino online in Wisconsin, the social gambling laws in the state are quite harsh. You aren't allowed to partake in any type of gambling activity that isn't a commercial one. This means that a simple home game of poker with your friends would be a criminal offence. Getting caught is highly unlikely of course, but if it would happen the crime is a misdemeanor that could result in a fine of up to $1,000 and 90 days of jail time.
A brief look at the history of gambling in Wisconsin
1848: This was the year that Wisconsin received its statehood and like many American states this came with a ban on all types of gambling.
1973: In a vote the people of Wisconsin approve of bingo games. They can't be offered by anyone though, but only by fund-raising organizations as a form of charitable gambling.
1977: Raffles are added to the list of games that can be offered as charitable gambling.
1987: Pari-mutuel betting on horse and greyhound racing is legalized. A state run lottery program is also introduced as the majority of state residents approve of it in a vote.
1988: The IGRA (Indian Gaming Regulatory Act) passes on a federal level which makes it possible for Native American groups to negotiate gambling compacts with their states.
1992: By this time 11 gambling compacts had been signed with 11 tribes in Wisconsin. This allowed them to construct casinos on their lands which could offer table games and slot machines.
2007: A bill is introduced to legalize commercial casinos in Wisconsin, but is turned down by the governor.
2009: As a result of low attendance and poor profit the last racetrack in the state closes. It's still legal to bet on horses and greyhounds but from this point it can only be done at off-track betting facilities.
Land based casinos in Wisconsin
If you're looking to mix up your internet gambling with some authentic casino action you certainly have a lot of good options in the badger state. There are more than 25 tribal casinos operating in Wisconsin and several of these are pretty big venues. We have listed all of them below.
| Casino | Address | Slot machines | Table games | Poker room |
| --- | --- | --- | --- | --- |
| Potawatomi Hotel & Casino | 1721 West Canal Street, Milwaukee, WI 53233 | 2500 | 99 | 20 tables |
| Ho-Chunk Gaming Wisconsin Dells | S3214 County Road BD, Baraboo, WI 53913 | 2200 | 48 | 10 tables |
| North Star Mohican Casino & Resort | W12180 County Road A, Bowler, WI 54416 | 1225 | 18 | 2 tables |
| Ho-Chunk Gaming Madison | 4002 Evan Acres Road, Madison, WI 53718 | 1200 | - | - |
| Oneida Casino | 2020 Airport Drive, Highway 172, Green Bay, WI 54313 | 1100 | 25 | 8 tables |
| St. Croix Casino & Hotel - Turtle Lake | 777 US Highway 8/63, Turtle Lake, WI 54889 | 1095 | 36 | 10 tables |
| Menominee Casino Resort | 277 Highway 47 North, Keshena, WI 54135 | 850 | 12 | 2 tables |
| Lake of the Torches Resort Casino | 510 Old Abe Road, Lac Du Flambeau, WI 54538 | 800 | 8 | - |
| Oneida Mason Casino | 2522 West Mason Street, Green Bay, WI 54303 | 780 | - | - |
| Ho-Chunk Gaming Wittenberg | N7198 US Highway 45, Wittenburg, WI 54499 | 700 | 25 | 8 tables |
| Sevenwinds Casino | 13767 West County Road B, Hayward, WI 54843 | 650 | 8 | 5 tables |
| Ho-Chunk Gaming Black River Falls | W9010 Wisconsin Highway 54 East, Black River Falls, WI 54615 | 630 | 10 | - |
| Ho-Chunk Gaming Nekoosa | 949 County Road G, Nekoosa, WI 54457 | 600 | 10 | - |
| St. Croix Casino - Danbury | 30222 Highway 35, Danbury, WI 54830 | 500 | 10 | 1 table |
| Potawatomi Carter Casino Hotel | 618 State Highway 32, Carter, WI 54566 | 500 | 4 | 3 tables |
| Mole Lake Casino Lodge | 3084 State Highway 55, Crandon, WI 54520 | 500 | 6 | - |
| Bad River Lodge & Casino | 73370 Highway 2, Odanah, WI 54861 | 400 | 8 | - |
| IMAC Casino | 2100 Airport Drive, Highway 172, Green Bay, WI 54313 | 400 | - | - |
| Legendary Waters Resort & Casino | 37600 Onigaming Drive, Bayfield, WI 54814 | 300 | 8 | 2 tables |
| St. Croix Casino Hertel and Hertel Express | 4348 State Road 70, Webster, WI 54893 | 250 | - | - |
| Oneida Casino Travel Center | 5939 Old 29 Drive, Green Bay, WI 54313 | 123 | - | - |
| Oneida One-Stop Packerland | 3120 South Packerland Drive, Green Bay, WI 54313 | 97 | - | - |
| Ho-Chunk Gaming Tomah | 27867 Highway 21, Tomah, WI 54660 | 96 | - | - |
| Grindstone Creek Casino | 13394 West Trepania Road, Hayward, WI 54843 | 86 | - | - |
| Thunderbird | West 106 County Road VV, Keshena, WI 54135 | 30 | - | - |
FAQ about gambling and casinos in Wisconsin
What's the legal age of gambling in Wisconsin?
If you're looking to visit any of the land based casinos you have to be 21 if liquor is served at the venue. If it isn't you'll be allowed in at 18. At this age you can also partake in charitable bingo, raffles and the state lottery. When it comes to online gambling all of the best Wisconsin casinos that we have listed on top of the page allow you to sign up and play with them at the age of 18.
How do I know that a gambling site can be trusted?
Most online casinos in Wisconsin are serious businesses that want to ensure that players keep coming back to them; simply because casinos always win in the long run. Some people believe that the gambling industry is incredibly fishy but there's actually little reason for gambling sites to be dishonest. Why would they risk losing their customers if they always profit in the long run?
To give you a more direct answer to the question the best way of knowing is to check the casino's reputation by visiting a review site such as the one you're on right now. If experts like us and players in general can vouch for the casino then you can be sure that it's safe.
What are the pros and cons of gambling online?
Compared to playing land based the pros and cons of gambling online include:
+ Convenience as you can do it from anywhere at any time
+ Convenience as you can do it from anywhere at any time
+ You can easily play at several casinos and grab more bonuses
+ It's possible to make deposits and withdrawals with bitcoins
+ You can bet on sports and the poker action is way better
– While comfortable it might not be as exciting
– You may experience fees on your transactions
– It takes longer to receive your winnings
Do I need to download any software to gamble online?
Not at all! It doesn't matter if you're using a desktop computer, laptop, tablet or smartphone – all gambling can be conveniently done in your web browser. The only occasional exception is poker. While many gambling sites allow this to be played in your browser as well some require you to download a software.
Casino Sites by States
---
More US online casinos