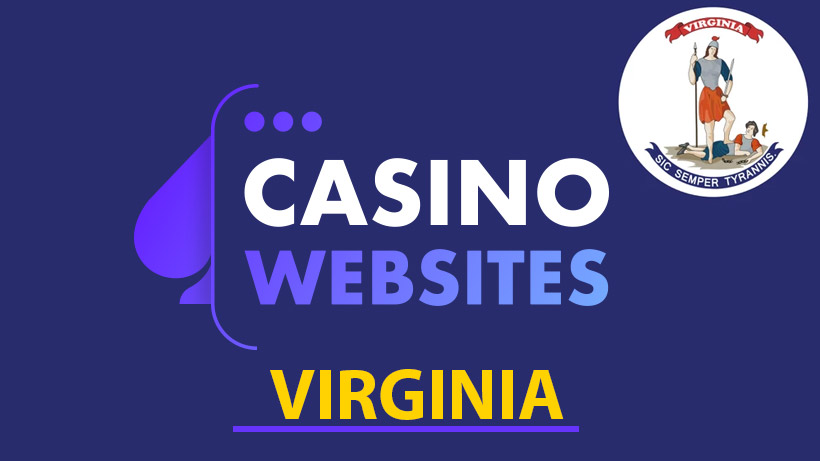 Virginia Casinos Online
By legalizing sports betting in 2020 it may seem like Virginia has broken free from its conservative stance on gambling. They do, however, still have a long way to go to satisfy us gamblers. With no casinos in the state and no racetracks operating, land based gambling is limited to charitable raffles, bingo, lotteries and off-track betting facilities. But luckily for us Virginians it's easy to get a dose of high quality casino and poker action online. This leads us to why we have created the following page.
Having reviewed every gambling site that accepts Virginians, we have picked out the very best ones and conveniently listed these to help you find the perfect site to gamble at. We have also thrown in a beginner's guide to internet gambling and included some other valuable information, such as the legality of it. To give you a quick hint – you're perfectly safe playing at online casinos in Virginia.
Best online casinos in Virginia listed and reviewed
How do you decide which Virginia casinos are the best?
We do it very carefully. The above list of casinos is not just randomly put together, but there is a lot of hard work and consideration behind it. We are passionate gamblers ourselves and when we claim to be listing the best online casinos in Virginia we are dead serious about it.
Having spent countless of hours on Google we have documented just about every gambling site that allow Virginians to sign up and play with them. These sites are regularly visited and scrutinized by two of our casino experts here at casinowebsites. Their job is to rate the casinos on several important factors that can have an impact on the gambling experience such as the following:
Game selection
Customer support
Withdrawal times
Banking options
Mobile adaption
Promotional offers
Welcome bonus
Loyalty rewards
Safety standards
While some of these factors weigh more heavily towards the casinos' scores than others – such as safety standards which must be impeccable – the sites with the overall best ones are those that we list as the best Virginia casinos online. This way you can be sure to get a top quality gambling experience from the operators that we recommend.
This is what you can expect from our listed sites
To give you a thorough glimpse of what the online gambling experience will be like at our recommended casinos we have created an easily digested FAQ that should answer everything that you would want to know. Please do, however, note that everything mentioned won't be applicable on each and every listed casino. While the gambling sites are much alike each other, they also have their differences and own unique features.
What games and products can I find?

| Hundreds of slot machines | Progressive jackpot games | Craps | Roulette |
| --- | --- | --- | --- |
| Blackjack | Baccarat | Andar Bahar | Video Poker |
| Bingo | Tree Card Poker | Let 'Em Ride | Pai Gow |
| Rummy | Lucky Wheels | Dice games | Keno |
| Live dealer games | Sports betting | eSports betting | Horse race betting |
| Texas Hold'em | Omaha | | |
Many of the best online casinos in Virginia are not only offering a wide variety of casino games, but also allow you to bet on sports and play poker against other players.
How can I get help from the support?
Reaching the support is super easy as professional agents are available all around clock. They are friendly, service-minded and efficient.
What bonuses can I find?

| Deposit bonuses | Refer a friend bonuses | Lottery draws | Cashbacks |
| --- | --- | --- | --- |
| Free spins | Competitions | Live dealer bonuses | Good will bonuses |
We absolutely love bonuses as not only can these be a lot of fun, but they also increase our long term chances of winning. Therefore we've made sure to include casinos that frequently run all kinds of different promotions.
Can I get a free bonus?
With some of the casinos you can. While all gambling sites are offering a welcome bonus that will give you extra money on your first deposit, some are also giving you a free bonus just for having an account created. This is either a small amount of cash or a couple of free spins on a slot machine.
Are loyalty rewards offered?
They sure are! As a loyal player who keep making deposits you will always be rewarded in one way or another. At some of our listed sites you'll gather loyalty points for all of your wagers which can earn you weekly deposit bonuses and monthly cashbacks. If no loyalty program exists you can still get rewarded – either randomly or by having a chat with the support and asking for a bonus. They care about their players so if you're frequently playing you can be sure to get compensated for it.
How am I protected as a player?
Safety is our top priority so at all of the best Virginia casinos that we have listed you will find the following:
SSL encryption and reliable platforms
A good reputation among players (not to mention being vouched by us)
RNG approved games (these are approved by independent companies)
ID verification of all players
How can I deposit and withdraw money and how long does it take?

Deposit methods



Debit cards
Bitcoins
Wire Transfer
Person to Person
Instant
Up to 2 hours
Up to 5 days
Up to 3 days

Withdrawal methods



Bitcoins
Wire Transfer
Check by Courier
Person to Person
Up to 2 hours
Up to 5 days
Up to 10 days
Up to 5 days
Do note that for withdrawals there's also a processing time from the casino's side. This is usually somewhere between 24 and 48 hours.
Are there any minimum or maximum limits on deposits and withdrawal?
There are and these can vary widely from one gambling site to another and also from one payment method to another. For deposits minimum limits can be anything from $10 (bitcoins) to $20 (debit cards and bitcoins), $50 (debit cards) and $1,000 (wire transfers). Maximum limits are usually very high so these shouldn't be a problem for you.
When it comes to withdrawals minimum limits can be anything from $20 (bitcoins) to $50 (person to person), $150 (wire transfer), $180 (check by courier), $500 (wire transfer and check by courier) and $1,000 (wire transfer). As of maximum limits only a few casinos have these in place, but they could be something like $2,000 per week. As mentioned, limits vary a lot between gambling sites.
Can I download a mobile app to my phone?
Only a few online casinos in Virginia have developed mobile apps for their businesses so in general you won't find one. While it can be a bit of luxury to use an app you don't really need one though. All of the gambling sites that we have recommended have websites that are perfectly adapted to mobile devices.
Do I have to download a software to play games?
Not at all! Some casinos offer the option of doing it, but no matter if they do or not all casino games can always be instantly played in your web browser. It's really convenient.
Can I play games without making a deposit?
You can indeed! The vast majority of casino games are available to enjoy for free using demo credits. As long as you have an account created all you have to do is to click on the game you would like to play and choose to play it for fun.
How do I gamble at online casinos in Virginia?
It's pretty easy. Most things are self-explanatory and even if you'd stumble upon something that you don't understand you can always reach out to the customer support which will quickly help you out. Since we are here to guide we have, however, also created a brief step-by-step guide below.
Choose a gambling site to play at
If you're only looking for casino games all of the best Virginia casinos that we have listed will probably be more than satisfying to you. Should you like to indulge in sports betting or poker against other players you do, however, need to be a bit more selective in your choice.
This process is similar to any other account creating process. Just click the sign up button at the casino and you'll be asked to enter some personal details about yourself. Make sure that you enter correct ones as your identity will have to be verified when you're making a cash out.
Bonuses are great to use and sometimes they need to be activated before making a deposit. It is therefore our recommendation that you check out promotional offers prior to funding your account.
All bonuses come with terms and conditions that are important to know about. Don't forget about reading these through as it may for instance be that you have to wager your received bonus a certain amount of times before being able to make a withdrawal. This is a so called wagering requirement.
Making a deposit is pretty straightforward – it's similar to making an online purchase. Just head to the cashier at the casino; choose your deposit method; enter the amount you would like to deposit and confirm the transaction.
There's not much to be said about playing the games. All of them have detailed rules and pay tables included so even if one is new to you it shouldn't be that difficult to learn it. Unlike land based casinos you never have to worry about a game ripping you off. Luck does of course always play an important role. However, the average payback percentage is really high at around 96%.
If you get lucky and would like to make a cash out this is just as easily done as making a deposit. Just head to the same cashier and request a withdrawal. Before your money can be sent to you all legitimate online casinos in Virginia do, however, require you to prove your identity.
Getting your identity verified is a smooth process. All you have to do is to take a photo of a driver's license, passport or other government issued ID and upload this to your account. This is easily done. After that the casino's risk department will review it within 48 hours. Unless you're under 18 or have faked your identity your account will be approved and your cash out processed.
Is it legal to play casino online in Virginia?
Like many states in America the matter of internet gambling is a bit of a grey area in Virginia. Not with sports betting and lotteries of course as these two activities are officially legal to be offered and partaken in online. But with poker and casino there are no clear directives.
Our best guess would, however, be that anything that isn't explicitly allowed would be considered illegal. We base this on the criminal code of 18.2-325 that defines illegal gambling as the following (the word "commonwealth" means state):
"making, placing or receipt, of any bet or wager in this Commonwealth of money or other thing of value, made in exchange for a chance to win a prize, stake or other consideration or thing of value, dependent upon the result of any game, contest or any other event the outcome of which is uncertain or a matter of chance, whether such game, contest or event, occurs or is to occur inside or outside the limits of this Commonwealth.
While internet isn't addressed we assume that this law could be applied to online gambling as well. Especially since it states that it doesn't matter if the actual game takes place within the borders of Virginia or outside of the state.
If you're thinking about playing casino online in Virginia you don't have to worry much about this law though. Not only are the penalties for breaking it soft, but no one has actually been charged for gambling online. If it hasn't happened yet it probably never will.
Chasing down single individuals who are betting on sports, playing poker and spinning on slots online is just too much of a hassle for the law enforcement to be bothered about. Not to mention that many gamblers probably would go crazy if they actually started to take action.
A brief look at the history of gambling in Virginia
1500s: According to historians horse races in Virginia were running at underground facilities as early as in the 16th century
1900s: Like many American states all types of gambling as well as alcohol were made illegal during the prohibition era that took place in the early 1900s.
1973: Charitable gambling is made legal. This makes it possible for fund-raiser organizations to offer certain types of games such as bingo and raffles.
1987: A state lottery is legalized and tickets start going on sale the following year.
1988: In a vote the people of Virginia approve of pari-mutuel betting on horse racing.
1989: An organization is created to regulate betting on horses – the Virginia Racing Commission.
1995: Legalizing riverboat casinos in Virginia is up for discussion as a lot of tax dollars are lost to neighboring states where Virginians travel to play casino. The bill is, however, denied by committee.
1997: The one and only racetrack to exist in Virginia opens up – Colonial Downs.
2000: It's decided that all profits that are made from the state lottery should go to fund education.
2013: Another bill suggesting a legalization of riverboat casinos in Virginia is introduced, but fails.
2014: Colonial Downs – the only racetrack in the state – closes after suffering from financial difficulties for quite some time.
2020: Sports betting is legalized.
FAQ about gambling in Virginia
Has anyone been arrested for gambling online in Virginia?
Not that we know of and we have done thorough research on the subject. Even though most American states, including Virginia, haven't fully legalized online gambling they aren't going after you and me – single individuals who indulge in it. They are only interested in chasing down people who are running the gambling sites. And even here they usually don't care about those that are hosted outside of America, but only those that are located within the country.
Can I gamble at online casinos at any age?
You certainly cannot. Online casinos that allow Virginians to play with them may not be regulated within the state, but they are definitely not lawless businesses. They have a bunch of rules that they have to follow if they want their sites to keep running, which includes an age requirement. This is set to 18 at most online casinos, but you may stumble upon those that have it set to 21 as well.
Am I allowed to gamble with my friends at home?
As long as you don't make it an everyday activity and the person hosting the games isn't charging any fees you can wager money on whatever games you like. The social gambling laws are very liberal in Virginia. You can play home games of poker or indulge in blackjack – no problem. The law states the following about gambling in private:
"Nothing in this article shall be construed to make it illegal to participate in a game of chance conducted in a private residence, provided such private residence is not commonly used for such games of chance and there is no operator as defined in subsection 4 of § 18.2-325."
How safe is it to gamble over the internet?
Generally speaking it's very safe. Most online casinos in Virginia are serious businesses that do their very best to keep their players protected. Their websites are SSL encrypted and have other sophisticated safe-guards to combat hackers. Information provided to the casinos is stored safely and only employees who really need access to it have it.
When it comes to their games these are all using a random number generator (RNG) that has been approved by an independent testing company like eCOGRA. This guarantees a high payback percentage (long term), usually around 96%.
While fishy operators do exist they aren't many and you certainly won't find them among the best Virginia casinos that we have recommended.
Casino Sites by States
---
More US online casinos