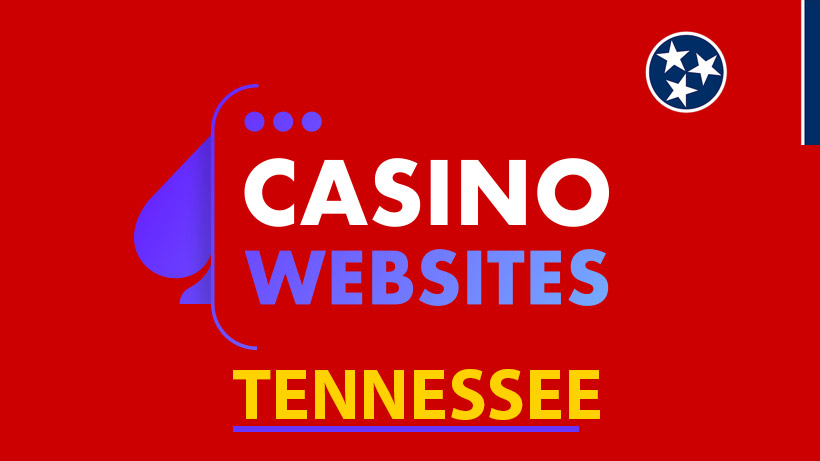 Tennessee Casinos Online
While spinning on slots, indulging in video pokers and playing table games have become increasingly popular in recent years, the Volunteer state keeps living up to its conservative reputation. There is not a single casino in Tennessee. Not a single racetrack either, nor any poker rooms or bingo halls.
With risk-taking being this restrictive in the state there is only one good way of getting a dose of most gambling entertainment and that is visiting a Tennessee friendly online casino. Luckily the internet is filled with gambling sites that allow residents of the Volunteer state to play with them.
On the following page we have gathered many of the best of online casinos that Tennesseans can gamble at. These have been carefully chosen by us based on several factors that are important to the gambling experience, such as game selection, bonus offers, customer support and safety.
Best online casinos in Tennessee listed and reviewed
A glimpse of the experience at the above listed casinos
If you're wondering what it's like gambling over the internet we have mentioned below most of the things that you'll experience from the best Tennessee casinos that we have recommended. As all gambling sites are unique each and every bullet point may not apply to each and every casino, but all in all you'll be able to find the following things:
Game selection
Hundreds of varying slots that range from classic machines to top-modern ones.
Progressive jackpot games offering the possibility of winning several million dollars.
A bunch of table games such as craps, baccarat, roulette, blackjack and 3 card poker.
The option of playing roulette and blackjack against real dealers through a video stream.
Betting on more than twenty different sports and eSports as well as horse and dog racing.
A poker platform that allows you to play Texas Hold'em and Omaha against other players.
Transactions
Deposits with Amex, Discover, Visa, Mastercard, Bitcoins and Wire Transfer.
Minimum deposit limits range from $10 to $25. No maximum limits exist.
Withdrawals with Bitcoins, Wire Transfer, Person to Person and Check by Courier.
Minimum cash out limits range from $10 to $200. No maximum limits exist.
Withdrawals are processed and approved by the casinos within 48 hours.
Bonus offers
Free money on sign up (only offered by some of the best Tennessee casinos).
A very valuable welcome bonus giving you extra money on your first deposit.
Plenty of interesting promotions that are regularly replaced by new ones;
Cashbacks, free spins, competitions, lottery draws, deposit bonuses and more.
Good will bonuses and exclusive rewards given to frequently depositing players.
Customer support
Available 24/7 to help you out with anything on live chat, e-mail and phone.
Agents are friendly, service-minded, professional and efficient in handling cases.
Safety standards
Games are using a random number generator approved by an independent company.
State of the art servers that ensure a stable and smooth gambling experience.
Websites are encrypted with SSL and are guaranteed to be hacker proof.
ID verification to tackle fraudulent behavior and underage gambling.
Dedicated teams making sure that technical issues don't happen.
How do I gamble at online casinos in Tennessee?
Gambling over the internet is easy as pie. If you've ever created any type of account online (such as facebook) and made any type of online purchase (such as Amazon) you already know the half of it. But to give you a good introduction to how internet gambling works we have covered just about everything you need to know in a brief step-by-step guide below.
Step 1: choose a gambling site to play with
Unless you're looking for anything in particular you don't have to be picky about this step. For casino gambling all of the best Tennessee casinos that we have recommended will probably be more than satisfying to you. Should you, however, be interested in combining casino with sports betting or poker you may have to be a bit more selective with your choice.
Step 2: sign up and create a casino account
All online casinos in Tennessee require you to have a personal account if you want to play with them. This is easily created by clicking the "sign up" or "join now" button at the casino. You'll be asked to provide some personal details about yourself such as name, home address, date of birth and e-mail.
In addition to this you might find a field where you're able to enter a bonus code. If a sign up gift is offered by the casino (giving you a small amount of money for free) this is usually where the bonus is triggered. You have to enter a unique code that is tied to the promotional offer.
Step 3: confirm the account creation
With some sites your account won't be activated until you have confirmed it. This is quickly done by entering a code that has been sent to your e-mail or as a text message to your phone.
Step 4 (optional): try out the games
Once you have an account you're able to try out the vast majority of games offered by the casino. These can be played for free using demo credits. All you have to do is to click on them.
Step 5 (optional): check out bonus offers
To get the most value out of the gambling experience we highly suggest checking out the casino's promotional page to see what bonuses they have in store for you. Taking part of bonuses is a great way of increasing your long term chances of winning as they will give you an added value.
Just make sure to read through the terms and conditions that all bonus offers come with. These contain important information that usually isn't available in the main descriptions of the offers. It may for instance be that the bonus has a time limit or comes with a wagering requirement.
Step 6: fund your casino account
If you're looking to win real money you have to stake real money as well. By heading to the cashier at the casino you will find several ways of depositing cash. If you're into cryptocurrencies Bitcoins may be a good choice as this method doesn't come with any transaction fees. Most people do, however, prefer using debit cards as the deposits with these are instantaneous.
Step 7: time to enjoy the games
With your account loaded with money it's time to make friends with lady lucky. There is no software to be downloaded but all games can be conveniently enjoyed in your web browser. This makes it just as easy to gamble from a mobile device as it is gambling from a desktop computer.
We recommend trying out a bit of everything as mixing up the gambling tends to be a great recipe for fun. Detailed rules and pay tables are included in all games and should be easy to understand.
Step 8: request a cash out
If lady luck accepted your friend request your account balance is boosted and you're now looking to make a cash out. This is easily done in the same cashier that your deposit was made in. As debit cards usually aren't an option for withdrawals, most people prefer cashing out by bank transfer. Bitcoins is, however, the fastest method.
Step 9: verify your identity
All of the best Tennessee casinos that we have recommended have great security standards in place to ensure a safe experience for everyone. A verification process must therefore be done before any of your withdrawals can be handled. This process exists to tackle fraud and underage gambling. All you have to do is to take a photo of a valid ID, such as a passport or driver's license, and send this photo to the casino.
Is it legal to play casino online in Tennessee?
It is not and this shouldn't come as a surprise to anyone as Tennessee is one of the most hostile states towards gambling. The law isn't directly addressing internet gambling though, but what it says is that anything that is not explicitly legal is deemed to be illegal. Surprisingly enough sports betting over the internet is actually legal in Tennessee (it was legalized in 2019). Playing casino online is, however, not and probably won't be for quite some time.
If you're considering playing at any of the best Tennessee casinos that we have listed on top of the page you don't really have to worry much about the law though. In the twenty or so years that internet gambling has been around the law has never been enforced. No one has ever been faced with any legal action. And even if you, against all odds, would face any the penalty for a first and second time offense is only a fine of $50. That's certainly not a big price to pay for indulging in the thrilling fun of gambling.
What's the legal status of other types of gambling?
Tennessee may be known for its conservative stance on gambling – and with all rights so – but it actually isn't as terrible as some may think. Let's take a closer look at the legality of gambling and what risk-taking options residents of the Volunteer state have.
Lotteries: Legal
A state run lottery program has been operating in Tennessee since 2003. This includes lotteries such as Cash 3, Cash 4, Cash 4 Life, Hot Lotto Sizzler, Mega Millions, Powerball, Tennessee Cash, and scratch offs. Buying tickets is easy as there are more than 5,000 retailers in the state. Anyone at the age of 18 or older is allowed to purchase them.
Casino games: Illegal
Unlike the vast majority of American states there is not a single casino in Tennessee. The only way to play slots, table games and video pokers is to visit an online gambling site.
Horse race betting: Legal
As much as there aren't any land based casinos in Tennessee there aren't any racetracks operating either. It is, however, legal to bet on horses. This can be done through apps as well as certain websites.
Sports betting: Legal
In 2019 the state of Tennessee shocked us all as a bill to legalize sports betting was signed into law. It's quite a unique law as there aren't any venues to physically bet at, but all sports betting takes place remotely through mobile apps and websites. The minimum age required to bet is 21.
Poker: Illegal
Considering the fact that the successful and renowned poker profile Chris Moneymaker comes from Tennessee it's a bit ironic to find that poker is strictly illegal in the state. It's not even allowed to be played in your own home and while it's unlikely that a small stakes game will be raided, police have in fact cracked down on private poker games in Tennessee.
Charitable gambling: Legal
While charitable gambling is somewhat legal in Tennessee it is very limited. Fund-raiser organizations are only allowed to host a single event per year and games offered can only be raffles, cakewalks and cakewheels. Not even bingo games are allowed.
A brief look at the history of gambling in Tennessee
1804: The first racetrack in Tennessee opens up and betting on horses quickly becomes very popular.
1839: By this time as many as ten racetracks have opened up in the state.
1906: All types of gambling are banned. This obliterated the horse racing industry that had flourished up until this point.
2002: In a vote the residents of Tennessee approve of a state run lottery program. The profits from this are supposed to fund education in the state.
2003: Chris Moneymaker, an amateur poker player who was a resident of the Volunteer state, wins the World Series of Poker cashing in $2.5 million. This became a catalyst to the poker boom that was already emerging.
2005: The attorney general of Tennessee clarifies that poker is illegal even if no one is profiting from hosting the games.
2011: After being struck by tornados and flooding that caused a lot of damage to the state, legislatures vote to legalize cakewalks, cakewheels and raffles as charitable gambling. This is to raise funds that will help covering the costs of the damages.
2012: A home game of poker is raided and 39 people charged for illegal gambling. The police seized marijuana, prescription pills and cash.
2015: The state lottery hits record high revenue with $1.48 billion in annual ticket sales.
2016: Daily fantasy sports are legalized.
2019: A bill is approved to allow sports betting in the state.
FAQ about online casinos in Tennessee
Can I be arrested for gambling over the internet?
Not a chance in the world! While online gambling is considered to be a criminal offense in Tennessee, the worst thing that can happen for a first and second time offense is getting a $50 fine. It is, however, more likely for you to win a million dollar jackpot than getting this fine as no one has ever received one for their online gambling activities.
What is a wagering requirement?
This is a common condition that bonuses offered by online casinos in Tennessee have – especially bonuses that give you extra money to play with. It exists to prevent players from instantly cashing out their received bonus, which would be quite costly for the casinos. Before you're able to do this you have to fulfill the wagering requirement, which means staking a certain amount of money on games. The requirement could for instance be 10 times the received bonus amount.
How old do I have to be to gamble at online casinos?
The vast majority of gambling sites accept players from the age of 18.
Do all gambling sites accept players from Tennessee?
No, far from. This is why we have created the following page where we're listing the best casinos in Tennessee. Only a portion of all gambling sites that exist allow Americans to play with them, which can make it troublesome finding a safe and high quality operator. Well, not for you of course since you are here with us and we have done all the work for you.
Casino Sites by States
---
More US online casinos