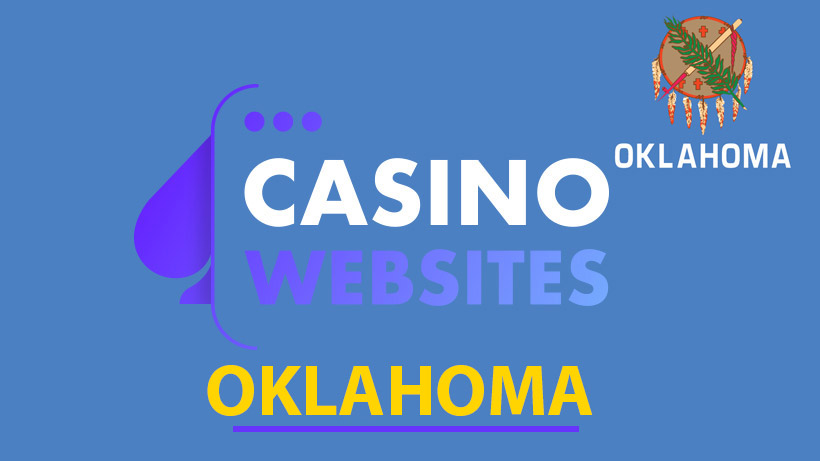 Oklahoma Casinos Online
Being a southern state living up to its conservative stance on most gambling related topics, you wouldn't expect a lot of options for casino action in Oklahoma, if any at all. But a huge chocker is that the sooner state has more Las-Vegas style gambling venues available per capita than any other American province. There's about 1 casino per 30,000 people or to put it in another way, a stunning number of more than 120 land based casinos that are offering slots and table games.
This is a result of the Indian Gaming Regulatory Act allowing tribal groups to negotiate gambling compacts with the state and the fact that Oklahoma has the second largest population of Native Americans. While the tribal gambling venues bring in billions of dollars every year, they are getting more and more stiff competition from Oklahoma friendly online casinos. These websites are quickly rising in popularity and it's no wonder.
Gambling over the internet comes with many benefits, such as convenience, higher chances of winning and being able to bet on a huge selection of sports. On the following page we will tell you more about these advantages, along with guiding you to the very best online casinos in Oklahoma; looking at the legality of gambling in the state and covering many other gambling related things.
Best online casinos in Oklahoma listed and reviewed

How do I gamble at online casinos in Oklahoma?
More or less the same way that you gamble at the land based venues in the state. The difference is not that big except for the fact that everything is happening with a click of a mouse or touchscreen as opposed to being physically there. But let us guide you through the process with eight simple steps:
Have a look around at the gambling sites that we have listed above and sign up an account with the one that seems best suiting for you. They are quite similar so the only thing you may want to consider is if you're interested in just casino gambling or sports betting and poker as well. This is the biggest difference between them as some sites only offer casino games.
Creating your account you'll be asked to enter some personal details about yourself such as first and last name; home address; and date of birth.
When your account is created you'll be able to try out the vast majority of the casino's games for free. Slot machines, video pokers and table games can all be enjoyed using demo credits.
You're probably looking to play for real money so you need to make a deposit. However, before doing so we suggest that you check out the casino's bonuses. The best Oklahoma casinos that we have recommended are known for running plenty of promotional offers. Taking part of these is a great way of boosting your long term chances of winning.
When it's time to fund your account with money you do this in a cashier that should be easy to find. You'll get to choose between several payment options such as Visa, Mastercard, Wire Transfer and Bitcoins. The process is very simple and similar to making an online purchase.
Once your account is funded it's time for the thrilling excitement to begin – this time for real. You may want to say a prayer or two to lady lucky.
If you're running good you'll probably want to make a withdrawal. This can usually be done by Wire Transfer, Bitcoins or by having a check physically sent to your home; rarely by debit cards. Requesting the cash out is as easy as depositing and often made in the same cashier.
While withdrawals are normally handled by the casino within 48 hours, it's important to know that your first one won't be until your identity has been verified. This is a security measure that is also found at land based gambling venues. It exists to tackle fraud and underage gambling. What you need to do is to send the casino a photo of a valid ID. Once they have received and approved of this it will be smooth sailing with all of your cash outs.
Should you have any questions about any of the above stages or if anything else comes to mind when you're gambling, all of the best Oklahoma casinos recommended by us have a world class support. This is available 24/7 on live chat, e-mail and phone. Just hit them up and a friendly agent will gladly help you out with whatever you need help with.
Is it legal to play casino online in Oklahoma?
It is not and unless something drastically happens it is not likely that we'll see this changing any time soon. In Oklahoma any type of gambling that is not licensed within the state is considered to be illegal. Browsing through the law we were able to find the following segment defining illegal gambling and the consequences for partaking in such.
"Any person who bets or plays at any of said prohibited games, or who shall bet or play at any games whatsoever, for money, property, checks, credits or other representatives of value with cards, dice or any other device which may be adapted to or used in playing any game of chance or in which chance is a material element, shall be guilty of a misdemeanor, and upon conviction thereof shall be punished by a fine of not less than Twenty-five Dollars ($25.00), nor more than One Hundred Dollars ($100.00), or by imprisonment in the county jail for a term of not less than one (1) day, nor more than thirty (30) days, or by both such fine and imprisonment."
As you can see the worst case scenario for playing casino online in Oklahoma is ending up in prison for 30 days and having to pay a fine of $100. If you're interested in gambling over the internet the most question you should be asking yourself is, however, how likely it is that you'll be faced with any legal action. Most American states look the other way as they have no interest in chasing down single individuals that are gambling online. And so is Oklahoma.
There has only been one arrest in the state and it's not really a chocker that this happened. Not only was it a police officer that was gambling over the internet, but his betting also took place at a site that was illegally operating within the borders of Oklahoma. So if you're going to spin on slots, play poker or place sport bets online make sure that the site is located outside of America and don't be a police officer as cops are actually supposed to uphold the law.
We suggest visiting one of the best Oklahoma casinos that we have listed for online gambling on top of the page. These are all located in jurisdictions outside of America and perfectly safe to play at.
What's the legality of other types of gambling?
Lotteries: Legal
Social gambling: Not legal
Charitable gambling: Legal (bingo, pull-tabs and raffles)
Sports betting: Not legal
Poker games: Legal (at tribal casinos)
Casino games: Legal (at racinos and tribal casinos)
Horse race betting: Legal
Dog race betting: Not legal
Online betting: Not legal
Online poker: Not legal
A brief look at the history of gambling in Oklahoma
1916: All types of gambling become illegal.
1983: Through the Horse Racing Act pari-mutuel betting on horses is legalized.
1988: The Indian Gaming Regulatory Act is passed on a federal level. This would eventually lead to Oklahoma's huge gambling industry.
2004: In a vote racinos and tribal casinos in Oklahoma are approved.
2005: The sooner state introduces a lottery program.
2011: A police detective in Oklahoma faces legal charges for gambling over the internet.
2013: Two bar owners were arrested for hosting poker games and profiting from them. This year two of Oklahoma's tribes also attempted to offer online poker. The site in question was, however, quickly blocked as they had no legal right to do so.
2014: This year all of the casinos in Oklahoma made a total revenue of a stunning $4.2 billion.
Advantages of playing casino online
If you're new to the whole idea of gambling over the internet and you aren't sure if you should give it a shot or not, the below mentioned advantages will probably have you convinced to do so.
Playing online is all about convenience
Forget everything you know about dressing up and spending precious time travelling to the casino. Getting a dose of excitement from internet gambling happens in a blink of an eye. Just a few clicks and you're spinning on slots and playing table games against real dealers. And the best thing is you're doing it in your underwear, comfortably lying on the couch.
Slot machines have higher payouts
It may be hard to believe, but when you visit any of the best Oklahoma casinos that we have listed for online gambling you will find that the average payout percentage (RTP) of their slots is 96%. This means that for every $100 staked you're expected to get $96 back. At land based venues the slot machines rarely have a higher RTP than 90% and sometimes they even go as low as 80%.
Bonus offers come in greater numbers
Sure, land based venues offer bonuses but you won't find nearly as many as you do when playing online. And we don't just mean that a single operator has more bonus offers than a land based venue. This is often true, but when gambling over the internet you can also switch from one casino to another in a few seconds, allowing you to take part of all casinos' promotional offers.
It's the only way for you to bet on sports
Since sports betting isn't legalized in Oklahoma you have to turn to the internet if you want to indulge in it. You'll find that more or less all sports and major matches are up for betting.
Fancy bitcoins? You can use them online!
These days the vast majority of Oklahoma friendly online casinos allow you to deposit and withdraw using bitcoins. This can be quite handy if you're invested in them as cash outs happen almost instantaneously.
Land based casinos in Oklahoma
Gambling over the internet may be incredibly convenient and provide you with much better chances of winning than land based venues ever will. One thing that online casinos can't compete with is, however, authenticity. There's something special about walking through the doors of a land based gambling venue; seeing hundreds of flashing lights and feeling the excitement lying thick in the air.
Should you like to experience this, the sooner state is one of the best states to live in as it is home to over a hundred land based casinos and also one of the largest ones. The WinStar World Casino in Thackerville has more than 7,400 slot machines, nearly 100 table games and a huge poker room (46 tables) where cash games and large scale tournaments constantly go down.
For your convenience we have listed all of the best Oklahoma casinos below and sorted them in alphabetical order of the city that they're located in.
| Casino | City | Casino | City |
| --- | --- | --- | --- |
| Ada Gaming Center | Ada | Ada | Norman |
| Gold Mountain Casino | Ardmore | Thunderbird Wild Wild West Casino | Thunderbird Wild Wild West Casino |
| Osage Casino | Bartlesville | One Fire Casino | Okmulgee |
| Choctaw Casino | Broken Bow | Broken Bow | Paoli |
| Lucky Star Casino | Canton | Canton | Canton |
| Hard Rock Hotel & Casino | Catoosa | Seven Clans | Perry |
| Lucky Star Casino | Clinton | SaltCreek Casino | Pocasset |
| Lucky Star Casino | Concho | Choctaw Casino | Pocola |
| Treasure Valley Casino | Davis | Osage Casino | Ponca City |
| Comanche Red River Casino | Devol | Seven Clans | Red Rock |
| Kiowa Casino & Hotel | Devol | Cherokee Casino | Roland |
| Chisholm Trail Casino | Duncan | Cherokee Casino | Sallisaw |
| Choctaw Casino Resort | Durant | Osage Casino | Sand Springs |
| Comanche Spur Casino | Elgin | FireLake Casino | Shawnee |
| Creek Nation Casino | Eufaula | Grand Casino Hotel Resort | Shawnee |
| Cherokee Casino | Fort Gibson | Kickapoo Casino | Shawnee |
| Choctaw Casino | Grant | Sac & Fox Casino | Shawnee |
| Grand Lake Casino | Grove | Stigler Casino | Stigler |
| Lucky Star Casino | Hammon | Choctaw Casino | Stringtown |
| Kickapoo Casino | Harrah | Cash Springs Gaming Center | Sulphur |
| Osage Casino | Hominy | Cherokee Casino | Tahlequah |
| Choctaw Casino | Idabel | RiverStar Casino | Terral |
| Texoma Casino | Kingston | WinStar World Casino | Thackerville |
| Comanche Nation Casino | Lawton | Osage Casino | Tulsa |
| Madill Gaming Center | Madill | River Spirit Casino | Tulsa |
| Choctaw Casino | McAlester | Comanche Star Casino | Walters |
| Buffalo Run Casino | Miami | Lucky Star Casino | Watonga |
| High Winds Casino | Miami | Cherokee Casino | West Siloam Springs |
| Quapaw Casino | Miami | Red Hawk Gaming Center | Wetumka |
| The Stables Casino | Miami | Lucky Turtle Casino | Wyandotte |
| Muscogee Creek Nation Casino | Muskogee | Wyandotte Nation Casino | Wyandotte |
| Newcastle Casino | Newcastle | | |
FAQ about gambling and casinos in Oklahoma
Do online casinos in Oklahoma offer sports betting?
Not all but some do. If you have a look at the best online casinos in Oklahoma that we have recommended on top of the page you will find several ones that are offering a wide range of gambling products. Not only does this include sports and eSports betting, but also a poker platform where Texas Hold'em and Omaha can be enjoyed against other players.
Has anyone been arrested for gambling online in Oklahoma?
Unlike the vast majority of American states this has actually happened, yes – just once though. The guy who was faced with legal action was ironically a police detective. The only reason that he got caught was that he was betting at a site operating within Oklahoma which is strictly forbidden and a serious felony. So when the state took down this site our gambling loving police detective was noticed and brought down with it.
How much are the casinos in Oklahoma benefiting the state?
Considering the fact that tribal casinos bring in billions of dollars every year – quite a lot – but perhaps not as much as you would think. They don't pay any taxes on their class II games, but only on class III which make up about half of their profits. In addition to this, the tax is fairly mild. To answer the question, the land based casinos in Oklahoma bring in about $200 million to the state every year.
Can I set up a home game of poker in Oklahoma?
Legally speaking? You cannot. Social gambling is illegal in Oklahoma which means that no types of risk-taking happening among friends in private facilities are allowed. This doesn't imply that you'll get in trouble for it though. Hundreds of home games take place in Oklahoma every week and no one is getting charged for it. Unless you make a big deal out of your game like playing for a huge amount of cash or inviting a large group of people the police doesn't care. Heck, they won't even know about your game at all.
What's the minimum age to visit casinos in Oklahoma?
This can actually vary from one venue to another as the tribal groups are allowed to set their own age requirement – either 18 or 21.
Casino Sites by States
---
More US online casinos