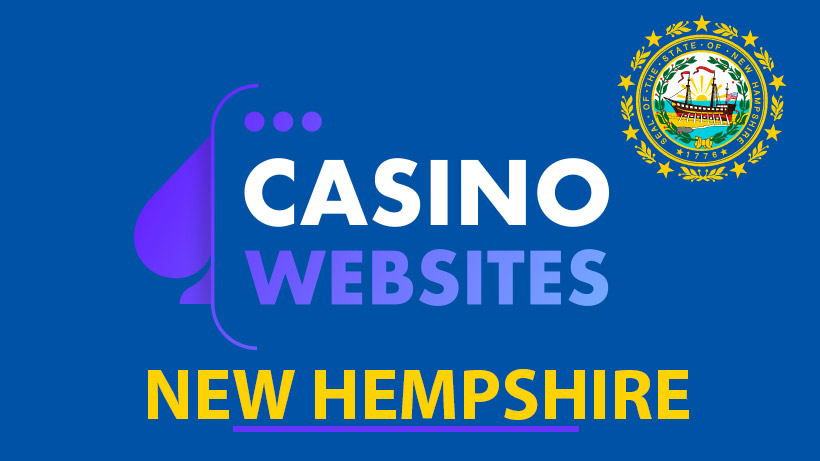 New Hampshire Casinos Online
If you're a big fan of poker and table games the granite state is a lovely place to live in. There may not be any real casinos in New Hampshire, but with very liberal laws towards charitable gambling, Texas Hold'em, craps, roulette and blackjack can be enjoyed at several venues. Sports and horse race betting is also legalized, which means that many of these venues allow you to place various bets as well.
Even though land based gambling is easily accessible in the state, many New Hampshirites prefer playing online as this comes with a lot of benefits. Not only is it extremely convenient and not only does internet gambling offer plenty of valuable casino bonuses, but it's also the only way to spin on slot machines. Not to mention the fact that table games don't have a maximum bet limit of $4, which the land based venues in New Hampshire do.
As there are plenty of gambling sites offering their services to residents in the granite state, we at casinowebsites.com have done our outmost to facilitate the search of finding a fantastic one. By taking our time thoroughly reviewing all gambling operators that exist online we have gathered the very best online casinos in New Hampshire and listed these below.
Best online casinos in New Hampshire listed and reviewed
The gambling sites found below have all been cherry-picked by us based on several important factors that can make or break an online gambling experience. This includes, but is not limited to bonus offers; customer support; safety standards; withdrawal times; payment methods; game selection; loyalty rewards and mobile adaption.
A glimpse of the experience at the above listed sites
While the operators that we have gathered above are considered to be the best New Hampshire casinos for spinning on slots and indulging in other types of gambling online, they are not identical. They are all fantastic, but they do have some differences between them such as some sites only focusing on casino games while others are offering betting and poker as well. All in all you can, however, expect the following from them:
Hundreds of slot machines from world class game providers
Several types of video pokers and other games such as keno
All popular table games such as roulette, blackjack, craps and baccarat
A live dealer section where table games can be played against real dealers
Payment options such as debit cards, bitcoins, wire transfer and check
A wide selection of various bonus offers that are constantly renewed
Customer support available on chat, e-mail & phone around the clock
A processing time on withdrawals which is rarely longer than 48 hours
Betting on more than 20 sports, esports, dog racing and horse racing
Poker against other players (Texas Hold'em and Omaha)
How do I gamble at online casinos in New Hampshire?
Online gambling is a smooth past time that you'll quickly get into as the casinos have made the entire experience incredibly easy for us players. After visiting one of the best New Hampshire casinos that we have recommended all you have to do is to create a personal account and add money to it.
As a security measure to prevent underage gambling and fraud you will be asked to provide your name, home address and date of birth when signing up. It's important that you enter the correct details as before any cash outs can be made these will have to be verified. This is easily done by sending over a photo copy of a valid and government issued ID to the casino.
One of the best things about playing online is that bonus offers come in great numbers. Thus before making a deposit you want to check out the casino's promotions. At the very least you'll be able to grab a welcome bonus that will match your first deposit with extra cash. Taking part of this and any other promotional offers is usually a great idea as these will boost your long term chances of winning.
It is, however, important to know that all bonuses come with certain terms and conditions that are highly recommend reading through. Not only will these terms tell you how the bonus is activated and how it works, but they may reveal somewhat of a catch as well. A common one is a wagering requirement. This means that you have to stake a certain amount of money before being able to make a cash out of your received bonus. Even with this "catch" bonuses are still very valuable.
Once you're ready, funding your casino account with money can be done using several different payment options such as debit cards, bitcoins and making a wire transfer. All you have to do is to head to the cashier that can be found in the navigational menu of the site. The deposit process is more or less identical to any type of online purchase so you shouldn't have any difficulties with it.
As soon as your account is funded you're all set. You can now indulge in whatever type of gambling you'd like to. There's no need to download any software, but all games are browser adapted and can be easily played in Google Chrome, Mozilla Firefox or Internet Explorer using your desktop computer or mobile device. Choose from hundreds of slots, table games, video pokers and many other products.
Should it be that you need help understanding a game or have any other questions about the gambling experience, professional support agents are only one click away at the best New Hampshire casinos that we have listed. You can easily reach them on a live-chat all around the clock. They are more than happy to help you out with anything you may need assistance with.
Interesting facts about gambling in New Hampshire
New Hampshire was the first state to offer a state run lottery in America.
All profits from the state lottery go to funding educational programs.
Many bars are offering poker tournaments, blackjack, roulette and craps.
The minimum age of gambling in the granite state is set to 18.
At 18 you can also play at most New Hampshire friendly online casinos.
Is it legal to play casino online in New Hampshire?
As is the case with many American states there are no specific laws addressing online casinos in New Hampshire. Since it's not explicitly allowed, nor explicitly illegal this makes it a bit of a grey area. Whether you could be penalized for gambling online or not is up to a lawyer specialized in iGaming to decide. We don't know. What we do know, however, is that no one in the granite state has ever gotten in trouble for playing casino online. Since tens of thousands, if not hundreds of thousands of residents have been doing this for decades this tells us that the state isn't one bit interested in chasing down single individuals. We would, in other words, say that you're on the safe side doing it.
What is the legal status of other gambling in New Hampshire?
Lotteries: Legal
Social gambling: Not legal
Charitable gambling: Legal
Sports betting: Legal
Poker games: Legal (as charitable gambling)
Table games: Legal (as charitable gambling)
Bingo games: Legal (as charitable gambling)
Slot machines: Not legal
Horse race betting: Legal (no live racetracks)
Dog race betting: Not legal
Sports betting online: Legal
Horse race betting online: Legal
Online poker: Not legal
Daily fantasy sports: Not legal

A brief look at the history of gambling in New Hampshire
1784: During the 18th century lotteries were wide spread in New Hampshire. This year introduced a law that said that revenues from these lotteries must only go to fund the state's educational system.
1906: The first horse racing track in the state opens up – the Rockingham Park. Betting took place for three days. Then the long arm of the law intervened as betting on horses was illegal at the time.
1933: Wagering money on horses and greyhounds becomes legal.
1949: Bingo and pull-tab tickets are legalized as a form of charitable gambling.
1963: With a state-run lottery being up for discussion for about a decade this year finally saw the bill being signed into law. Thus New Hampshire became the first state in America to offer a state lottery.
1971: To oversee dog racing in the state the Greyhound Racing Commission is created.
1977: Table games such as blackjack, roulette and craps are added to the list of games that can be offered by charitable organizations.
1991: Betting on horses from other venues than the actual racetracks (so called simulcast betting) is legalized.
1992: This year simulcast betting on dog racing becomes legal as well.
2008: A bill to allow racetracks to offer casino games is introduced, but turned down.
2009: Greyhound racing is made illegal. This year also saw a decline in horse racing after a 10% tax on betting profits was introduced and the state stopped funding the races.
2012: This year saw the last horse races running in New Hampshire.
2014: Legalizing commercial casinos is up for discussion, but the bill barley misses the mark with just 1 vote (173 in favor of the bill and 172 against it).
2016: Yet another bill is introduced to legalize commercial casinos, but once again it fails. This time in a state senate vote that ended 11 – 13.
Sports bars and casinos in New Hampshire
As we have already mentioned it's incredibly easy to find poker action, bet on sports and enjoy table games such as roulette, craps and blackjack in New Hampshire. There are several bars and charitable casino venues that are offering these products. Should you like to visit one of these venues we have listed the vast majority of them below.
Boston Billiard Club
Address: 55 Northeastern Blvd, Nashua, NH 03062
Chasers Poker Room & Casino
Address: 7 Veterans Memorial Pkwy, Salem, NH 03079
Conway Poker Room & Casino
Address: 155 Emery St, Berlin, NH 03570
Dover Bowl
Address: 887 Central Ave # B, Dover, NH 03820
The Draft Sports Bar & Grill
Address: 67 S Main St, Concord, NH 03301
The Greyhound Casino & Tavern
Address: 319 New Zealand Rd, Seabrook, NH 03874
The Governor's Inn
Address: 78 Wakefield St, Rochester, NH 03867
Hampton Beach Casino
Address: 169 Ocean Blvd, Hampton, NH 03842
Keene Casino
Address: 222 West St, Keene, NH 03431
Lakes Region Casino
Address: Lakes Region Casino, 1265 Laconia Rd, Belmont, NH 03220
Lebanon Poker Room & Casino
Address: 45 Hanover St, Lebanon, NH 03766
Northwoods Casino
Address: 155 Emery St, Berlin, NH 03570
Ocean Gaming Casino
Address: 81 Ocean Blvd #2nd, Hampton, NH 03842
The Poker Room
Address: 1 Lafayette Rd, Hampton Falls, NH 03844
The River Casino and Sports Bar
Address: 53 High St, Nashua, NH 03060
FAQ about online casinos in New Hampshire
Is it safe for me to gamble online?
As long as you choose to play at one of the best online casinos in New Hampshire that we have listed on top of the page you're perfectly safe. These have been around for a long time and have a great reputation among millions of Americans. They are serious gambling businesses that do their outmost to give players a top quality experience, which includes very high safety standards. Your transactions are encrypted and the websites have efficient safe guards to protect you from any potential hackers.
Do I have to deposit money or can I play for free?
You can play the vast majority of the casino's games for free as long as you have an account registered with them. Slots, table games and video pokers can all be enjoyed using demo credits by just clicking on the game you'd like to try and choosing to play it for free. It's a great way of trying out new games without having to risk anything.
Will I experience any deposit and withdrawal fees?
This will vary depending on the gambling site you choose to play with and the payment option used, but it's likely that you will. Deposits with debit cards do for instance almost always come with a small fee. Bitcoin transactions on the other hand do not. Fees on withdrawals are a little less common but some sites do for instance charge 3% of the cashed out amount when withdrawing by wire transfer or check by courier. If you want to avoid these fees using bitcoins is always a valid option. However, this does of course have other implications such as the currency being very volatile.
Do online casinos offer mobile apps that can be downloaded?
Some do, but the vast majority of them currently don't. These apps aren't really needed though as more or less all gambling sites are fully responsive. This means that they are just as easy to navigate on mobile devices as they are playing from a desktop computer. The only advantage that mobile apps have is that it's a tiny bit easier to access the casinos as you can do it with one click rather than having to open your web browser and typing in the URL of the gambling site.
Casino Sites by States
---
More US online casinos