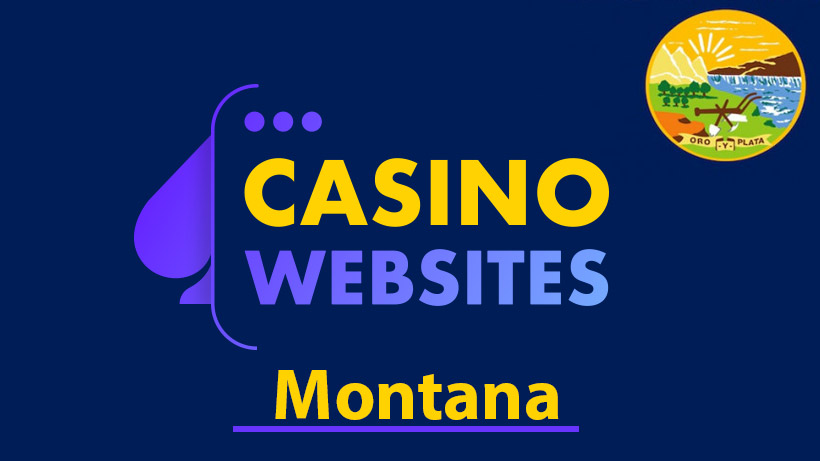 Montana Casinos Online
The treasure state is one of those American provinces that have a peculiar relationship with gambling. On one hand it's one of the most gambling friendly states as there are hundreds of venues where slot machines, video pokers and cash games of texas hold'em can be enjoyed. On the flip side gambling options aren't that great as all of these venues are bars and restaurants that only offer a very small selection of games. Oddly enough there are no large scale casinos operating in Montana.
Adding to the fact that blackjack is banned, this has resulted in many state residents turning to the internet to enjoy gambling. These days there are plenty of high quality online casinos that accept Montanans. Many of these sites provide players with a comprehensive gambling experience including all sorts of table games, hundreds of slot machines and betting on more than 20 different sports, as well as esports. Playing online also comes with many other benefits such as great bonus offers, better payout rates and the convenience of gambling from the comfort of your home.
Best online casinos in Montana listed and reviewed
Having spent countless of hours going through gambling sites that residents of the treasure state can play at, we have come up with following list of operators that we consider to be the very best online casinos for Montanans. These are all great choices that are offering a wide selection of games, fast withdrawals, support around the clock, valuable bonuses and a highly secure platform.
What should I consider when choosing an online casino in Montana?
There are many things to consider – some which may be of higher importance to you than others. Since all of the sites that we are recommending are the overall best Montana casinos that can be found online they are quite similar to each other. Therefore any of them will probably suit you well. However, to answer the question things you may want to consider when picking a gambling site includes the following:
The amount of games that are offered and the type of games that can be played
Unlike land based venues in Montana more or less any type of gambling game that exists can be found online. We're talking about anything from various types of slot machines to video pokers and table games like roulette, blackjack, craps, baccarat and ultimate texas hold'em. Some table games can also be enjoyed against professional dealers through a live video stream. In addition to this you're able to find betting on sports, dogs and horses, as well as poker action against other players.
Payment options available, minimum limits and fees
When playing at online casinos in Montana you will usually find the same payment methods offered. These include debit cards, wire transfer and bitcoins for deposits and wire transfer as well as check by courier for cash outs. If none of these alternatives are good for you it doesn't hurt looking around a bit though. You may come across e-Wallets like Skrill and Neteller too. They are, however, very rare.
While fees on deposits are difficult to avoid (unless funding your account with bitcoins), only a few gambling sites charge fees on withdrawals. As of minimum limits these can vary widely between casinos. For deposits they are usually around $10 – $25 while some cash out methods can have limits as high as $200.
The frequency of bonus offers and reward plans for loyalty
Not all players like bonuses as much as we do as they usually come with certain rules that have to be followed. The fact of the matter is, however, that bonus offers are the only way to increase your long term chances of winning from casino games. They will always give you an added value of some sort.
How often bonuses are offered and what type of promotions you can find can vary widely between online casinos in Montana. This is therefore something that we would strongly consider when choosing a gambling site. Bonuses can be anything from weekly cash backs returning some of your net-losses to free spins on slots, extra cash on a deposit, competitions with various prizes, lottery draws and special live dealer promotions.
Another thing you may want to consider – at least if you're going to play regularly – is how loyal players are rewarded. Some casinos have a loyalty program where you earn points to climb a loyalty ladder, which comes with various rewards that get better the higher you climb. Others will just randomly give you exclusive bonuses as a thanks for regularly playing with them.
Availability and expertise of the customer support
As gambling online tends to be a very smooth experience you usually won't need the customer support. If and when you do you do, however, want it to be professional and easily accessible. Speaking from experience we can't stress the importance of this enough. We have played at many sites where not only the support is difficult to reach, but where you're questioning if you're speaking with a real human or a trained monkey. A bad support can truly be a pain. Luckily this is nothing that you have to think about if you choose to play at one of the best Montana casinos that we have listed. All of these have amazing support agents that are available 24/7 on live chat, e-mail and phone.
How do I gamble at online casinos in Montana?
It doesn't matter if you've ever even looked at a slot machine – getting started with gambling over the internet is incredibly easy. You can probably figure out the entire process all by yourself and have a chat with the casino's customer support to fill in any possible blanks. To give you a brief introduction we have, however, created a short step-by-step guide below.
Visit one of the best Montana casinos that we have listed on top of the page.
Create a casino account by providing some personal details about yourself. It may be that you have to confirm the account creation by entering a code that is being sent to your e-mail or phone.
If you want to play for free you can now enjoy the vast majority of the casino's games using demo credits. Just click on the game you want to try and choose to play it for fun.
If you want to have a chance of winning real money, head over to the casino's cashier to make a deposit. By depositing with a debit card your casino account will be instantly funded.
To immediately boost your balance you can use the casino's welcome bonus. This will match your first deposit with extra cash. Just speak with the customer support if you don't know how to activate it. Also make sure to read the terms and conditions that the bonus comes with.
Any type of gambling can be enjoyed in your web browser with the exception of online poker that may require you to download a software (not always needed though). Have a look around at the casino site and indulge in whatever gambling you find suiting.
Make a withdrawal of your winnings by heading to the same cashier that you made your deposit in. Your money is usually sent to you within 48 hours of requesting the cash out. For your very first withdrawal you do, however, need to verify your account.
Verifying your account is easily done by providing the gambling site with a photo copy of a valid ID. This verification is a security process that exists to prevent underage gambling and to tackle fraud.
Is it legal to play casino online in Montana?
It is not. Montana is one of a few American states that have explicitly criminalized internet gambling. This was done in 2005. Going through the laws defining illegal gambling activities one can find the following segment:
"Internet gambling, by whatever name known, includes but is not limited to the conduct of any legal or illegal gambling enterprise through the use of communications technology that allows a person using money, paper checks, electronic checks, electronic transfers of money, credit cards, debit cards, or any other instrumentality to transmit to a computer information to assist in the placing of a bet or wager and corresponding information related to the display of the game, game outcomes, or other similar information."
While this clearly proves that any type of risk-taking such as betting on sports, indulging in poker or playing casino online is illegal in Montana you don't have to care much about it. Unless you want to be the perfect law-abiding citizen there is little reason not to gamble online. It doesn't seem like the law has ever been enforced on an individual. We have done thorough research on the matter and we haven't found a single instance where someone has been convicted for gambling over the internet.
A brief look at the history of gambling in Montana
1889: Montana receives its statehood and with its new constitution all forms of gambling are made illegal. This doesn't stop risk-taking from happening though as illegal gambling venues are still operating.
1925: Without any legal support pari-mutel betting on horse racing is kicking off in the state.
1933: The gambling prohibition that came with Montana's statehood in 1889 is revoked. As a result pull tab games become popular at bars.
1937: The Hickey Act passes which makes it possible for counties in the state to license table games.
1945: By this time slot machines are offered all over the state even though they are illegal.
1949: A huge amount of money is allocated to stop illegal gambling – $40,000.
1950: Legalizing gambling is up for discussion. Voting on the matter the vast majority of state residents are, however, very much against. Only 25% approved of it.
1973: Charitable gambling is legalized through the Card Game, Bingo, Raffles and Sports Pool Act.
1976: Video keno is legalized as an alternative to live bingo.
1983: Voters once again demonstrate their disapproval of gambling as an initiative that would establish a gaming commission and allow counties to offer certain types of games is turned down.
1984: Video pokers are banned as the Supreme Court rules them to be illegal slot machines.
1985: The Video Poker Machine Act passes. This allows for unlimited keno machines and up to five video pokers per liquor license to be offered by bars and restaurants. No tax is charged on the revenue from these games, but instead a license fee applies. The maximum amount one can win from the machines is capped at $100.
1986: This year saw the issuing of 2,887 video poker licenses. Voters also approved of a state lottery.
1987: A law is introduced to tax profits from video gambling machines at 15%.
1991: The limit of five video poker machines per liquor license is increased to 20. A bill to legalize blackjack is also turned down this year.
1994: Gambling compacts with four Native American tribes are negotiated. Only one of these is completed, allowing only one tribe to run casino operations in the state, on their lands.
1995: Maximum winnings on video poker machines are increased from $100 to $800.
2003: A proposal to create a gambling district with Las Vegas-style casinos in Montana is turned down by state legislatures.
2005: Laws against gambling are amended to clearly outline that internet gambling is illegal.
2015: A bill to legalize daily fantasy sports is introduced, but fails.
2019: Legalizing blackjack is once again up for discussion, but is once again turned down.
FAQ about gambling and casinos in Montana
What's the minimum age of gambling in Montana?
Unlike many other states any type of gambling can be enjoyed at the age of 18. This is also true for the vast majority of Montana friendly online casinos that accept players from this age.
Is it true that Montana has as many gambling licenses as Nevada?
They don't have exactly as many issued, but they aren't far behind. It's all thanks to a law that passed in 1985. This has made it possible for any bar and liquor establishment in the state to apply for a license to offer video gambling machines. The fact that this license is quite cheap has made it pretty much standard for bars to obtain it as offering gambling tends to be great for the business.
When can I expect online casinos to be legalized?
It's very difficult to tell, but based on information that is currently available it's not too unlikely that Montana will be among the last states in America to legalize online casinos. Gambling may be wide spread across bars, but there hasn't been any discussion at all on the topic. Seeing how a proposal to legalize blackjack was turned down as recently as 2019, this doesn't instill much hope of Montana expanding their gambling industry either.
Am I allowed to play poker games in Montana?
You certainly are. Montana is one of the most liberal states towards poker. Not only can you set up a home game with you friends as social gambling is fully legalized, but many bars across the state also offer a poker table or two. It's anything but difficult to enjoy the thrilling fun of Texas Hold'em.
Can I find progressive jackpots at online casinos?
You can indeed! Not all gambling sites have them available, but with many of the best Montana casinos that we have recommended on top of the page you will find some. They are quite popular among players as the jackpots can reach staggering payouts – up to several million dollars.
Casino Sites by States
---
More US online casinos