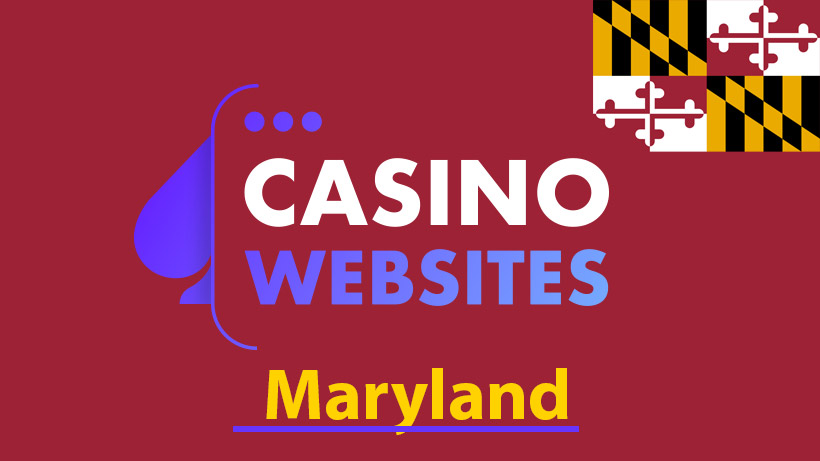 Maryland Casinos Online
As one of the smallest states in America one would not expect Maryland to house as many as twenty different gambling venues with six of these being casinos offering more than 10,000 slots, 500 table games and 100 poker tables. But this is exactly what you will find in the old line state.
Interestingly enough this blooming gambling industry has happened in a very short time – about a decade. Internet gambling is yet to be introduced, but with sports betting being up for discussion it may not be long until we see online casinos blooming in Maryland as well.
Gambling over the internet is of course already a convenient possibility for all state residents. There may be not be any sports betting or casino sites licensed within the state, but there are indeed plenty of them located outside of America that gladly accept residents of Maryland.
As internet gambling comes with a lot of benefits over land based establishments we have gathered some of the best Maryland casinos that you can play at online. These sites, which are listed below, are all popular player choices that are legitimately licensed and regulated by a governmental body.
Best online casinos in Maryland listed and reviewed
Here at casinowebsites our strong ambition is guiding you to a world class gambling experience that is perfectly safe, smooth and filled with value from a wide variety of games and bonus offers. Committed to this we have devoured the internet of gambling sites; separated the wheat from the chaff; and ended up with a list of the very best online casinos in Maryland. Enjoy!
How do I gamble at Maryland casinos online?
Gambling online is not much different than gambling at land based casinos in Maryland. You don't have to download any software or anything like that, but all you have to do is to choose a site to play at; sign up an account; deposit money and then play whatever game you'd like to in your browser. Either from your desktop computer or using a mobile device – both options are equally smooth.
When it comes to depositing money you'll find several different payment methods offered such as bank transfer, debit cards and bitcoins. As a small stake gambler you can fund your casino account with as little as $10 – $20, whereas those looking to go big or go home won't be bothered by any particular cap. You can deposit thousands of dollars should you like to.
At all of the best Maryland casinos recommended by us you'll get a valuable welcome bonus that will boost your first deposit with extra cash. This needs to be manually activated, which is either done before, during or after the deposit process. Info about this can be found in the bonus' terms and conditions which also contain other important information that we suggest that you read through.
Once your account is funded you'll have a huge amount of games to enjoy; anything from a wide mixture of slot machines to a bunch of table games, video pokers and scratchers. Many of our listed sites also offer sports betting, horse racing and online poker should you like to indulge in this.
While the gambling experience tends to be a very smooth one, a friendly and professional customer support can always be reached through live chat, e-mail and phone. They are happy to answer any questions that you may have about bonuses, games, withdrawals or whatever it can be.
Speaking of withdrawals, cashing out is about as easy as depositing. You may, however, not always be able to do it using debit cards. On your first withdrawal you will also be asked to verify your identity. This is a standardized security process that is also found at land based casinos in Maryland. Just take a photo of an ID, send it to the casino and you're all good. The process exists to comply with regulations and to prevent underage gambling as well as fraudulent behavior.
Quick facts about gambling in Maryland
Number of land based casinos: 6
Number of poker rooms: 3
Number of racetracks: 3
Number of bingo halls: 11
Annual taxes from gambling: $1.2 billion
Age required to gamble: 18 (21 at casinos)
Legal statuses of gambling
Lotteries: Legal
Social gambling: Legal
Charity raffles: Legal
Poker games: Legal
Casino games: Legal
Bingo games: Legal
Horse betting: Legal
Online gambling: illegal
Sports betting: illegal
Is it legal to play casino online in Maryland?
This question is quickly answered by quoting the following segment from the state law:
"Only games approved by the commission are legal."
There are undoubtedly many gambling activities that are approved in Maryland, but online gambling is not one of them. Therefore it is in fact illegal to play casino over the internet. The question you should be asking yourself is, however, if the long arm of law is actually going after online casino players in Maryland? As far as we know they don't. Numerous state residents play poker, sports bet and enjoy casino games online and we haven't heard about anyone facing any legal action for doing so.
When will online gambling become legal in Maryland?
As of now it's impossible to tell. What we can say, however, is that the future is looking very bright. Gambling in the state has first of all exploded in a very short time. In just a decade six casinos have been built following the legalization of slots and table games, which may soon be followed by the legalization of sports betting as well.
With gambling bringing in more than a billion dollars in annual tax revenues the state of Maryland is also aware of its huge economic benefits. We would be shocked if legislators haven't already been considered how these revenues could be further boosted by allowing online casinos. Especially since Maryland is located in the most internet gambling friendly area in America; close to Pennsylvania, Delaware and New Jersey.
A brief look at the history of gambling in Maryland
1700s: Lotteries were widely available and a very important source of income for the province. Funds raised were used to build schools and plenty of other public establishments.
1743: This year saw the foundation of the Maryland Jockey Club which still exists today.
1791: Churches are allowed to sell lottery tickets for the cause of good. The business thrives.
1836: Except for horse racing all types of gambling is made illegal in the state. This slowed down gambling by a lot, but not entirely as risk-taking was still taking place underground.
1920: To oversee racing activities the Maryland Racing Board is created. Pari-mutuel betting on horses also becomes legalized.
1947: After being legalized in certain regions of the state five counties installed a total of9,300 slot machines. These became widely popular and generated huge amounts of money. For this the counties got the nick name "Little Vegas".
1963: This year alone brought in $24 million in revenue from the five counties' slot machines.
1968: By this point all slot machines are basically banned as it was decided in 1963 that no more slot licenses would be renewed and this year saw the expiration of the last licenses.
1973: A state lottery is introduced.
2008: In a vote the people of Maryland approved to once again allow slot machines in five different counties.
2010: In yet another vote five land based casinos are approved to be built in Maryland.
2012: Table games become legalized at casinos. A sixth casino is also allowed to be built, whereas the opening hours of casinos are extended to 24/7. This was all approved by voters.
2020: A bill is introduced to legalize sports betting at racetracks and at land based casinos. There is no mention of online gambling for now.
Bingo halls, racetracks and casinos in Maryland
While gambling over the internet undoubtedly comes with many perks, we don't blame you if you're looking for a more authentic experience. If you do you have a lot of great options to choose from in Maryland. We have listed most of these below, which include bingo halls, racetracks and commercial casinos.
Casinos in Maryland
Maryland Live! Casino
Address: 7002 Arundel Mills Cir #7777, Hanover, MD 21076
Slot machines: 3,900
Table games: 209
Poker tables: 52
MGM National Harbor
Address: 120 Waterfront St 500 B, Oxon Hill, MD 20745
Slot machines: 3,200
Table games: 165
Poker tables: 39
Horseshoe Casino Baltimore
Address: 1525 Russell St, Baltimore, MD 21230
Slot machines: 2,200
Table games: 179
Poker tables: 25
Hollywood Casino Perryville
Address: 1201 Chesapeake Overlook Pkwy, Perryville, MD 21903
Slot machines: 850
Table games: 20
Poker tables: None
Ocean Downs
Address: 10218 Racetrack Rd, Berlin, MD 21811
Slot machines: 800
Table games: None
Poker tables: None
Rocky Gap Casino Resort
Address: 16701 Lakeview Rd NE, Cumberland, MD 21502
Slot machines: 660
Table games: 17
Poker tables: None
Racetracks in Maryland
Laurel Park
Address: 198 Laurel Race Track Rd, Laurel, MD 20725
Rosecroft Raceway
Address: 6336 Rosecroft Dr, Fort Washington, MD 20744
Pimlico Race Course
Address: 5201 Park Heights Ave, Baltimore, MD 21215
Bingo halls in Maryland
Bingo World
Address: 4901 Belle Grove Rd, Baltimore, MD 21225
Delta Bingo and Gaming
Address: 3605 Laurel Fort Meade Rd, Laurel, MD 20724
Patapsco Bingo
Address: 3321 Annapolis Rd # 23, Baltimore, MD 21230
Optimist Club Bingo
Address: 1920 Norfolk Dr, Owings, MD 20736
Island Bingo
Address: 14120 Solomons Island Rd S, Solomons, MD 20688
ADF Bingo
Address: 29062 Three Notch Rd, Mechanicsville, MD 20659
Fullerton Manor Bingo
Address: 1500 Country Ridge Ln, Essex, MD 21221
Pulaski Bingo
Address: 12420 Pulaski Hwy, Joppa, MD 21085
Chesapeake Beach Resort and Spa Bingo Hall
Address: 4160 Mears Ave, Chesapeake Beach, MD 20732
Lions Club Bingo
Address: 9370 Crain Hwy, Bel Alton, MD 20611
Crescent City Charity Bingo
Address: 4409 East-West Hwy, Riverdale Park, MD 20737
FAQ about online casinos in Maryland
What are the benefits of gambling online?
As opposed to visiting a land based gambling venue in Maryland, playing casino online comes with a heap of advantages. It is for starters incredibly convenient as you can do it whenever you like, from wherever you like, in any condition you like. Until sports betting is legalized it's also the only way to wager money on sports within the state.
In addition to this it's actually a lot easier to win. Not only will you find many more bonus offers to choose from giving you an added value, but slot machines also have a much higher payback percentage. At the best Maryland casinos that we recommend for online gambling the average return rate is set to 96%, whereas land based venues have their slots set to around 85% – 90%.
Last but not least, you don't have to be older than 18 to gamble at most casinos online.
Are there any fees charged on deposits and withdrawals?
Fees on withdrawals are quite rare even if they do exist at some Maryland friendly casinos online. On deposits, however, you can pretty much count on them unless you decide to fund your account with bitcoins. The fees are usually set to 2% – 5% of your deposited amount.
Do I have to deposit money to play casino games online?
Not if you choose to play at any of the best Maryland casinos recommended by us. As a way to enhance the player experience they have made it possible for you to enjoy demo versions of the vast majority of their casino games. The only exception is live dealers games such as blackjack and roulette that are played against real dealers through a live video stream. Due to technicalities these live games can't be enjoyed for free, but slot machines, video pokers and other table games can.
Are there any legal implications for playing casino online in Maryland?
Not really. In theory you could be charged with a fine of up to $1,000 as internet gambling is in fact illegal in the state. The law doesn't seem to be enforced on individuals though as no records exist of anyone ever getting in trouble for sports betting or playing casino or poker online.
Casino Sites by States
---
More US online casinos