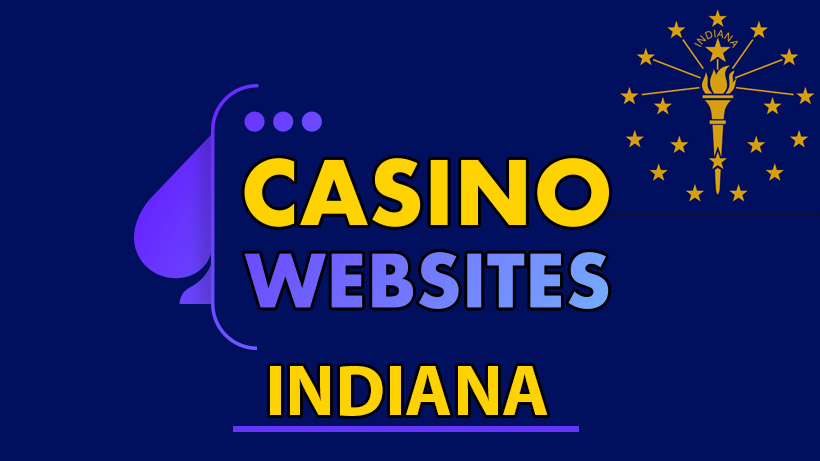 Indiana Casinos Online
Compared to most other states the gambling roots of Indiana don't stretch very far. Their story began as recent as in 1988 when a state lottery was approved. Even though gambling has only been a around for about 30 years quite a lot has, however, happened.
The Hoosier state is somewhat known for being an enemy towards gambling. While reasons for this premise certainly exist, Indiana is actually not that bad of a place for gamblers. Times have shifted. Not only is the state home to eleven full-fledged casinos; two racetracks with slots and several bingo halls. Indiana is also one of a few states to have legalized sports wagering online.
While we're still waiting for the same positive news to hit casino enthusiasts, there are in fact several Indiana friendly online casinos already offering slots, table games and plenty of other products to be enjoyed over the internet. These are so called off-shore casinos that are licensed and regulated in jurisdictions located outside of America.
On the following page we have gathered the most well-reputed of these internet casinos while also taking a closer look at the legal status of online casinos in Indiana.
Best online casinos in Indiana listed and reviewed
Playing online there are many things to consider such as game selection, availability of the customer support, deposit methods offered, withdrawal options, bonuses and of course safety. It's with all of these things in mind and a few more that we have devoured the internet of its gambling sites and gathered the very best casinos accepting Indiana state residents. You find these casinos listed below.
How to FAQ about gambling at Indiana casinos online
Gambling online isn't exactly rocket science but to help you out as much as possible we have created a FAQ answering just about everything you need to know.
What gambling site should I play at?
All of the best casinos in Indiana that we have gathered above are great choices and fairly similar to each other so any of these are likely to satisfy you. Just pick the one with the welcome bonus that appears to be best suited for you.
How old do I need to be to gamble online?
The minimum age at the vast majority of online casinos is 18, but could be 21 at some.
Do I need to provide any personal information?
Yes. Creating your account you will be asked to provide your full name, home address, date of birth, e-mail and phone number. At some point you must also verify your identity by sending the casino a photo copy of a valid ID. This is usually done in connection with your first withdrawal request and is a process that exists to combat underage gambling and fraud.
How do I make a deposit?
Payment methods can vary a bit between casinos, but most accept deposits to be made through debit cards (Visa and Mastercard) and Bitcoins. Just head to the cashier at the gambling site, which should be easily accessible, and you'll find all of the options that are offered. Making the deposit is a very simple process similar to any online purchase.
What's the minimum deposit amount?
It's either $10 or $20 depending on the method you choose to fund your account with.
What's the minimum withdrawal amount?
Usually $10, but this also depends on the method that you use. By check the minimum amount can go as high as $100 and sometimes check can be the only good cash out option for you.
Are there any fees on deposits and withdrawals?
This will vary, but yes there may be – it's not that uncommon. However, if you choose to use a crypto currency like Bitcoin you won't experience these.
How do I take part of the welcome bonus?
You need to activate it which is either done before making your deposit, while making it or after having made it. This will vary from one site to another, but for the most part you're asked if you would like to use it while depositing. If you aren't sure just have a chat with the customer support.
What casino games can I play online?
At all of the best casinos in Indiana listed by us you will find hundreds of slot machines, a bunch of video pokers and all popular table games such as blackjack, roulette, craps and baccarat. If you appreciate an authentic experience many table games can also be enjoyed with real dealers.
Am I required to download any software?
No, all games can be conveniently played in your web browser such as Internet Explorer, Google chrome and Mozilla Firefox. All of our recommended casinos are also fully responsive to mobile devices which mean that you can easily play on your tablet or smartphone.
Is it legal to play casino online in Indiana?
No, it's not. Indiana is one of a few American states that have clearly addressed internet gambling in their state laws and outlined that it is not allowed. The penalties for playing casino online in Indiana are also quite harsh. You can get a fine of up to $1,000 and spend half a year in jail for doing it.
Whether you would ever get caught and prosecuted in reality is, however, a completely different story. You probably wouldn't. We haven't heard of anyone facing any legal action for their online casino gambling. It's most likely very safe, but like all things in life it's good to know about the risks.
Will Indianan casinos online be legalized soon?
That's quite a million dollar question as it seems like yes and no are equally good answers. Indiana is in many ways a pretty conservative state towards gambling. You can't play poker for money outside of casinos and as recently as 2006 the law was amended to clearly criminalize online gambling.
However, seeing that sports betting over the internet was legalized in 2019, liberal winds seem to be sweeping throughout the state. Maybe it's too early to hope for a storm to blow up, but Indiana may soon surprise us all and follow in the footsteps of Pennsylvania and New Jersey to allow online casino. We'll just have to wait and see.
A brief look at the history of gambling in Indiana
1988: A state lottery is made legal after 62% of Indianan voters approved for it.
1989: Voting if gambling on casino games should be allowed, 60% of the state's voters are positive to it. The republican party in charge is, however, not and they decide to turn down the idea.
1991: Riverboat casinos are up for discussion, but the proposal is rejected.
1993: As the Riverboat Gaming Act passes five riverboat casinos are allowed to operate as long as they only offer their games while sailing as opposed to being stationary.
1994: The first horse racing track that is officially legal opens up in Indiana – Hoosier Park.
1995: The first brick and mortar casino opens up in the state.
2006: Gambling on the internet is made illegal through a specific add-on to the law.
2007: Racetracks offering casino games (racinos) are legalized. Each racetrack is allowed to have up to 2,000 gaming machines.
2019: Sports betting over the internet is legalized. However, only currently existing gambling establishments (casinos, racinos and off-track betting facilities) are allowed to apply for a license to offer sports wagering online.
Land based gambling venues and casinos in Indiana
Not interested in gambling online? Having a hard time finding a casino in Indiana? Well, fear not! Below we have listed all land based gambling venues that exist in the Hoosier state; casinos, racinos, bingo halls and off-track betting establishments.
French Lick Resort
Address: 8670 West State Road 56, IN 47432
Ameristar
Address: 777 Aldis Ave, East Chicago, IN 46312
Rising Star Casino Resort
Address: 777 Rising Star Dr, Rising Sun, IN 47040
Four Winds South Bend
Address: 3000 Prairie Ave, South Bend, IN 46614
Belterra Casino
Address: 777 Belterra Dr, Florence, IN 47020
Blue Chip Casino
Address: 777 Blue Chip Dr, Michigan City, IN 46360
Hollywood Casino Lawrenceburg
Address: 777 Hollywood Blvd, Lawrenceburg, IN 47025
Horseshoe Casino
Address: 11999 Casino Center Dr SE, Elizabeth, IN 47117
Majestic Star I & II
Address: 1 Buffington Harbor Dr, Gary, IN 46406
Tropicana Evansville
Address: 421 NW Riverside Dr, Evansville, IN 47708
Horseshoe Southern Indiana
Address: 11999 Casino Center Dr SE, Elizabeth, IN 47117

Racinos in Indiana
Harrah's Hoosier Park Racing and Casino
Address: 4500 Dan Patch Cir, Anderson, IN 46013
Indiana Grand Racing & Casino
Address: 4300 N Michigan Rd, Shelbyville, IN 46176
Off-track betting in Indiana
Winner's Brewpub
Address: 4300 N Michigan Rd, Shelbyville, IN 46176
Winner's Circle Clarksville
Address: 650 Eastern Blvd, Clarksville, IN 47129
Winner's Circle New Haven
Address: 1304 Minnich Rd, New Haven, IN 46774
Winner's Circle Indianapolis
Address: 20 N Pennsylvania St, Indianapolis, IN 46204

Bingo halls in Indiana
Jefferson Plaza Bingo Hall
Address: 1710 E 10th St, Jeffersonville, IN 47130
Alexandria Eagles Bingo
Address: 217 Cleveland St, Alexandria, IN 46001
K of C Bingo
Address: 4833 Wheeling Ave, Muncie, IN 47304
Order of Ahepa Lodge 78
Address: 1861 E 37th Ave, Hobart, IN 46342
Harmony Bingo
Address: 1310 Minnich Rd, New Haven, IN 46774
Indy Bingo
Address: 3721 N Post Rd, Indianapolis, IN 46226
Speedway Drive Bingo
Address: 4720 Speedway Dr, Fort Wayne, IN 46825
Georgetown Bingo
Address: 6400 E State Blvd, Fort Wayne, IN 46815
Boot Scootin' Bingo
Address: 3233 Teal Rd, Lafayette, IN 47905

FAQ about gambling and casinos in Indiana
How much does it cost to run sports betting online?
Not that much considering how potentially rewarding it can be. To obtain a license from the Indiana Gambling Commission there's an initial fee of $100,000. On top of this there's an annual fee of $50,000 while earnings are taxed at a modest 10%.
Is real money poker legal in Indiana?
That's a simple question with a somewhat complicated answer. Playing poker for money is allowed as long as it is done in one of the poker rooms inside one of the land based casinos in Indiana. It's not okay to do online and it's not legal to set up a home game with your friends either. This may come as a surprise to some as skill based games are in fact allowed in the Hoosier state. The laws of Indiana do, however, not consider poker as skill, but a game of chance which in most forms is illegal.
Why should I gamble on the internet?
Compared to land based gambling venues there are many benefits of playing at one of the best Indiana casinos recommended by us on top of the page. An obvious advantage is of course the convenience of being able to gamble at anytime from anywhere in any condition.
In general it's also easier to win gambling on the internet. It may be hard to believe, but slot machines actually tend to have a much higher payout percentage online. Here the standard RTP is 96 – 97% while land based casinos often have an RTP around 80 – 85% on their slots.
Not only this, but gambling online you'll also have a wider selection of bonus offers to use and as you may or may not know these will always boost your long term chances of winning.
Who regulate gambling sites online?
This will vary a lot between different gambling sites. The sports betting options that are officially legal in the state are regulated and overseen by the Indiana Gambling Commission. Other sports betting sites and off-shore casinos can have licenses from several different jurisdictions. Curacao and Kahnawake are, however, two common ones.
It should also be mentioned that some gambling sites aren't licensed and regulated at all. You won't find these recommended by us as these casinos aren't safe to play at and should therefore be avoided at all costs.
Casino Sites by States
---
More US online casinos