Products
Casino

Live Casino

Sports

e-Sports

Poker
✓
✓ Deposit with M-Pesa
✓ Possibly the best brand in Kenya
✓ Licensed by BCLB
Mozzart Bet Kenya review
Products: Slots, jackpot slots, table games, live casino, sportsbook, live betting, virtual games, bet builder
Minimum deposit: 20 KSH
Licensed: Betting Соntrоl аnd Licensing Board of Kenya (BСLB)
Generic info Mozzart Bet Kenya



Website
mozzartbet.co.ke
Founded
2017
Owner
MozzartBet
Related casinos
-
Licenced
Betting Соntrоl аnd Licensing Board of Kenya (BСLB)
Amount of games
550+
Welcome bonus
No
Loyalty program
No
Cashbacks
Yes
Sportsbook
Yes
Products
Slots, jackpot slots, table games, live casino, sportsbook, live betting, virtual games, bet builder
Deposit options
M-Pesa
Withdrawal options
M-Pesa
Minimum deposit
20 KSH
Currencies
KSH
Whether you're a Kenyan punter looking for a sportsbook, online casino, live casino, or an all-in-1 service, you will have everything you want under one roof at MozzartBet Kenya. This European betting company entered the African gambling market a few years ago and that's why an increasing number of bettors in Kenya are curious to find out whether Mozzart Bet has what it takes to cater to the needs of Kenyan players.
In order to help you draw a final conclusion, we have performed a thorough research on all the gambling products offered by Mozzart Bet. As part of this research we've also gone through the website to assess its user friendliness, odds, banking methods, and licence. Our main goal is to help Kenyan bettors get a full understanding of what's on offer at Mozzart Bet. All you need to do is read our complete review and draw your own conclusions. Karibu!
Mozzart Bet welcome bonus
Mozzart Bet does have a few sportsbook and online casino promos for its clients, but they don't work with a welcome offer for Kenyan players. MozzartBet does, however, offer some other interesting promos in Kenya. If you're new to Mozzart, you will find it interesting that there's a daily jackpot of millions of Kenya shillings. Besides, players can pocket other daily rewards as well for both the casino platform, live casino platform and sportsbook. Of all the bonuses, the cashback is definitely one of the most interesting options. This cashback gives you an opportunity to still win in the event that a predicted outcome has disappointed you.
Mozzart cash back: how it works
Place a multi-bet of at least 4 games. In the event you lose one game — without counting the odds of that lost game in your bet slip — you will win a Mozzart cashback/refund depending on your stake and odds. The following table shows how the Mozzart refund is calculated on the total odds per ticket of bets either placed via sms or online.
| Minimum odds | Cashback |
| --- | --- |
| Winning odds are 29 or higher | Stake multiplied by 1 |
| Winning odds are 59 or higher | Stake multiplied by 2 |
| Winning odds are 99 or higher | Stake multiplied by 5 |
| Winning odds are 499 or higher | Stake multiplied by 10 |
| Winning odds are 999 or higher | Stake multiplied by 100 |
Terms & Conditions
The final amount of money earned will depend on the multiplication of the quotes of the pairs that are won.
The ticket must contain 4 or more types/pairs.
The physical ticket will be paid out at the point of sale where it was paid in.
The online betting ticket will be paid out in the same way as any other winning ticket.
The promo is not valid for system and live bet tickets.
About Mozzart Bet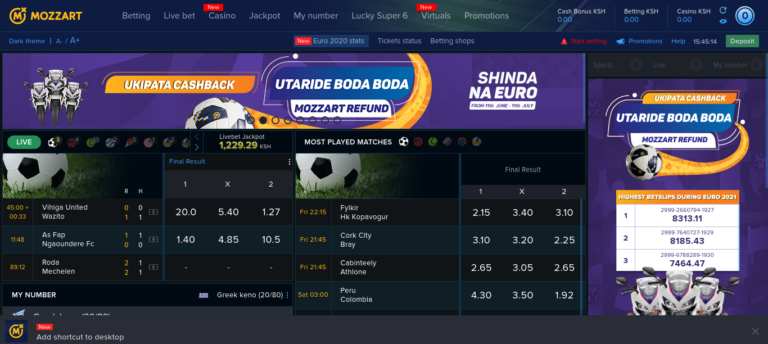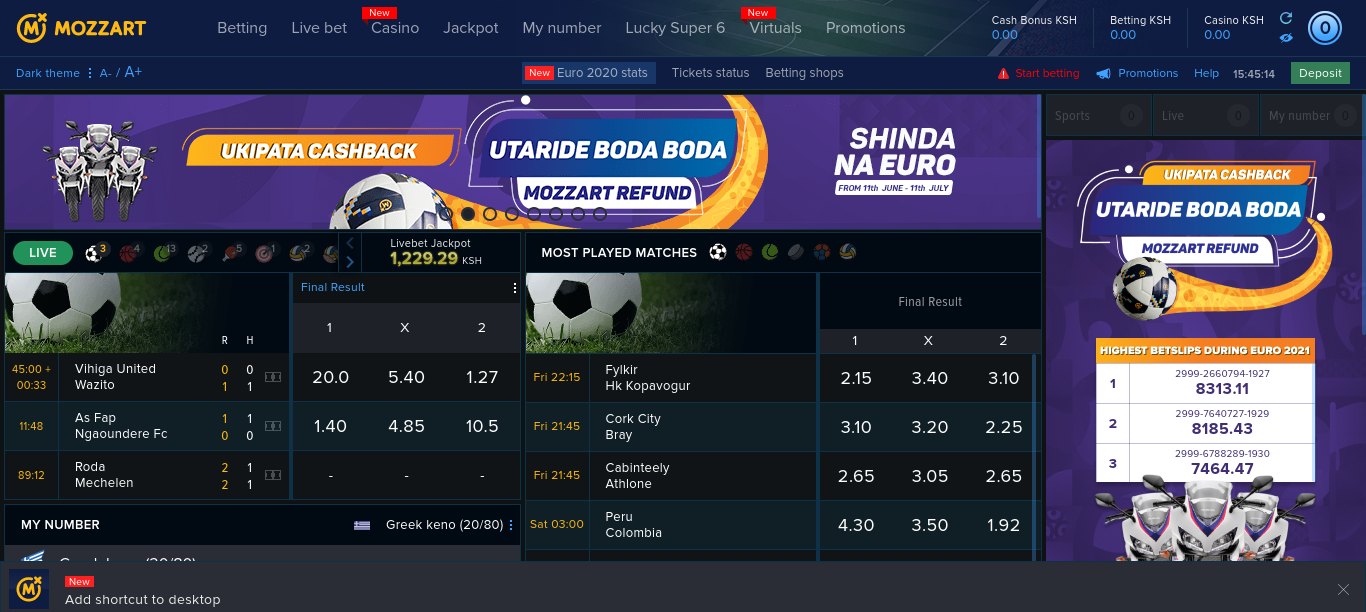 Mozzart is a Serbian bookmaker that started its business in 2000 and started its online activities a year later, in 2001. After first spreading its online business to other neighbouring countries like Romania, Croatia, and Macedonia, it has succesfully expanded its betting products to more than 60 countries — including some countries in Africa. Mozzart Bet is now also available in Nigeria and Kenya where a lot of sports fans will have seen Mozzart Bet's impressive sponsorship deals with football teams like Red Star Belgrado and Partizan Belgrado, and the Serbian basketball national team. Mozzartbet offers a full betting service including a sportsbook, online casino and live casino to bettors in Kenya and abroad.
Licenced by the BCLB
In Kenya it operates as a legal online gambling company which means MоzzаrtBеt Kеnyа Ltd holds a licence by Betting Соntrоl and Licensing Board of Kenya (BСLB) which falls undеr thе Bеtting, Lоttеriеs аnd Gаming Асt, Сар 131. The international bookmaker stresses the importance of rеsроnsiblе gаmbling аnd only аllоws individuals оvеr 18 years of age to play online. This is also the minimum age for bettors in Kenya to make a wager in their sportsbook and online casino. Other than its online platform, Mozzart hаs twо bеtting shорs lосаtеd in Nаirоbi tо саtеr tо its ехisting аnd роtеntiаl рlаyеrs that prefer traditional betting.
Mozzart Bet Builder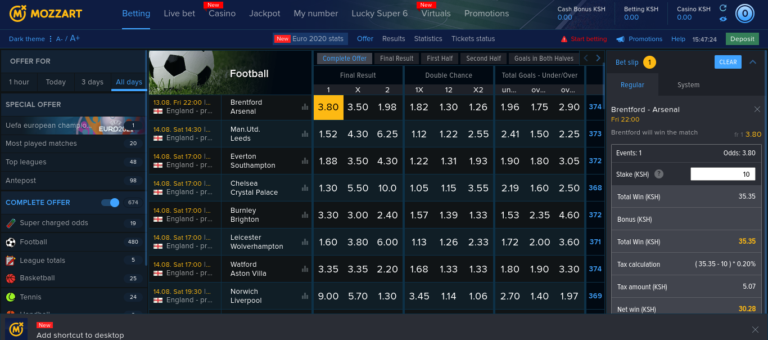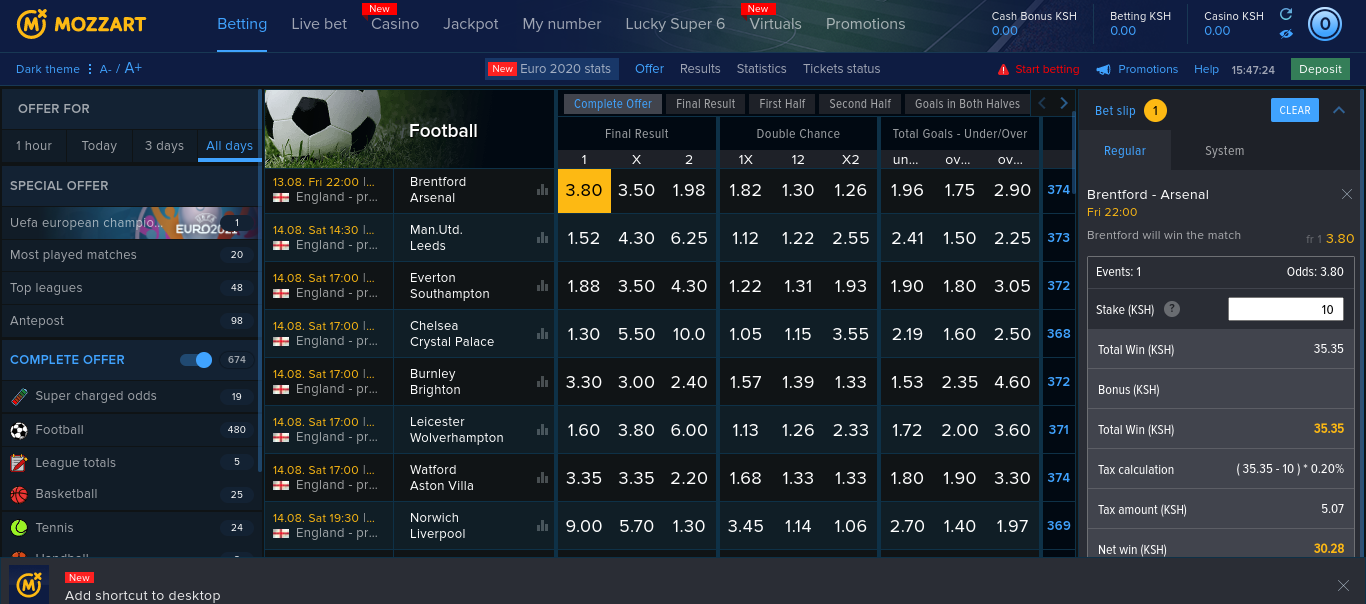 Bet builders have managed to grow in popularity which is why Mozzart Bet also allows Kenyan punters to build their own bets. This way you can easily combine your bets and include four or more elements into a single bet. Building a bet at Mozzart Kenya works the same way as in other countries or comparable betting services — allowing you to create the perfect bet. This means you can conveniently pick the elements from the most popular markets and add them to your online betting slip. There is a wide ranges of markets for your personalised bet, giving you the opportunity to bet on via both online and mobile channels:
Play 1, x or 2.
Result at half time.
Both teams to score.
Players to score.
Corners.
Cards.
Team to qualify.
Via mobile
If you wish to place a multi-bet, text: "GameID #Prediction #GameID #Prediction #Stake" to 29990. Make sure to check out all the codes at Mozzart Bet's website before you send your message. Their site lists all the options you can bet on and the SMS codes linked to them.
Via the website
The online option is a lot more straightforward and can be performed by accessing your online account. This procedure pretty much works as follows: choose the match you want to bet on, select the odds, and swipe it to your bet slip. Repeat the same steps for all the bets you want to add to your bet slip, and there you have it: you have just set up your own multi-bet. Double check if you're satisfied with the odds and confirm your bet.
Mobile Betting App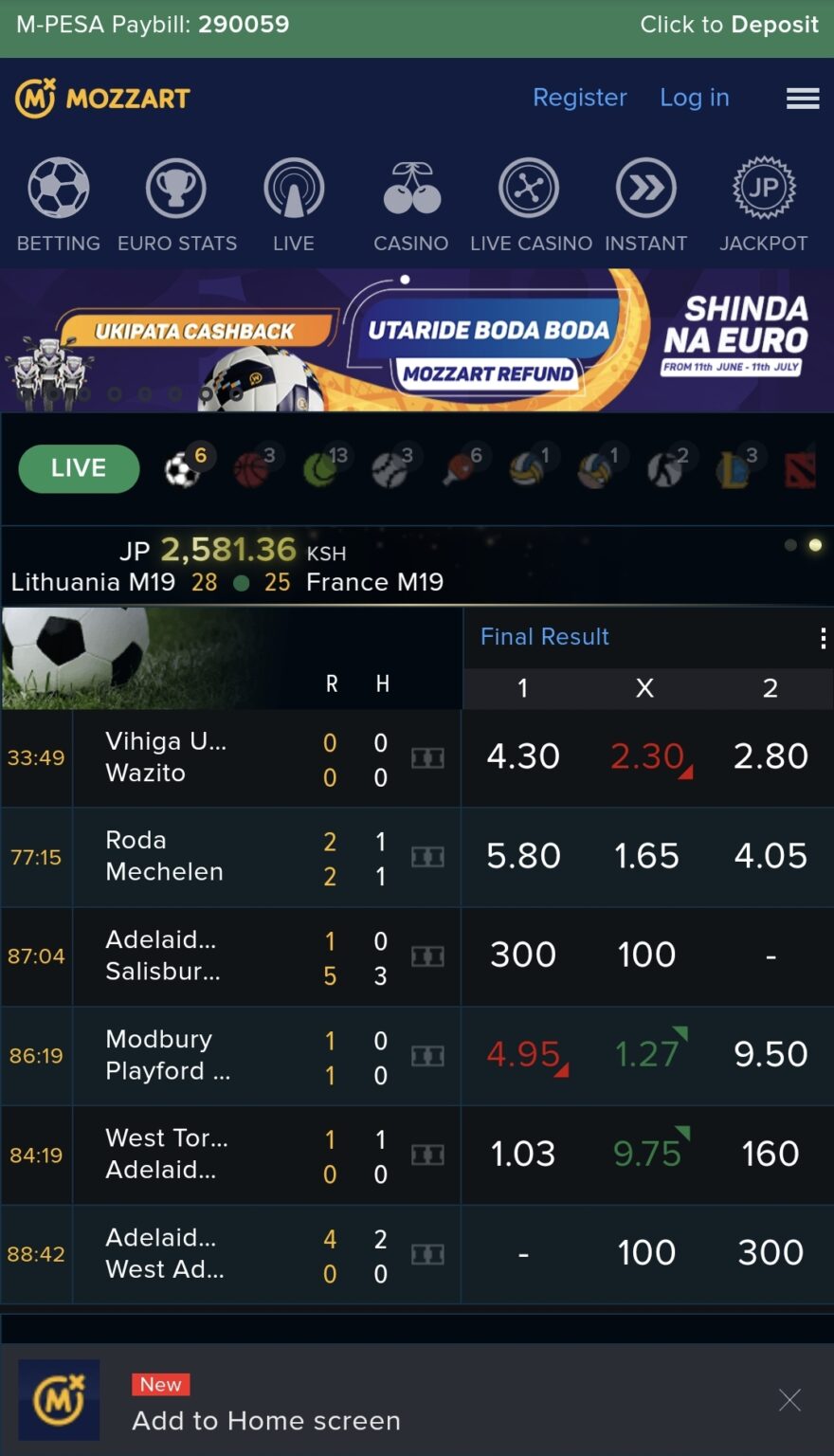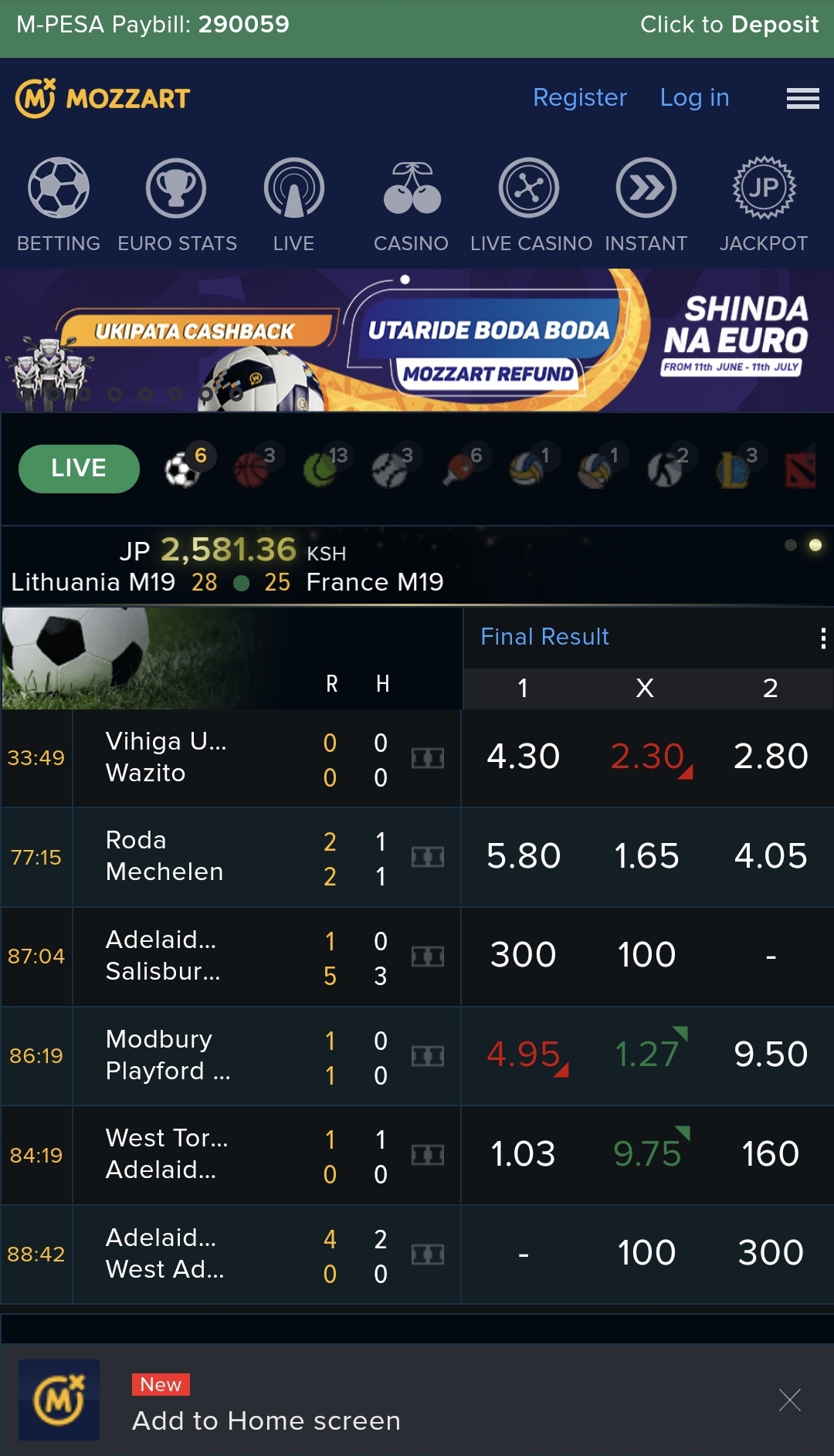 Mobile play has not been left behind by Mozzart sportsbook. The first way to access the mobile sportsbook is by downloading the app that is available to Android users. The other way is by visiting the website on a smartphone and use it accordingly as the site is mobile optimised. Once we opened the Mozzart Kenya website on our mobile phone we were requested to choose between a "Mobile Plus" website for the ultimate mobile experience and a new, "Mobile Lite" website that saves mobile data. The latter website still worked pretty well, but divides its content into different sections to avoid using unnecessary data. We don't think a special app is necessary as the responsive website does the trick as well.
Depositing Money
Mobile money is booming in Africa and this certainly holds for Kenya as well. The best online casinos and sportsbooks in Kenya let their players bet in shillings and allow them to make deposits via M-Pesa. After your registration at Mozzart Bet Kenya has been confirmed, you can easily top up your Mozzart account by selecting Mpesa and following the usual steps. This Kenyan betting company has an Mpesa pay bill number for both instant payments and withdrawals. Do note there are small fees for each transaction made with M-Pesa. There is also a Pesa Mkononi service available that allows you to withdraw and deposit funds at no extra cost. You will need to visit a Pesa Mkononi shop outlet and perform your transactions.
Live streaming
Most bettors can't live without live streaming services and although Mozzart Bet does offer it in other countries, they haven't yet connected their Kenyan sportsbook to live streaming. One reason for this could be the less stable internet connection in Kenya and the fact that many players use their mobile data packages instead of unlimited Wifi-connections. We don't expect Mozzart Bet to introduce live streaming in the near future, but we hope this will happen someday as internet penetration is becoming more and more normal across Africa.
Why should you place bets with this bookmaker?
Mozzart sportsbook has been around since 2010 in Europe and it has been active in Kenya since 2017 which is a clear sign of trustworthiness. With so many years of online gaming experience across different countries we believe it's fair to say that Mozzart can be considered safe and secure. Furthermore we believe other advantages of this company are:
Live betting: Mozzart Bet's sportsbook gives players in Kenya options to bet on live sports featuring a wide array of sports including domestic sports, African football games and other international sport events.
Bet builder: Mozzart sportsbook lets Kenyan punters bet on live sports. Upcoming games are very well presented so you're always aware of the action coming up.
Easy transactions: payments at Mozzart work like a charm as nearly everybody in the country knows how to use M-Pesa.
Kenyan licences: Mozzartbet Limited is licensed by BCLB (Betting Control and Licensing Board of Kenya), making it one of the local options for online betting.
Physical branches across Nairobi: as there are land based offices in Kenya as well you'll always have a customer service desk available during office hours. This works pretty well assuring as a brick and mortar office does stand for transparency.
Online Casino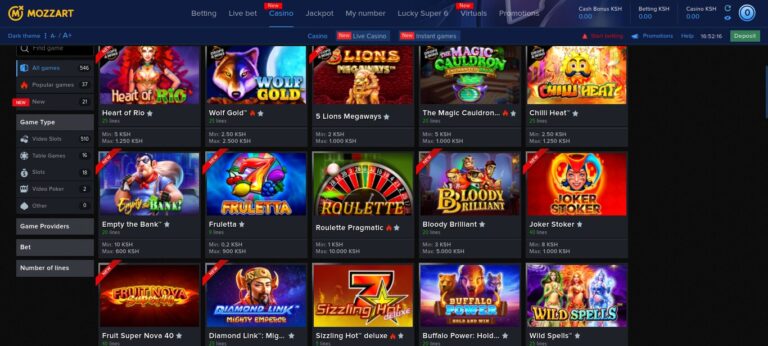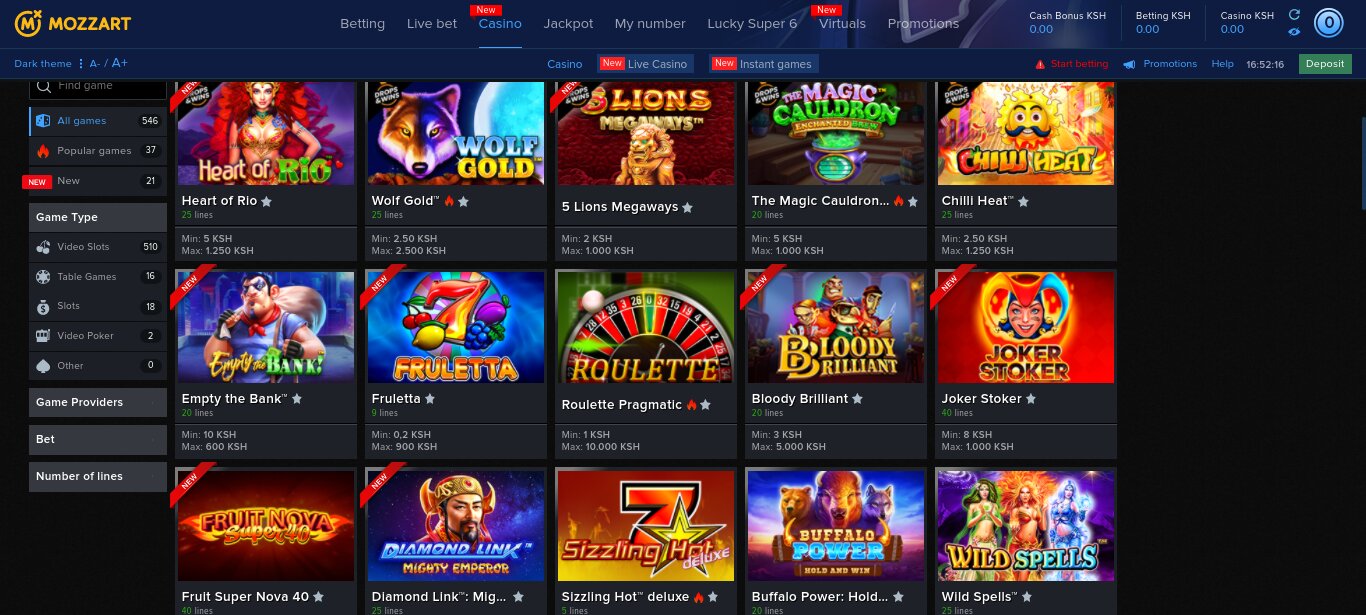 Mozzart Bet is one of those gaming companies that tries to cater for all needs. This means that you'll find a rather complete online casino platform in addition to its sportsbook. The casino is pretty user friendly if you ask us and doesn't differ from a service you would expect from any online casino website in Europe. You'll be able to choose from 550 games in the gaming assortment which is quite an interesting number if you recall that the online casino market in Africa hasn't yet reached European standards yet. With providers like Greentube, Playson, Evoplay, Endorphina, and Pragmatic Play, quality standards are quite similar to European casinos. Out of the 550 casino games you'll be able to choose between more than 530 slot games and around 20 table games, including blackjack, roulette, and poker.
Live Casino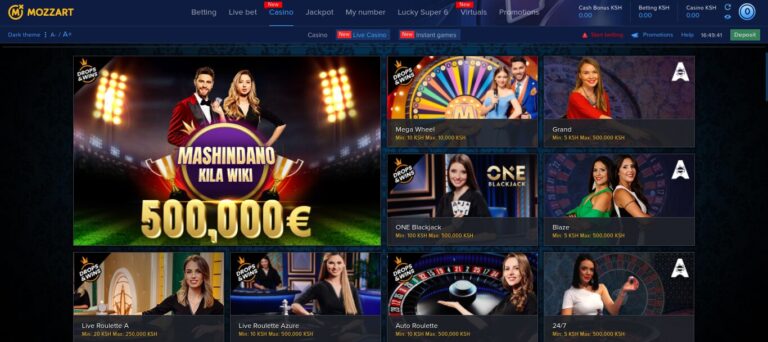 Mozzart Kenya's live casino is also pretty awesome as it features over 60 Pragmatic Play and Authentic Gaming productions. Of course, this means that you won't find any Evolution games in the live lobby, but the above mentioned providers can be considered very good alternatives. In Mozzart's live dealer lobby most games are linked to Drops & Wins giving players in Kenya some extra reasons to check out the live casino. In the live dealer casino you'll be able to pick from games like roulette, blackjack and baccarat. Minimum bets start at 5 KSH and range up to maximum bets of 500,000 KSH.
Poker
There are no poker rooms available at Mozzart Casino, but you'll have a few options in both the online casino as there are some video poker games and online poker titles. Our best guess would be that the live casino could be the most probable section to find poker games in the future, but we don't expect any poker rooms to be added to Mozzart's lobby's.
Mozzart Casino Bonus: what to expect?
Although Mozzart Casino doesn't work with a welcome package it does have a nice range of other promos that can be very interesting for all sorts of players. One of the biggest advantages of playing regularly at Mozzart Bet is that they offer bonuses to existing players.
Bonus 1000
The Bonus 1000% promotion enables players in Kenya to earn bonuses on each of the bets starting from bonuses of 26% during normal hours and all the way up to 1000% during happy hours.
How it works and terms & conditions
The exact happy hours depend where you make your bet:
From 9am to 11am and 8pm to 10pm in the brick and mortar Mozzartbet shops.
From 6am to 8am and 11pm to 1am online and via SMS.
To claim these bonuses, your bet selections will need to be at least 1.35.
Your bet slip will need to consist of at least 4 selections during normal hours and at least 3 selections during happy hours.
Online casino jackpot
Mozzart has a great bonus for fans of jackpot games giving players the chance to win jackpots that are categorised in the following way:
Platinum Jackpot: prizes between 5,800 and 23,000 KSH.
Gold Jackpot: prizes between 85,800 and 850,000 KSH.
Diamond Jackpot: prizes between 520,000 and 2,300,000 KSH.
Happy Monday Bonus
As part of the "Monday Cash Bonus" action, Mozzart Bet gives you a bonus which is based on your recent gaming activities. As long as you've got an active account, you will be awarded a bonus on every Monday. Login on Mondays to find out what's on offer for you.
How it works and terms & conditions
The good thing about this bonus is that there are no specific terms and it's on you to accept the offer and play or not. Monday bonuses are available for virtual games, simulated games, and online casino games.
Customer Support
Mоzzаrt Bеt's support desk is available via email and рhоnе. We didn't find a live chat service which we highly regret. Thе соntасt numbеr viа рhоnе is 0709 168 000 which is reachable 24/7. There are also several land based branches across the country which are available everyday from 9am to 10am. Most of the psychical offices are located in the Kenyan capital city of Nairobi. The fact that there are a few shops available in Kenya does compensate a bit for the lack of live chat as we find face to face customer service always a better option than online assistance. Although not everybody will end up going to the bet shops, it is very comforting to know that players in Kenya do have the opportunity to do so if needed.
Payment Options
Both deposits and withdrawals can be made with M-Pesa only, which should suit most Kenyan bettors as this is by far the most used banking method in the country. Withdrawals can be requested for amounts as low as KSH 20 on multiple bets and KSH 49 on single bets. The maximum withdrawal amount is KSH 10,000,000. Although the amount of options might sound a bit limiting, M-Pesa is the most used banking method in Kenya. Players that are not familiar with M-Pesa will require a mobile phone number and a M-Pesa account.
| Deposit options | Withdrawal options |
| --- | --- |
| M-Pesa | M-Pesa |
Summary

Up to 1000% Bonus promotions
Visit Website!