The Best Paytm Casinos Online: A Complete Guide
At Paytm casinos online, making a deposit and withdrawing winnings is a cakewalk. A popular instant payment method of Indian origin, Paytm offers the much-needed convenience of secured monetary transactions that happen at warp speed.
This is what makes it an ideal banking method at online casinos. It offers exactly what every punter wants – hassle-free deposits and withdrawals without breaking a sweat.
Keep reading to know how to use Paytm to gamble online. If you are already a user, check out our list of the best online casinos and betting sites with Paytm as a payment method.
Best Casinos in US
Best Online Casinos in India
Quick Facts
Year of Establishment: 2010
Country of origin: India
Payment mode: E-wallet
Payment types: Mobile Payment, Internet Banking
Language(s): Multilingual
Service area: Global
Deposit fee: 0
Withdrawal fee: 5% flat fee
Transaction time: Instant
Minimum deposit: ₹500 – ₹10000
Mobile app: iOS, Android
Our Rating
Ease of registration – 4/5
Deposit – 5/5
Withdrawal – 4/5
Transaction fee – 4/5
Transaction speed – 5/5
Trust – 5/5
Security – 5/5
Availability in casinos – 3/5
Rewards and cashback – 4/5
Customer support – 3/5
How to Deposit at an Online Casino Using Paytm
If you have picked your Paytm casino of choice, follow our step-by-step guide to funding your casino account. It is super simple and easy.
Step 1: Open a Paytm Account
Your very first step to funding a casino account using Paytm would be to create an account with the payment provider. Fortunately, it is not rocket science.
Note: Skip to step 2 if you already have an account with Paytm.
The only way to create your Paytm account is by installing the mobile app. If you are a new signee, visit the official site, or download the app directly from Google Play Store or iOS App Store.
On the desktop site, click the login/signup button. A popup with links to the app would open. Please note that existing users can scan the QR code using their Paytm mobile app to log in.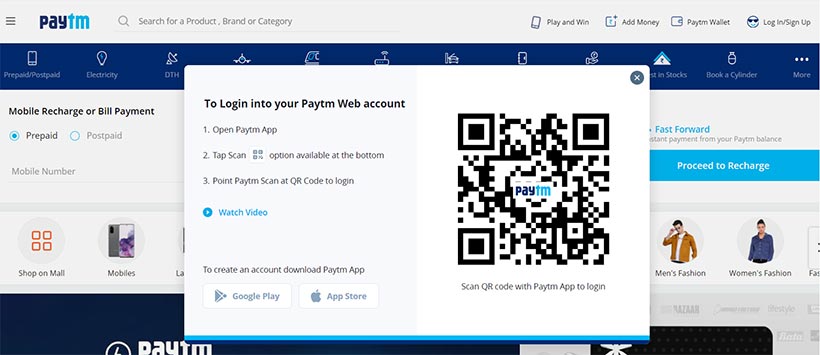 Depending on the type of smartphone device you have (iOS or Android) click the link to download the app. The screenshot below shows the option to download and install Paytm's Android app from Google Play Store.
Choose the device where you want to install the app and click 'Continue.'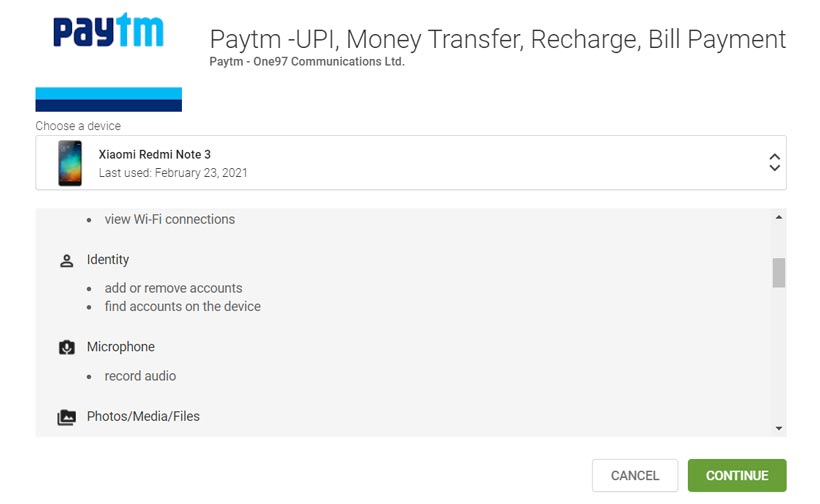 If you have chosen to install the app directly on your mobile, visit the Play Store and search for 'Paytm.' Once the option shows up, click 'Install' to initiate the process of download. Paytm will now be installed on your device.
Open the app on your mobile to set up your account using the mobile number that shows up on the screen. If you do not want to use this number, press the back button to continue the installation with a valid mobile number of your choice.
Enter the number and click 'Proceed Securely.' Verify it with the OTP you receive and presto! You can now start using the app to pay and receive money online. Simple, isn't it? Convenience must be the second name of this payment provider.
Note that you can choose to link your bank account next or do it later. Here is a list of Indian banks that support Paytm. Make sure the number you use is linked to your bank account and the SIM card inserted on your phone. Even if you manage to sign up with a mobile number that is not available on your phone or registered with your bank, you would face issues while making transactions. Better safe than sorry.If you have downloaded the Android app, don't forget to activate Paytm Security Shield. It will help you put a lock on all transactions from the e-wallet. The same has been discussed in detail later in the article.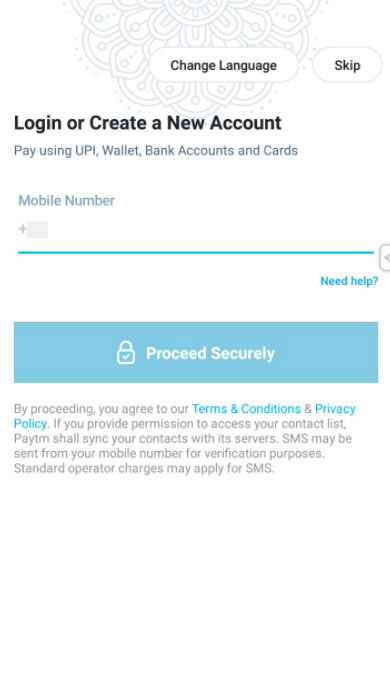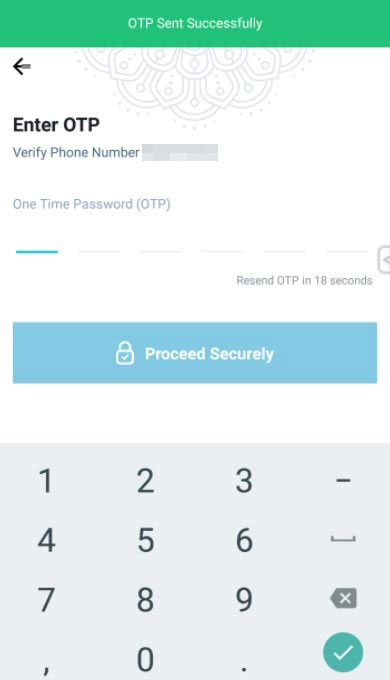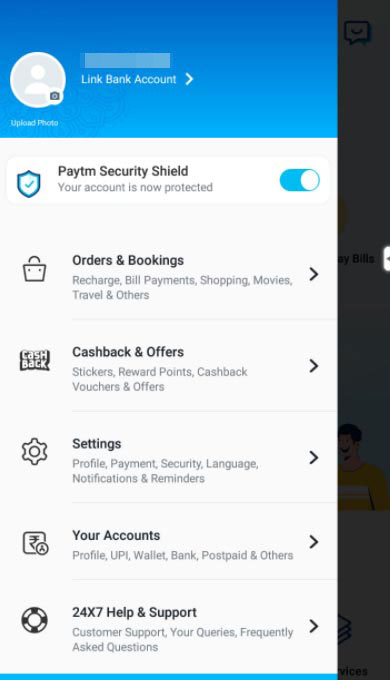 Step 2: Complete your Minimum KYC
After successfully creating a Paytm account, you must add money to your e-wallet to start using it for online gambling. But to be able to fund your wallet, you have to activate it by completing your minimum KYC. This is required because Paytm heavily focuses on security and stringently follows RBI guidelines.
Note: Skip to step 3 if your Paytm KYC is complete.
To activate your Paytm wallet, you need to feed in the following documents and details:
Your full name
Passport / Voter ID / Driving License / NREGA Job Card
After submission of the aforementioned documents, your minimum KYC will be completed and the wallet activated. In case it doesn't go through, an exclamation mark will be shown against your name. Click on it to complete the process.
For a Paytm account with minimum KYC done, the monthly transaction limit is ₹10,000. If you want to upgrade your wallet status and unlock more benefits, you need to complete the full KYC process. You can do it via…
Opting for Video KYC that requires your AADHAR number and name
Visiting a nearby Paytm KYC store at your own convenience
When you complete the full KYC process, you can enjoy the following benefits:
Send money to friends
Transfer money to the bank
Maintain balance up to 1 lakh
Open savings account
Please remember at any point in time, you can choose to upgrade your wallet or continue with your minimum KYC wallet. No KYC is needed if you use Paytm for UPI payments. If you see a casino that supports UPI as a payment method, do not waste time completing the Paytm KYC.
Step 3: Fund Your Paytm E-Wallet
Now that your KYC is done, it is time to fund your Paytm wallet! The process is easy, quick and simply a no-brainer. So, let us get on with it.
Note: Skip to step 4 if you already have funds in your Paytm wallet.
To add money to your Paytm wallet, scroll down to the 'My Paytm' section in your app and click 'Paytm Wallet.' The screen will show you the existing balance or a zero if you haven't added any money yet. Now enter the amount you want to add. Since no one ever wants to miss a freebie, don't forget to apply any promo code that you have at this point.
You should be happy to know that Paytm offers five different modes to fund your wallet. You can add money using any of the following methods:
Bank account (you must link it first)
Debit card
Credit card
BHIM UPI
Net Banking
After you confirm your method of deposit and the payment, the amount will be instantly credited to your Paytm e-wallet. You can then use it to make a deposit at an online casino and play games for real money.
At the time of writing this article, Paytm supports transactions only in Indian Rupees, which might disappoint players who don't have an Indian bank account.
If you are trying to use the app from a different country, try getting in touch with Indian friends who can accept funds in foreign currency in their bank account and transfer the same with their local credit or debit cards. Although a long route, this is the only process that would work.
The only money you would probably be losing is the amount deducted during currency conversion. Otherwise, adding money to your Paytm wallet is free of charge. This makes it a lean and mean payment method that is absolutely cost-effective and just perfect for online betting.
Let us move on to the last step where you would finally add funds to your casino account.
Step 4: Deposit Money at an Online Casino
Like we said, setting up your Paytm account is as easy as shooting fish in a barrel. If you have completed the aforementioned 3 steps, you are now ready to fund your casino account and start gambling online.
Note: If you have not joined a Paytm casino yet, you might want to check out the top 10 casinos listed below.
Best Casinos in US
LIST OF TOP 3 PAYTM CASINOS
Due to Paytm's limited availability around the world, you would be able to find only a few online casinos supporting the payment provider. It is a pity the company has not expanded its business globally yet. But we sincerely hope we can find more Paytm online casinos in near future.
To make a deposit using Paytm, go to the casino's cashier or payments page and choose the banking method from the list available. Enter the amount you want to deposit and confirm the payment. 5 minutes is all it would take. Perhaps even less!
It is worth remembering that you do not always need money in your Paytm wallet to make a deposit at a casino. If you want to avoid adding funds to your wallet, simply skip 2 and 3. Instead, make a deposit directly from your bank account using the UPI function of the app. But make sure the casino you choose supports UPI payments.
Make a direct deposit using Paytm UPI in 8 easy steps:
Visit the cashier page of the casino and go to the deposit section.
Enter the amount of money you want to deposit.
Choose UPI as a payment option.
Go to your Paytm app and tap on your profile.
Tap on 'Your Account' to view your unique UPI ID.
Copy the ID and paste it on the casino's deposit page.
Verify the payment on your Paytm app.
Wait for the amount to get credited to your casino account.
How to Make a Withdrawal
Withdrawals using Paytm work slightly differently from deposits. The process is a bit more complicated and depends a lot on the casino in question as well.
Some sites would let you withdraw your winnings the way you want, without any restriction. Others would cite strict clauses and require further verification. Good cop or bad cop, this is done to prevent money laundering and ensure the right person gets the money.
The speed of transaction would be the same as that for deposits. Theoretically, it takes less than a minute. However, you might have to wait longer depending on the casino from where you are trying to withdraw. Also, cashout via Paytm would usually come with a transaction fee specified in the terms and conditions of the casino.
To withdraw your winnings using Paytm, follow these 5 steps:
Visit the cashier page of the casino and go to the withdrawal section.
Select the amount of money you want to withdraw.
Choose Paytm as your mode of withdrawal.
Confirm the withdrawal request.
Complete the security checks required by the casino.
Wait for the request to be processed.
Check the amount credited to your bank account.
For successful withdrawals, make sure you have met the wagering requirements and other criteria set by the casino.
Things to Consider While Using Paytm as a Banking Method in Casinos Online
Paytm for deposit, Paytm for withdrawal: If you use Paytm to make a deposit, use it while requesting a withdrawal as well. Most online casinos need you to stick to the same payment method for security reasons. If you don't, your winnings might be confiscated.
Free deposit: Paytm deposits are free of cost. If you find any online casino charging a fee for the same, do not proceed. It might be a scam.
Instant funds: Deposits made with Paytm are instant, which means the amount should reflect immediately in your wallet or casino account after you confirm the payment. In the case of a discrepancy, remember to contact their customer support team immediately and get the issue resolved.
Casinos fix the minimum deposit: The minimum deposit amount would vary from one casino to another. It usually ranges between ₹500 and ₹10000 depending on the casino.
Identity verification: Most casinos would not ask for a verified or KYC-completed Paytm account. However, exceptions are not unlikely. For this reason, we recommend you complete the entire process of KYC before using Paytm as a banking method in casinos online.
Withdrawal within 1-2 business days: E-wallets are popular for enabling quick withdrawals at online casinos. Paytm is no exception. Depending on the processing time specified by the casino, you should meet your money within 24 – 48 hours.
Withdrawal fee: The withdrawal fee would depend on the casino you pick. Some might waive the fee; others might charge you a bomb. Remember to read the small print before you start playing.
Casinos fix the minimum withdrawal: Much like a deposit limit, most casinos also get to fix a withdrawal limit which might vary from one site to another. Check the cashier page for the information before making a withdrawal.
Why You Should Use Paytm at Online Casinos?
Because, why not?
Time and again, Paytm has proven itself to be one of the most trusted and convenient banking methods for online gambling.
At the risk of repeating what we have already said, we would like to remind you Paytm is easy to set up and hassle-free. It enables instantaneous transactions and facilitates two-way payments – a major reason it is preferred at online casinos for making deposits and requesting withdrawals.
Making a deposit is free and easy peasy because Paytm allows direct payment from your bank account via UPI as well as routed payment via its own digital wallet. High roller or low roller, this payment processor app meets the requirements of every punter who wishes for an uncomplicated online gambling experience.
With Paytm there is no waiting for funds getting credited to your casino or bank account. All transactions are processed right away. This is a huge advantage when it comes to real money gambling where impatience is the new buzzword.
Last, but not the least, if you are an avid gambler, Paytm lets you automate and keep track of your expenses. You can even request a wallet statement to know how much you have spent.
Use it regularly to make payments and win cashbacks. Refer a friend to win rewards. Paytm is more than just a digital wallet! Want to get started with Paytm? Go ahead. 5 minutes is all you need!
What are the Pros and Cons?
Pros
Ease of use·
Free registration
Easy KYC
Free deposit
Instant transactions
Multiple deposit methods
UPI support
High security
RBI compliance
NPCI audited
PCI DSS compliance
SSL encryption
High success rate
Cashbacks and rewards
Controlled spending
Multilingual support
4×7 customer support
Cons:
Slow customer support
High withdrawal fee
Unavailability in most countries
Clearly, the pros outweigh the cons, which is why we recommend Paytm for casino gaming online.
Additional Information
List of Major Banks that Support Paytm
SBI
Axis Bank
HDFC Bank
ICCI Bank
Kotak Mahindra Bank
Punjab National Bank
Paytm Bank
BOB Bank
Airtel Payments Bank
Bandhan Bank
Bank of America
Bank of India
CSB Bank
Central Bank of India
Citibank
Cosmos Bank
DBS Bank
DCB Bank
Dena Bank
IDBI Bank
India Post Payment Bank
Indian Bank
Indian Overseas Bank
IndusInd Bank
Jio Payments Bank
…and more!
KYC Compliance
In financial services, KYC (Know Your Client or Know Your Customer) is a set of guidelines followed by banks and other financial services to verify the identity of a customer, his or her suitability to hold an account and the risks involved in maintaining a business relationship with the person.
It is a one-time process that must be completed by such institutions to be in compliance with anti-money laundering regulations to prevent fraud. Because Paytm follows RBI regulations, users need to complete KYC to enjoy all its services without interruption. Of course, no wallet KYC is required to make UPI payments via Paytm.
Difference Between Minimum and Full KYC
Paytm requires you to complete Minimum KYC for partial access to the benefits of its wallet and Full KYC for total access. As per RBI rules, Minimum KYC is valid for 24 months. If you continue using Paytm for more than 2 years, you need to complete your Full KYC, which will be valid for a lifetime.
With Minimum KYC you can make payments to any merchant who uses Paytm and use it to make online transactions. You can also maintain a balance of up to ₹10000 per month. However, you cannot send money to a friend's Paytm wallet, transfer money to your bank account or open a Savings Account with it.
On the other hand, a Full KYC account allows you to upgrade your wallet from a ₹10,000 limit to ₹1,00,000. Such an account is free from spending limits, which means you can use it to gamble without worrying about your Paytm funds getting over.
Paytm Security Shield
Paytm Security Shield is an opt-in feature that adds an extra layer of security to your Paytm app. It uses Android's authorisation mechanism to lock the app using your phone's PIN, text password, pattern password, fingerprint scanner or iris scanner. We recommend enabling Paytm Security Shield to block any unauthorised access to your app and keep it safe. Setting up this feature takes less than a second and it works without a glitch. You can disable it anytime you want.
Cashback and Rewards
Paytm rewards users with cashback, discounts coupons, deals, promo codes and other offers for making transactions through the app. Use Paytm Add Money Vouchers to add money to your wallet and win additional cashback. You could receive cashback coupons for future payments as well. This is a perk exclusive to Paytm.
Paytm Customer Support
Should you find yourself in trouble while using Paytm, feel free to contact the company's customer support. The team is available 24/7 over the telephone and speaks English and Hindi. Please note that round the clock availability is for complaint registration only. For dispute resolution, expect a callback from Paytm between 10 AM and 8 PM IST.
Word of caution: Despite the amazing service, Paytm delivers customer service that is less than satisfactory. Most of its users have been reported to be dissatisfied with the process and duration of dispute resolution.
Recent Controversies
Cobrapost Expose, May 2018: The Indian investigative news website, Cobrapost carried out a sting operation and released a video where an undercover reporter meets Paytm's Vice President Ajay Shekar Sharma, brother of the founder Vijay Shekhar Sharma. In the meeting, the VP was reportedly seen claiming that the Prime Minister's Office (PMO) asked the company to share personal data of Paytm users who are residents of Jammu & Kashmir, thus violating privacy policies. The allegations were later denied by the company in a tweet that stated that no user data was shared with third parties or requests received from law enforcement officials.
Google Play Store Fiasco, September 2020: On 18th September 2020, the official Paytm app was temporarily removed from Google Play Store citing violations of its gambling policy. Paytm called it an 'arm-twisting' by the tech giant, further adding that Google never gave any prior warning or an opportunity to explain Paytm's cashback offers although its own app, Google Pay offers similar rewards without repercussions.
Paytm Alternatives
Here is a list of 10 Paytm alternatives:
Google Pay
Phonepe
FreeCharge
Oxigen Wallet
JioMoney Wallet
Razorpay
CashFree
PayU
Instamojo
MobiKwik
Security Tips for Using Paytm to Gamble Online
Make sure you have installed the official Paytm app from Google Play Store or Apple Store.
Remember to verify your email id to receive notifications about unauthorised access or action.
If you happen to lose your phone, block your SIM card and phone's IMEI number as well. Change your Paytm password immediately.
Never transfer funds without verifying if you are sending money to the right recipient. Transactions, once done, cannot be reversed.· Do not share your Paytm PIN, passcode, OTP or M-PIN with anyone.
FAQ
What is Paytm?
Paytm (Pay Through Mobile) is a digital payment system using which customers can pay and receive money online via a smartphone. Owned by One97 Communications, this platform lets users transfer cash into its integrated electronic wallet using net banking, debit cards, credit cards, UPI ID and even cash deposits via select banks.
Who can create a Paytm account?
Anyone who is a citizen or tax resident of the country where Paytm is available and above 18 years of age can create an account.
Can I use Paytm if I am not a resident of India?
You cannot use Paytm if you are not a resident of India. Since the app is geo-targeted, you would be able to access it only via VPN. Despite that, you would not be able to use it because the KYC would require you to be an Indian citizen or tax resident of the country.
Which countries use Paytm?
At the time of writing this article, Paytm is available in the following countries:
·   India (Paytm)
·   Japan (PayPay)
·   Canada (Paytm)
Can I get a welcome bonus if I deposit with Paytm?
Depending on the online casino you choose, you would be able to claim the welcome bonus or be restricted from claiming it if you deposit with Paytm.
Is Paytm safe to use?
Yes, Paytm is safe to use. The company abides by the guidelines of the RBI (Reserve Bank of India) and is regularly audited by the NPCI (National Payments Corporation of India). It is PCI DSS compliant, which ensures every transaction is SSL encrypted and safe from third-party access.
Do I Need to Pay for KYC?
No, Paytm KYC is 100% free.
How long does it take to complete the Paytm Full KYC verification?
It takes 2-3 business days to complete the Paytm Full KYC verification process after your in-person or digital verification is done.
What is the minimum deposit with Paytm?
The minimum amount you can deposit at an online casino via Paytm is usually ₹500. This amount can vary depending on the casino you choose.
Can I withdraw money from an online casino with Paytm?
Yes, you can withdraw money from an online casino with Paytm.
Sell all payment methods