We love cashback! Find out why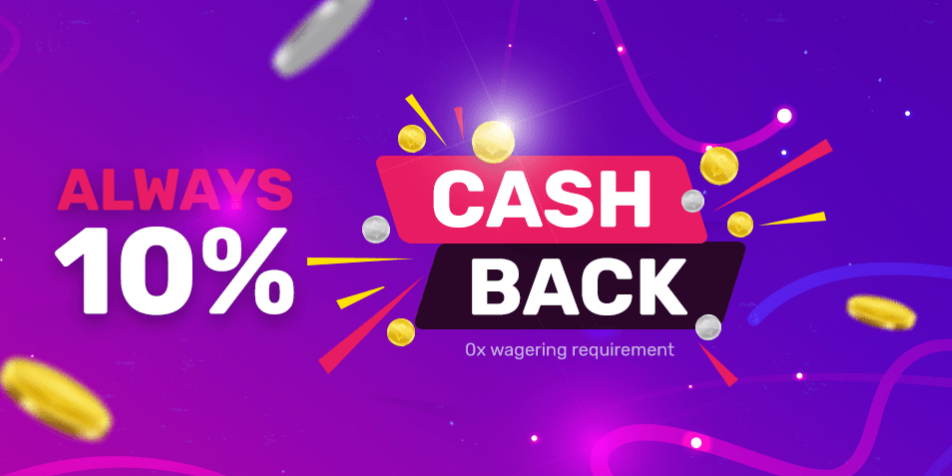 Cashback promotion is one way the highly competitive online casino industry tries to fight over customers, by offering them casino bonuses. At a lot of online casinos visitors can count on a welcome package often including non-deposit bonuses and sometimes even free spins. Some casinos, however, go for a different approach.
We, for instance, encounter more and more online casinos offering cashbacks instead of welcome bonuses. Some casinos, like HyperCasino, even offer both. At HyperCasino they know the thrill of online gaming is something special and that's why they come up with different bonuses to address different types of players. We're more than happy to tell you more about these bonuses they offer at HyperCasino. Find out why.
10% cashback for all players
The good thing about it? That they're meant for all players. When you go to your online account you'll find the page that tells you more about the current available cashbacks at HyperCasino. The idea is pretty simple: of all your lost deposits HypeCasino give you back 10% which is quite a fair deal if you ask us. At the end: we're talking about a cash bonus.
How does it work?
The clock will count down for 24 hours after any non-bonus deposit and after this period has expired, you'll see that you're entitled to reactivate this cashback. After having claimed it you can continue playing and the clock will reset automatically. In a nutshell:
Log into your account, make your deposit and play your favourite game(s).
In case of having lost money, go to 'My Account' and pick the option 'Cashback'.
Click on 'Activate Cashback' and get ready for your cashback to be credited.
Once done, you're set to give it another try.
Least, but not least: there's a 0x wagering requirement!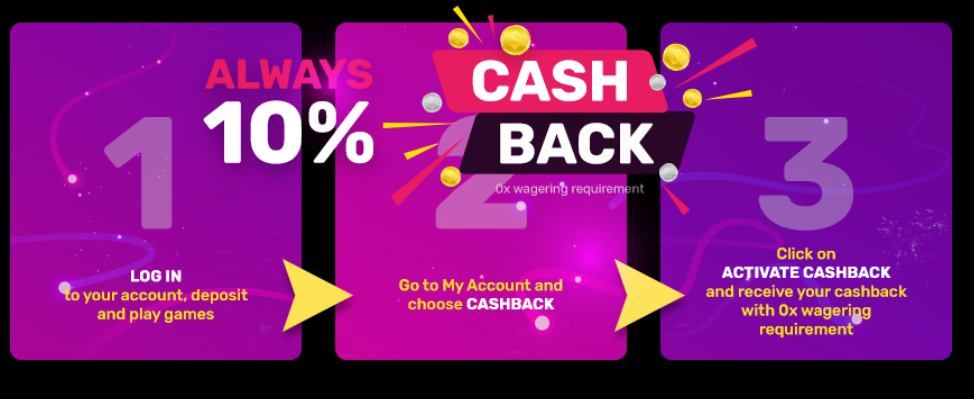 What are the terms and conditions?
There are of course a few terms and conditions you'll need to account. We find these very clear:
Cashbacks are calculated from the first deposit and all future deposits will be added to the counter.
Cashbacks are available to be activated, 24 hours after the first completed deposit.
Cashbacks can be claimed if the player's balance is under £10.
About HyperCasino
HyperCasino lightning bolt is very striking itself as well, and with its black and yellow colour scheme it's difficult to miss out on this casino. When you explore their website, you'll see how the welcome bonus and wide game collection make sure HyperCasino meets the high expectations. This also holds for the usability of the website with is very user friendly. This doesn't surprise us though, as we're talking about a respected casino that operates with licences from both the UK Gambling Commission and the Malta Gaming Authority. At Hyper they try to focus on the ultimate experience by offering a lot of adrenaline and excitement and that's why most people do actually feel hyper at this casino — in a good way that is.

Relevant news